SpotlightWP vs. WP Social Ninja: Which Plugin Should You Choose?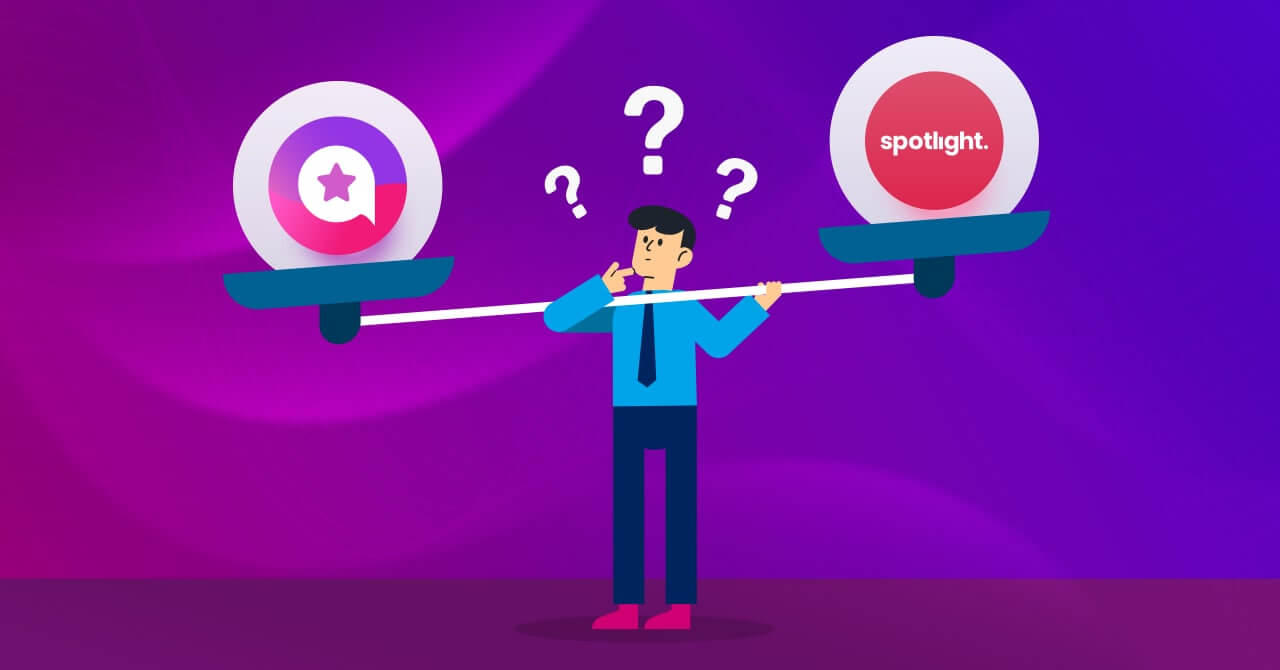 The social media marketing plan is a roadmap for managing your marketing approach over a given time, sometimes even spanning up to a year. Because social media is no more optional for businesses now, it's an essential part of business and marketing development. That's why you should keep updated on social media trends and tools as you can grab your desired market share and position.
Now you are probably thinking about how can I stay updated and add more effort to my business. We would like to add that just running a WordPress website is not a wise solution. So, along with your WordPress website, you should focus on your social media activities and tools.
Moreover, you can add your social media channels to your WordPress website by adding an innovative, user-friendly, and lightweight plugin. It definitely helps you show your expertise, current business updates, user reviews, and many more.
But which tool should you use to get it done properly? There is no shortage of online tools that can import or display your social posts on your WordPress website. All you have to do is to pick the right one that serves your purpose in the best possible way.
Today, our primary goal is to emphasize the significant distinctions between WP Social Ninja vs. Spotlight (also known as spotlightWP) so that you can determine the right platform for your business needs.
So, let's go ahead!
What is a social media plugin?
To be completely honest, you cannot define what a social media plugin is. The scopes of social media and businesses you can get done on a WordPress website are vast. It's practically impossible to define the term social media plugin.
What we call social media plugins can get so many different types of tasks done. And these tasks can range from simple social like/share count to importing an entire social feed to your web pages.
These social media plugin bridges the WordPress website and different social media platforms. These are the mediums that can help users to share their regular content, customer reviews, chat features from different business channels. Using social media plugins, you can build your brand presence and rapidly increase sales volume.
What should have in an ideal social media plugin for a WordPress website
To be a perfect social media plugin, it should have some cool features and the capability to fulfil all social media marketing needs. You can consider itself an ideal platform when you find features like social feeds, which means you can share your Twitter, Facebook, Instagram, and YouTube's social feeds on your WordPress websites.
The social review section is another hyped feature to share your business reviews from different channels. It would be Google My Business, Facebook, Airbnb, Amazon, and many more to get customer feedback and experiences to make the right buying decisions.
Last but not least, the chat widget features can add more value to your business website to bring more consistency and effective communication between buyers and sellers. That's why if you are planning to install a social media plugin for your website, then you must ensure that it has multitasking features and integration with tremendous advantages.
Now let's get started with the comparison! We'll start by looking at the segments you'll get with WP Social Ninja and Spotlight plugin.
WP Social Ninja vs. Spotlight
To make a valid comparison, we have selected two plugins here: the all-in-one social plugin- WP Social Ninja and Spotlight. In this discussion, our main intention is to make both plugins' features very clear to all its upcoming and existing customers and what these plugins have to offer. Since it's closely related to your business, it is always wise to compare your choice with another brand.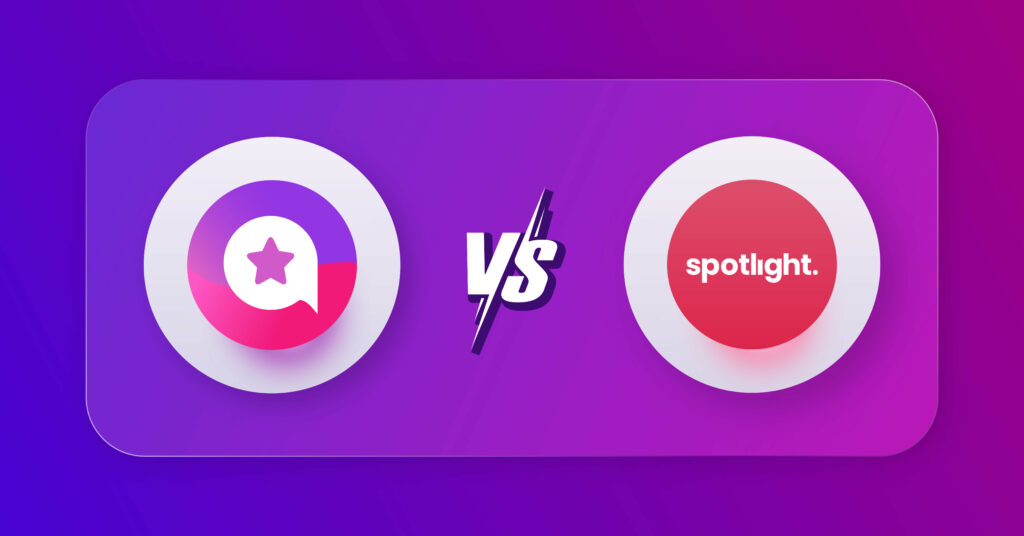 We think this comparison will help you make the right decision for your business to make it more relatable and profitable. The most pleasing way to understand the difference between WP Social Ninja and Spotlight is to look at each platform individually.
First things first, let's start with WP Social Ninja. It is an all-in-one social media plugin with various exciting features. This plugin can fetch your social feeds, social reviews, and chat widgets within a second. Apart from this, It has 29+ platforms like Twitter, Facebook, Instagram, YouTube, Google my Business, Aliexpress, Booking. com, Airbnb, and many more. Convenient, right?
On the contrary, the SpotlightWP plugin focuses on just one platform- Instagram. Spotlight enables you to embed Instagram feeds, hashtag feeds, tagged posts, shoppable feeds, link in bio feeds since it is Instagram-focused, so they only work with Instagram-related features.
Social Feeds
Stories and visual posts can help you connect more with the audience. So sharing social media feeds as the format of business stories, pictures, and other shareable items on your website can make a significant impact on your business. Embed your social feeds on your WordPress website and see the advantages for yourself.
In this part of the article, you will see a direct comparison of different features between WP Social Ninja and SpotlightWP.
Now let's start comparing with the Social Feed features first-
Number of social platforms for feeds
WP Social Ninja has 4+ social feed platforms like Twitter, Facebook, Instagram, and YouTube. Using these platforms, you can share your business content on your WordPress website and build a good presence in the market.
On the other hand, Spotlight offers only one social feed platform, Instagram, so here the winner is WP Social Ninja.
Multiple Layout
Multiple layouts can introduce newer looks to your social feeds. In WP Social Ninja, there are 4 Layout Types. So you can convey your feed in four different ways, and all the tones are very engaging and unique. But with the SpotlightWP plugin, you can try only two layout styles, and these two are pretty similar to WP Social Ninja. But here, if you are savvy enough, you will definitely choose WP Social Ninja because you are getting two more additional.
Pre-built template designs
A good design can change the overall look of your content. That means more pre-built templates mean more design for your content. WP Social Ninja always loves to provide more to its customers. Right now, WP Social Ninja offers 7+ pre-built templates and continuously developing to add more. On the other side, Spotlight provides 9+ templates. So here, the winner is Spotlight.
Types of column gap
Having a Column Gap can make your social media content more organized, so if you want to show your content maintaining a proper gap, then WP Social is the best option for your content column gap. It has 6 different column gap styles. So from here, you can customize your gap from the different options.
There are other key features you should take into consideration for comparison:
On the other hand, Spotlight plugin has no option regarding types of column gaps.
Customizable video settings
WP Social Ninja also offers a YouTube feed-sharing option, so from this platform, you can share your YouTube feed with customized video settings. Since it has dynamic setting features so quickly, anyone can customize your brand's video with a unique customization option. Get to know how to embed YouTube feeds?
On the contrary, Spotlight has no video feed option. So, WP Social Ninja wins again.
Social Reviews
Sharing social reviews is a great marketing prospect to run any business, especially eCommerce stores. We all know that reviews are another necessary part of your business so show the hard-earned testimonies to your existing and upcoming customers.
That's why WP Social Ninja offers 9+ social sites like Google My Business, Facebook, Amazon, AliExpress, Airbnb, and many more platforms from where you can share your customers' reviews on your WordPress websites. Unfortunately, Spotlight doesn't have that feature.
Again, Layouts and templates can make your review section more authentic and look incredible. That's why WP Social Ninja brings a variety of layout and template styles. Here it has offered 4 layout types.
We always believe that all the reviews are not for display, and even it's not healthy for your business and site health. Using WP Social Ninja, you can display your reviews according to your business need.
That means you can filter by rating. There are five rating styles, so select your desired one from the list. By the way, you may not find this option from Spotlight. So it's an enormous advantage of using WP Social Ninja.
We have already mentioned that with WP Social Ninja, you will always get more. So, sorting the reviews in ascending, descending, or random manner is another helpful feature.
Along with that, you can also filter your reviews by ratings, category, and business name. You can also include specific reviews if you want. In simple words, if you are with WP Social Ninja, then customization is totally in your hand.
There are other social review features you should take into consideration for comparison: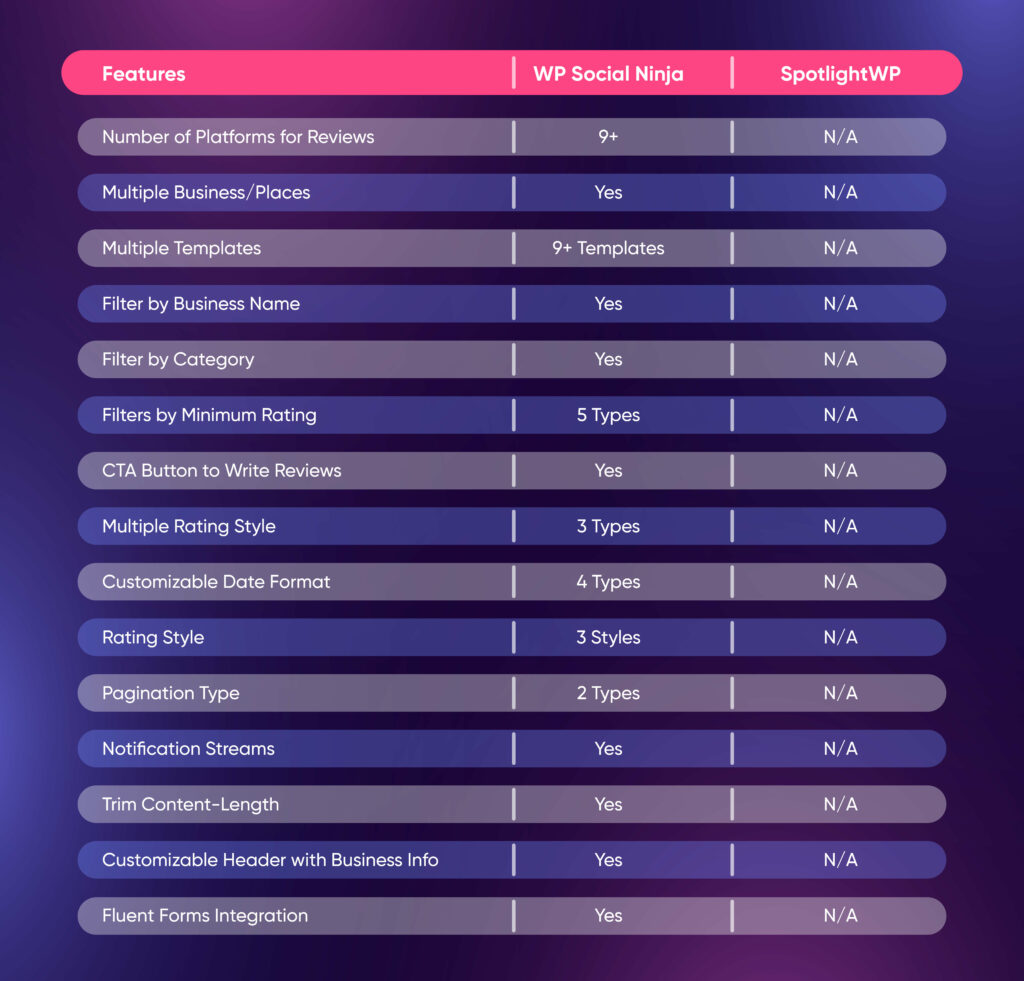 Not just the popular review platforms, WP Social Ninja, made sure that you can collect custom reviews using the most lightweight form builder- Fluent Forms, and fetch them using WP Social Ninja. That's not all. You can do it without wasting your website's space if you want to show your reviews as a Notification Popup.
Unfortunately, the Spotlight plugin is only an Instagram feed plugin. They don't have integration with any social review platforms.
Social Chat
A business-oriented Social Chat widget lets your business next level. Because when people get interested after experiencing your feed and review section, they may try to contact you to know more about your product and services. Even it can happen after buying.
So, if you want to support your customers' pre and post-buying conditions, then WP Social Ninja's chat widget is the best solution for your business. Because It doesn't only provide the social feed and review section but also offers all-in-one chat widgets too. Moreover, its configuration process is user-friendly and easy to embed with any WordPress website.
Various social media plugins are available in the WordPress directory, but finding a lightweight and user-friendly plugin is really very tough.
Now let's have a concise view of how WP Social Ninja differs from Spotlight.
Since Spotlight doesn't offer the chat widget feature or reviews, you get the idea of which one is better for your business. Because it offers 15+ chat widgets and provides 9+ review platforms and 4+ feed sections. So, it's a great deal.
Pricing
Both WP Social Ninja and SpotlightWP plugins operate on a freemium model. You can find free and premium versions of both at wordpress.org. But, the premium version will offer more advanced features and unlock more feed, review, and chat widget platforms.
The price chart below will help you decide your business plan according to your business size and budget. Now it's your decision.
At first glance, WP Social Ninja might feel costly. But it's not. At $49, with Spotlight, you are getting only one platform, Instagram. In contrast, WP Social Ninja is offering 29+ platforms for just $79.
On top of that, the features you are getting with Spotlight are all similar to WP Social Ninja. That's why, get WP Social Ninja now and multiply your sales with the power of reviews, feeds, and chat.
Which should I choose?
SpotlightWP – if you're running a single feed for a single user account, I would suggest a tie as both plugins make it quite similar. But if you want to run multiple feeds and/or mixed feeds, with other features like sharing multiple review channels, chat widget features, testimonials, notification popups, and shoppable Instagram feeds. In that case, WP Social Ninja is the best option because you can do other social media marketing activities from the same platform.
Final Thoughts
If you have read it so far, we hope you have already got a clear idea about the SpotlightWP alternative. There are different alternatives available in the market, but still, finding a good one is always challenging. But after reading this blog, we hope you will find it easier.
If you are still confused, why don't you try WP Social Ninja yourself and find out why it is the best social media plugin for your WordPress website? We can assure you that if you start using our plugin, you will be our repetitive user and suggest it to others.
Do you still have any queries regarding WP Social Ninja vs. Spotlight or selecting the best WordPress social media plugin for your website? Let us know in the comment section!