How to Add Reviews with Fluent Forms on Your Website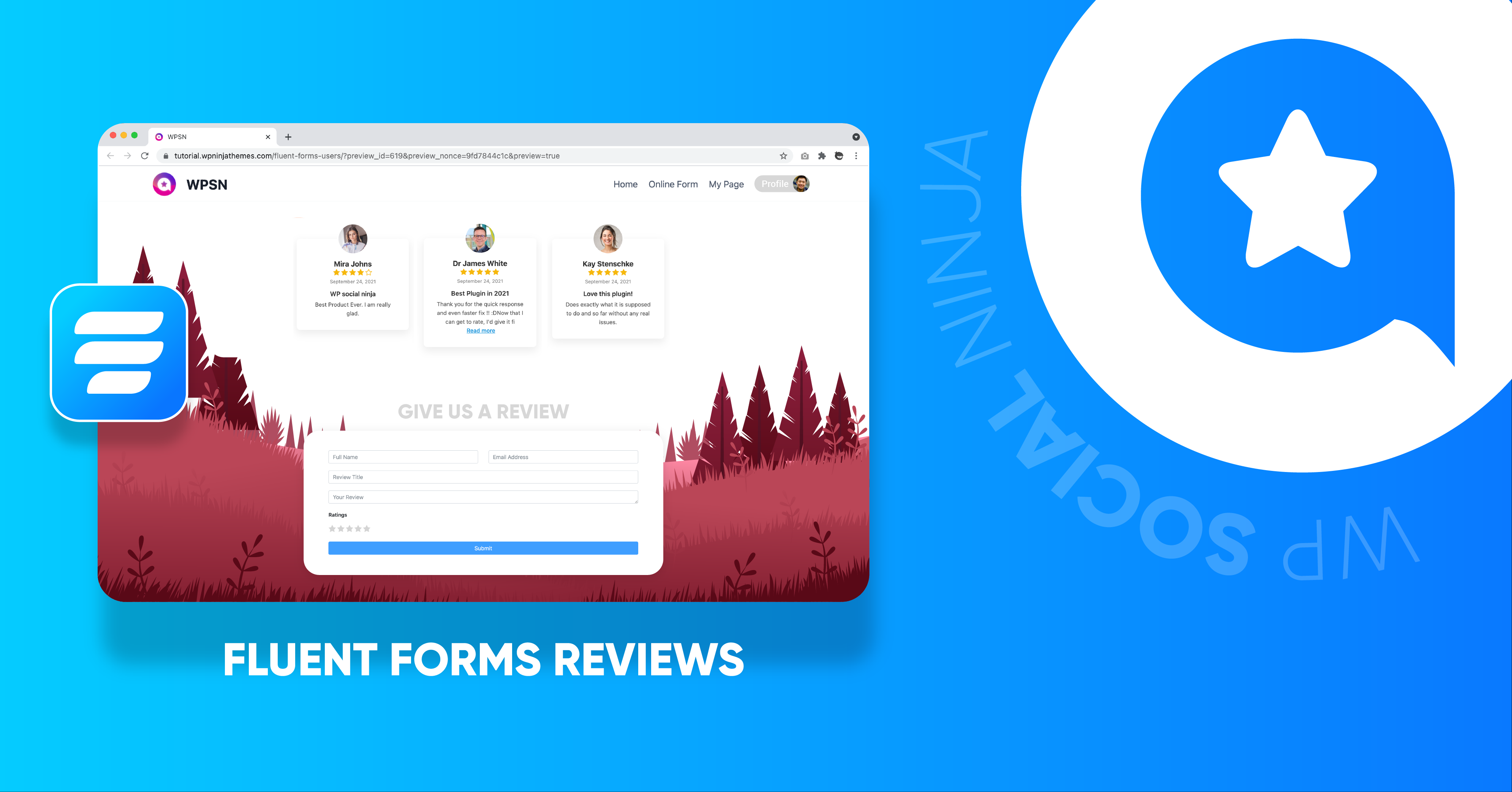 Wondering how to add reviews with Fluent Forms on your WordPress website?
But more than that, we wonder how you can seal your brand value on the market? To be honest, you don't have to do much. All you need to do is care about your social media reviews.
YES! That's correct. Easy access to the web has literally changed the way people used to shop. Whether you're getting the latest iPhone or booking a reservation in a restaurant, checking the social reviews is a task you don't skip!
Moreover, your brand loyalty and sales reach are the most crucial part. Customer reviews will give a solid push to word-of-mouth marketing. And it influences the website visitors to make a decision immediately.
However, how do you get reviews on your business? Despite your top-notch social media presence and several testimonials, you seem to lack something. Well, what is that?
Let's unravel.
Why Fluent Forms?
Fluent Forms is one of the most successful products by WPManageNinja. It's a beginner-friendly form builder plugin for your WordPress websites. So anyone with basic tech knowledge can certainly use it. Moreover, you don't need any coding. So using FluentForms is a no-brainer.
Equipped with all the necessary features, anyone can create a form just by fiddling in the WordPress dashboard. Whether you're creating a customizable contact form or a simple product review form, you need a few minutes to create one!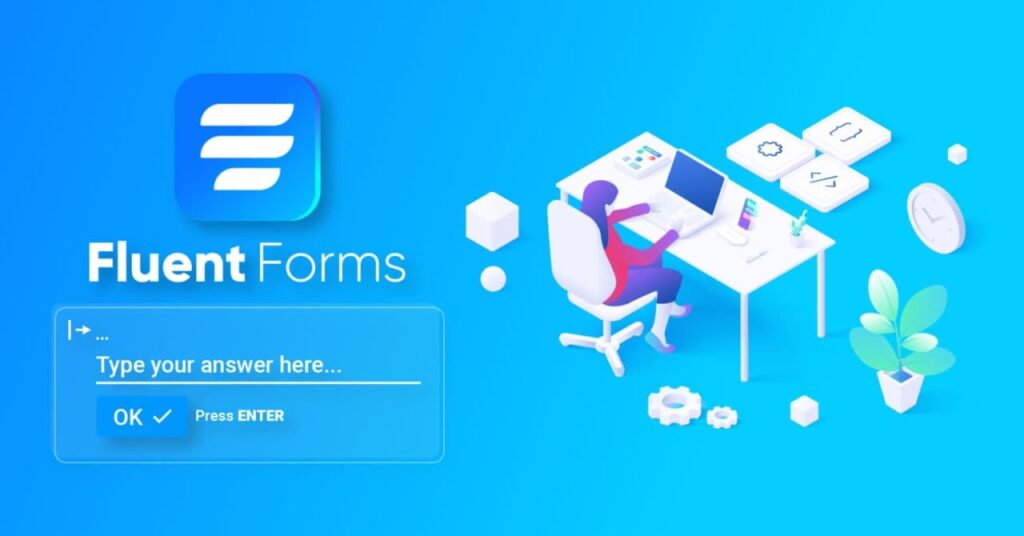 Moreover, your website could be an eCommerce store or for a restaurant, you will need forms regardless. When it comes to collecting information and creating a customer database, Fluent Forms has a lot to offer. And what if we say there's more.
Yes! Along with creating forms for websites' conventional purposes, you can also use product review form to collect reviews from your visitors. Collecting reviews from different platforms is a challenging task. Moreover, not every user knows how to give reviews on different types of social media platforms. Especially the older generations and non-techies are the ones that struggle with giving ratings and reviews.
Well, with Fluent Forms, you can create a form and offer your visitors to give their feedback without any hassle. All they need to do is just fill-up the form and submit it.
Why do you need fluent reviews on your website?
Do you know 9 out of 10 customers read online reviews before making a purchase?
A good website is where you get everything that you were looking for, along with social proof! Because most of your website visitors will be skeptical at first if they don't have the necessary essence to rely on the product.
"Man is a social being; it's not surprising we love social proofs, it sells fast."

― Bernard Kelvin Clive
According to Forbes, brands and retailers spend more than $1 trillion each year on promoting their products. They aim to-
Attract visitors
Create pleasant experiences
Offer something enticing
However, in many cases, nothing works. The users walk away either physically or virtually.
What could be the possible reason behind this?
When we intend to buy something online, we usually look for several options, read tons of reviews, compare the product features and pricing options. In the end, things get more confusing, and we get distracted from the quality product.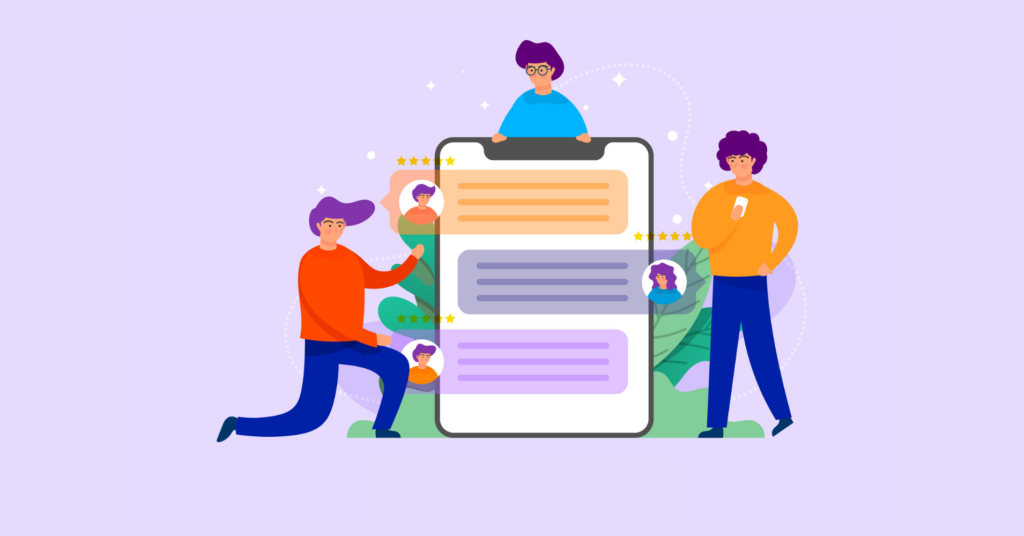 Moreover, there are specific factors that have a straight negative impact on consumers. Along with millions of websites, features, services, and pricing, there are a plethora of striking factors.
For example,
Delivery time
Shipping cost
Lengthy web service
Packaging
Return policy
These things invoke a strong lack of confidence in online purchases. Users need a solid reason to rely on the product.
So how do we resolve the issue?
According to Hubspot, 81% of consumers look for advice from friends and family when they want to purchase something. Whether online reviews or a conversation, it has a powerful influence over businesses. In some cases, businesses with a few quality products with good reviews have a great potential to increase the chances of buying the product.
Statistics from Brightlocal says, 
97% of the shoppers who read online reviews from other consumers also read responses from businesses
49% of shoppers say they trust social reviews as much as personal recommendations
54.7% of consumers read at least four reviews before buying a product
So now you can see how social reviews can help you hike both your revenues and your brand value! Another interesting thing is even if your business gets negative reviews it still can turn the table!
How to add reviews with fluent forms?
Collecting reviews using Fluent Forms is a pretty simple task. However, you need to know how to integrate Fluent Forms with WP Social Ninja.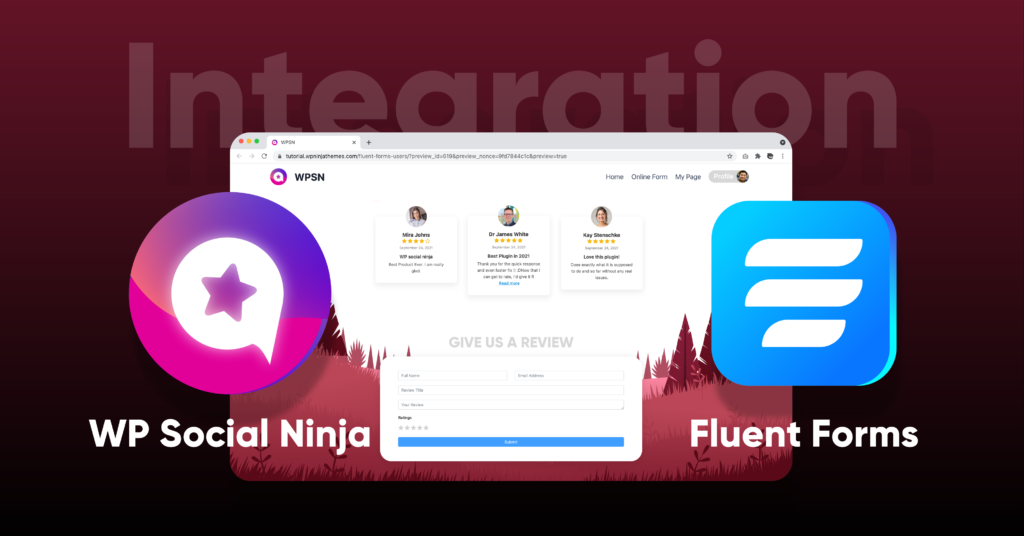 Note that you need the Fluent Forms pro version to display reviews on your website.
Check this out: Fluent Forms free vs. Fluent Forms pro
Let's see how you can generate reviews with Fluent Forms and show off using WP Social Ninja on your website.
Fluent Forms Integration
The first thing you need to do is to go to the Integrations tab of Fluent Forms. Scroll down to the WP Social Ninja module and turn on the Enable button.
After that, go to your Fluent Forms dashboard & click on Add a New Form to create a new form. Or you can edit an existing form. In this example, a Review form has been created. That includes Name, Email Address, Review Title, Review Text, and Rating field. Keep in mind, the Rating field is only available in the Fluent Forms Pro version.
Go to the Settings & Integrations tab and & click the Marketing & CRM Integrations option. Here, you need to click the Add New Integration button & select WP Social Ninja Integration.
Then, you have to add a new WP Social Ninja Feed. Give an appropriate name to your feed.
And using the Map Fields option, select which Fluent Form fields pair with their respective WP Social Ninja fields.
You can also enable Conditional Logics if you want to. Lastly, click the Create WP Social Ninja Feed button to save the settings. Look at the Feed settings given below to get a better idea:
Moreover, add your Reviewer Image from the Form Field to display the image on your site.
Once you are done Make sure to click the Create WP Social Ninja Feed button.
Then you can copy the Form's shortcode and paste it to any page/post, then fill up your form.
Fluent Forms Review template
Now it's time to set up the Fluent Forms review template in WP Social Ninja. Go to your WP Social Ninja dashboard & click on All Templates. To add a new template, click on the Add New Template button & select Add Review Template.
Then go to the Source option and select Fluent Forms from the dropdown. And click on the Save Template button. Now, you will notice that the reviews that were submitted by the form have automatically appeared on your website!
There you go! Now exhibit your top-notch fluent reviews and create more value for your website visitors.
Like you added social reviews by integrating Fluent forms with WP Social Ninja, you can add chat support too! Read the blog to know how to add the Fluent forms chat widget besides adding social media reviews:
Wrapping up
Still, confused?
You can't keep your website visitors as well as your loyal customers forever if you don't give them the reason to stay. Social media reviews can hook your users and improve your website traffic and sales.
WP Social Ninja
Try it today and see for yourself!
A social media plugin like WP Social Ninja lets you display your best fluent reviews from multiple social platforms. Moreover, if you are a Fluent Forms user you can create your own medium to collect or generate testimonials that can boost your user engagement to another level.
For more information, please check out our social channels: Twitter, Facebook, and YouTube.
Also, give a go to the documentation: Fluent Forms integration with WP Social Ninja.