Restaurant Branding: Everything You Need to Know (Complete Guide)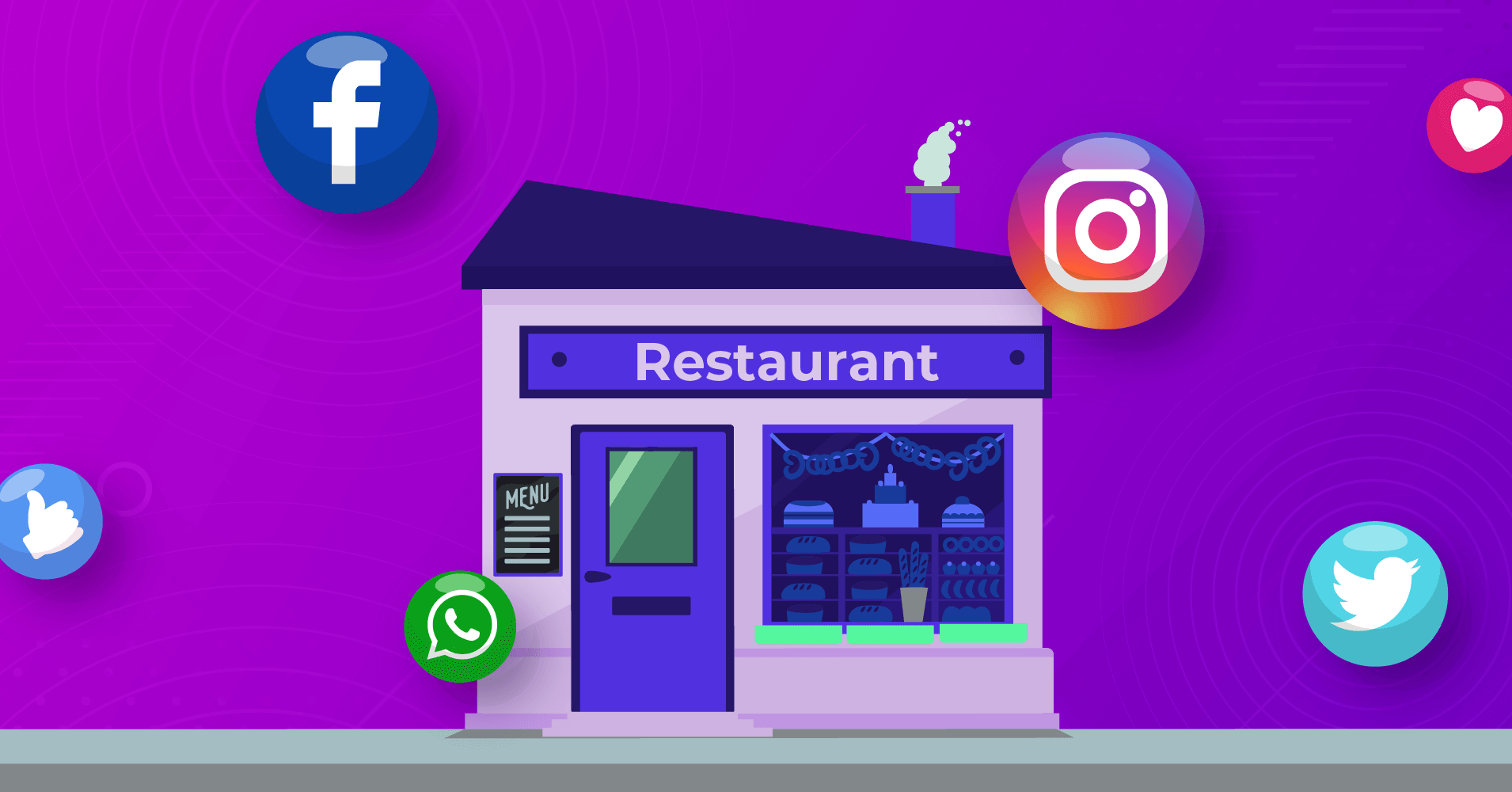 Are you looking for a restaurant branding guide for your new food shop?
The restaurant industry is booming every day. Every restaurant startup is looking for thousand ways to attract and appeal to its customers. Moreover, you must give them reasons to keep coming back when they dine in.
And there's only one solution! A top-notch restaurant branding with your brand identity. A successful food place is all about an unforgettable experience. For that, you need a branding strategy for restaurants.
Everything is important to create a brand persona, from choosing a place to deciding on a menu, the food taste, staff, and decoration. However, these deciding factors are worthless if you don't stand out in the digital world and reach out to the bigger audiences.
Today digital marketing is empowering, and you can't ignore this realm. Your social media marketing will create word-of-mouth marketing and boost your sales more than ever. 
This guide will help you create a restaurant brand identity and discuss other relevant factors you need to focus on. We'll also cover a case study that shows an ideal restaurant branding example. Let's begin.
What is restaurant branding?
No matter what size your business has, branding is extremely important, especially for restaurants. With the best restaurant branding, it gets easier for you to communicate with your guests, convey your motto, and outrank your competitors.
As a brand, you should always be careful about your business and target customers—the three most important queries to cover.
Who you are?
What are you doing?
Why do you want to accomplish?
How will you accomplish it?
For your restaurant barding, you should always keep in mind when they search you online or post something about you on social platforms; it's the brand that gets reflected everywhere.
So while setting your restaurant's brand foundation, you have diverse sectors to cover. Moreover, creating a brand strategy and implementing it is not such a simple task. It's more than good food and a great location that resonates with your customers. Let's find out.
Social Media Marketing for Restaurants (Effective Tips & Examples)
11 significant elements for restaurant branding
Think about the restaurant that you had created a true relationship with. But how did this happen? What is the reason that you kept going to that restaurant?
For example, Pizza Hut is one of the world's most renowned and promising restaurant chains. Along with time, they are getting more popular and going super strong. Needless to thank, the power of their branding.
So branding lets your customers know what they should expect from your restaurant. And a successful restaurant branding that differentiates you from your competitors. So whatever you offer and communicate with your customer should keep your brand in mind.
Mission & values
A mission statement indicates your goals and values. If you don't have them already, start by writing your business mission and values that you want to provide for your users.
Your business mission statement constantly works on your business goal, and it answers all the how and why of your business. Moreover, core values state the motive behind your brand so that the team can work together to achieve a successful branding.
For example, Taco Bell is a California-based fast-food chain restaurant providing the best quality fast food. Its mission is-
"We take pride in making the best Mexican style fast food providing fast, friendly, & accurate service."
Vision- To grow into the largest fast-food provider of Mexican-style cuisine in emerging markets.
Values-
Quality first
Customer-loyalty
Honesty
Teamwork
Your mission and goals don't have to be a long paragraph. However, everything you offer and provide should resonate with your restaurant culture and perspective.
Target customer
No matter what food you provide and how effective is your restaurant branding, you should always appeal to reach out to a bigger audience. Think about the multiple pieces that make your brand, including customer service, location, design, and decorations.
Despite these factors playing a crucial role, you need a target market. Without your reliable target market, it's impossible to generate business. Let's face this no one opens a restaurant assuming customers might come!
Without a customer base, you might attract occasional guests. However, you can't depend on the once-in-a-while customers to run a restaurant business.
Theme
While we all go for breakfast or dinner, are all the restaurants look the same? Obviously not. Each of the restaurants has a different concept based on its target customers. Moreover, restaurants may vary in food types and price range.
Your restaurant theme also includes their service style. For example, full-service sit-down restaurant, buffet, cafe, bistro, food truck, or a pop-up bar. Depending on the service, you should pick a theme, and the theme should always reflect your brand.
For example, Sweetgarden is a salad chain mainly focusing on lunch. Their business concept is to encourage people to eat healthy food and to spread awareness. So their theme, color, and design clearly show a simple and organic vibe complementing their brand.
Name
Do you know how the name "Starbucks" was chosen? Well, an advertising specialist advised the founder to pick a name with "st". It would be more powerful and famous. So initially, the idea was to "Starbo," but they finalized "Starbucks".
The intention behind this name was to connect with maritime in their marketing strategy. Lastly, the name "Starbucks" ended up with a siren (female mermaid) to lure coffee lovers worldwide. So, picking the right name is one of the most important key parts of your restaurant branding.
A restaurant name should be unique, meaningful, relevant, and memorable. Just like Starbucks, the name should connect with the guests. Moreover, they should know what type of food to expect when they walk in the door.
Logo
A business logo is the core of your business, and the rest of the design elements will come from it. So it is the most essential and impactful visual element your guests will remember over time.
A logo is an important part of a successful restaurant brand identity. It might incorporate a symbol, name, image, or an exclusive font, but it must compliment your brand with a similar color palette.
Famous pizza restaurant chain Domino's has a creative logo history. The owner put three dots on the logo to represent the first three Domino's stores.
Slogan
A prominent brand identity is what every brand deserves. A slogan is typically used with the brand name, so it is a shadow of your brand. Aren't we familiar with "I'm Lovin' It" or "Finger Lickin' Good"? Well, Mcdonald's and KFC's slogan has become a part of the culture.
In short, a tagline or slogan is a catchy statement that defines your restaurant branding along with the goals and mission. Most of the time, slogans are used to promote the brand, and it helps to create a brand strategy.
Ambiance
Your restaurant ambiance is one of the most important deciding factors in improving your business. Your guests will always remember and talk about how they felt in your environment. Moreover, they will eventually give honest feedback if the restaurant doesn't work for them.
You should focus on the smallest details that connect to your brand and ensure a comfortable customer experience for the guests. Because when the customers go to a restaurant for a meal, they expect a full experience along with good food.
Moreover, they want to be welcomed and feel special. So the right ambiance contributes to creating a great feeling. Some of the key elements to consider while restaurant branding:
Light
Interior decoration
Servingware
Color
Music
Menu
Server clothing
Server composure
Other tabletop details
Website
Your loyal customer and prospective guests are likely checking out online. They are probably Googling and want to explore your website to check the menu, hours, reviews, ambiance, and social media wall.
So it's important you stand out with your website. So investing in a website, keeping it professional, and integrating the necessary tools to create a top-notch branding strategy for restaurants is worth it.
Social media
Before we go anywhere, the first thing we do is to check the reviews and details on social media. People mostly research your restaurant on Google, Facebook, Instagram, and Airbnb. So the drill is you always be updated on social platforms.
Sometimes social media is your brand advocate and engage with your customers to run a conversation. Here your brand can be open to the world and establish a brand aura with consistent social media activities.
Moreover, social media is an excellent place for cross-channel promotion. Your social media reviews and feeds are a powerful source to showcase your strength and gain more customers.
Food
For your restaurant branding, you must need good food. It's a simple no-brainer. Food type, ingredients, taste, everything matters in terms of a brand voice.
For example, if you run a Chinese restaurant with a happy customer base, you must stick to your mission and offer food that represents your brand properly. From the minor details to the ingredients, check that all your decisions merge with your brand.
If you call yourself the best Chinese restaurant in town, take some extra time and effort to bring the best spices to make authentic food to serve your guests!
Branding
Restaurant branding has so many dynamics. However, the best practice is once you decide on the major components, you need to stick to them. Moreover, you need to make sure everything you do has to make sense to create a restaurant brand.
For example, you can't play classical music in a Mexican restaurant, or you can't serve wine in a coffee mug. However, some fusions intentionally create your style, appeal to your customers, and form a brand position.
So for a brand positioning in your customer's minds, you need a unique and effective strategy to outrank your competitors and connect with your customers.
Case study
Restaurant branding is a huge task for the team. It is a combination of design, decor, location, service, social media, and good food.
Gallimaufry
Bristol-based famous restaurant-bar Gallimaufry has a top-notch branding strategy. 'Gallimaufry' word comes from French. It means 'a mix or medley'. This brand's ethos is 'to make the best of what's at hand'.
It is a live bar along with homemade food. Gallimaufry has a live music bar with an artistic space with a traditional vibe. Local food and a seasonal menu entice the guests with Bristol's finest artists.
Polpo
Polpo is a conceptual Italian restaurant. It means Octopus in Italian. And this restaurant has special Venetian cuisine inspired by the traditional bàcaris of Venice. It provides seafood, mainly focusing on Venetian fare.
Polpo chefs are experts in seasonal specials designed to cook in a traditional method. The decoration pieces and artistic images speak a lot about the historical vibes taken even before the photography era. Moreover, a combination of historical and modernism has taken the outlook to another level.
Restaurant branding: All-in-one solution
You need support to create a unique and memorable brand identity for your restaurant. Traditional marketing and advertising won't sustain for the long run. To stay in the game, you need to work on your customer loyalty and retention.
But how do you go for that extra mile? We suggest you get WP Social Ninja, the all-in-one social media plugin. This powerful social tool will provide you with all the necessary features and functionalities that you were looking for.
If you think about a successful restaurant branding strategy, social media is the most important part of improving the conversion rate and boosting sales. And to start utilizing your social presence, you can display the social proof on your restaurant website, create a custom social media wall, and exhibit the best reviews and testimonials.
That's not all! If your business doesn't have sufficient social media reviews on the social platforms, you can collect your custom reviews and display them on your website. Moreover, you can use the notification pop-up and display the best social reviews for a powerful restaurant branding.
Secret ingredient: Great restaurant branding
One of the inevitable prerequisites of restaurant branding is you need to update the strategies to evolve with the time. Branding is not a temporary task, it will change its dynamics along with the customer base.
While changing your branding strategy, you have to focus on how it' affects your consumers and the relationship between both parties.
However, one important thing to keep in mind is that none of the branding strategies wouldn't work if you don't provide authentic food and uninterrupted service.