WP Social Ninja Turns One: Empowering Thousands of Small Businesses!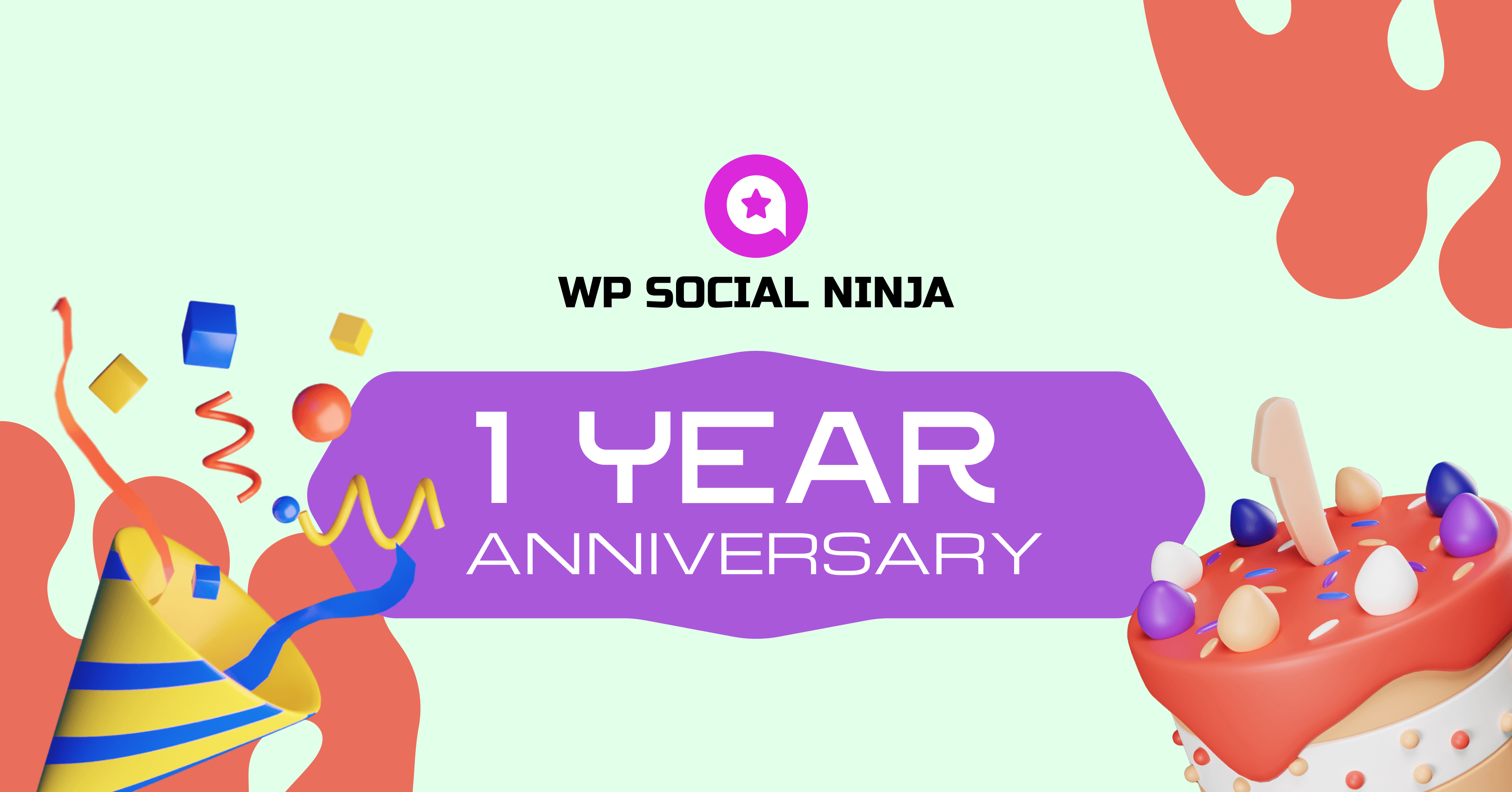 WP Social Ninja is celebrating its first birthday! It's difficult to believe that it's been a year already! Time flies so fast, doesn't it?
This journey throughout the whole year, whatever we experienced, you all are part of it and have made it possible to come this far over the last year. And we are very grateful and would like to give our warmest gratitude to all of you for your support and feedback.
The team of Ninjas have had a really fantastic year working for WP Social Ninja and made it achieve their milestones back-to-back.
And this one journey is not about only hard work. We all enjoyed together a lot to make all these possible and give you the best service.
About us
A product or service is defined by how its users perceive it- that's what we believe here at WPManageNinja. And this is how one of our beloved customers have to say about WP Social Ninja.
"WP Social Ninja is my 'go-to' Plugin for Social Media Feeds.

Especially if you're pulling in from other sources like Twitter, Facebook, YouTube and Instagram."

– Imran Siddiq
That's not all; we have succeeded in growing our community bigger every day.
Do you know where our productivity comes from? These are the achievements that are constantly motivating us to go far. And we believe we will go more!
Also, our social media followers are keeping their side with us. And we genuinely can't thank you all enough!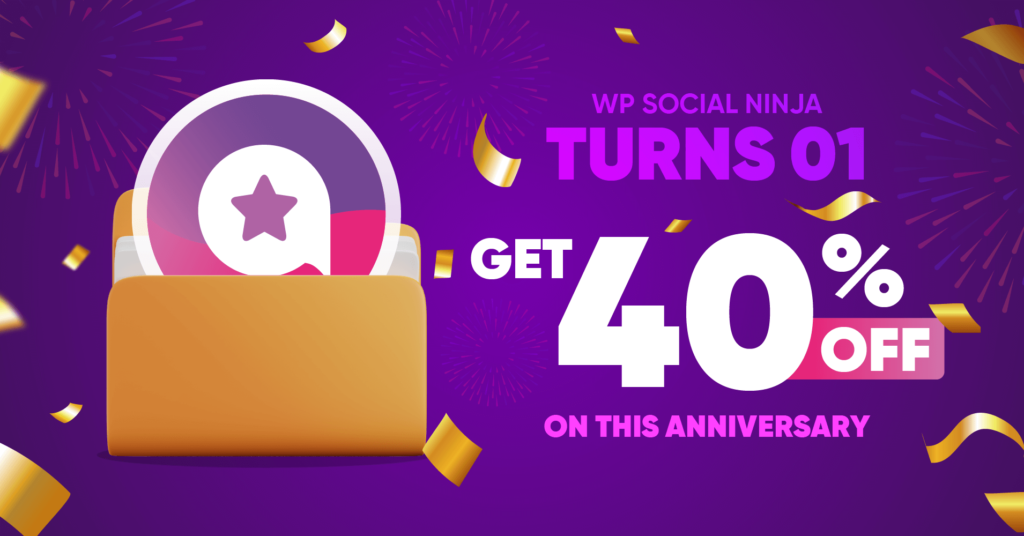 A short recap
If you ask how we have made our journey so far? Well, from 22 September 2021 to the present, our Social Ninja team has been working consistently to upgrade our social media plugin better than the very first time we started with the little updates.
However, many of you have left your opinions on how you loved our product and made some social proof that not only tells us to empower the functionalities of our plugin, also invites others to be part of our family.
"Best social plugin I have used, recommend! Lightweight, a lot of features, and very good support."

Sondre Dyrnes, March 22, 2022
Anyway, we would love to recap the mesmerizing memories we've made this year. Who wouldn't love to rewind the good flashbacks?
Let's see ours!
Year in review (Major updates)
Since WP Social Ninja started its journey with the aim of serving an all-in-one solution for all marketing professionals to make their business better, we have been able to make it.
We can even claim that it has been better as our plugin is getting older. Anyway, if we look back at the major updates our team has brought this year that you have all been waiting for; the first one is Facebook Feed.
We updated this feature on our WP Social Ninja version 3.5.0 at the beginning of this year, 24th January 2022. And the next biggest update came with Notification Popup.
If we skip to the next update on May 30, 2022, we released more on version 3.6.0, such as, Export/Import reviews, Auto, Manual-Sync. And a full functional testimonial is the notable one
Our all-new version brings new and exciting surprises. At a glance, what's inside WP Social Ninja 3.6.0: What's new in WP Social Ninja 3.6.0 | The All-In-One WordPress Social Media Plugin
Latest update
On our last update, team Social Ninja thought to upgrade our social media tool one more step, so they've gathered more ideas so that you can fully rely on this one plugin.
Let's have a glimpse of our latest updates:
In this list, the first thing to mention would be Custom style editor. And this one works like magic! Because now, you don't need to take help from any other page builders or work on your raw CSS.
And then, as we have been asked for more changes like mobile-responsiveness, Filter reviews by words, and Filter rating for Booking.com; we've resolved that too.
WP Social Ninja does not end here with updating the features, we have so many bug fixes and improvements by this update.

Check details: WP Social Ninja 3.7.0: Complete Editor Panel, Responsive Queries & More
TL;DR
7K+ Active installation
50K+ Downloads
24+ 5-star reviews
120+ Published blogs
20+ Youtube Tutorials
2K+ Twitter followers
20+ Updates
1.4K+ Community members
Favorite moments: Feedback we got from our users
When we look back on our one year of WP Social Ninja and think of how we've grown our community in this period, it's truly remarkable and thrilling for us.
Hear from one of our users:
"The plugin works perfectly and offers everything you can expect from this kind of plugin. I bought the pro version because I think it is important to pay the developers. I had a problem with the Social Reviews module of GMB. I contacted the support who offered me a solution the next day even though I'm in France with the time difference problems. I recommend this plugin for its features and the seriousness of the team that manages this plugin."

– willybonneau. April 15, 2022
Here's another review video of WP Social Ninja, which has been recently uploaded:
Throughout our journey
So far, WP Social Ninja has come across a wonderful journey, which not only witnessed only the day-to-night efforts of our team but also enjoyed it through memorable moments throughout the year.
We work hard, take breaks, make fun, and enjoy our work!
Some sneak peek of our team activities…
India tour
How to boost up your mind and generate new ideas when you dive into only the workload? As we've said, the more we love doing our work, the more we love to party!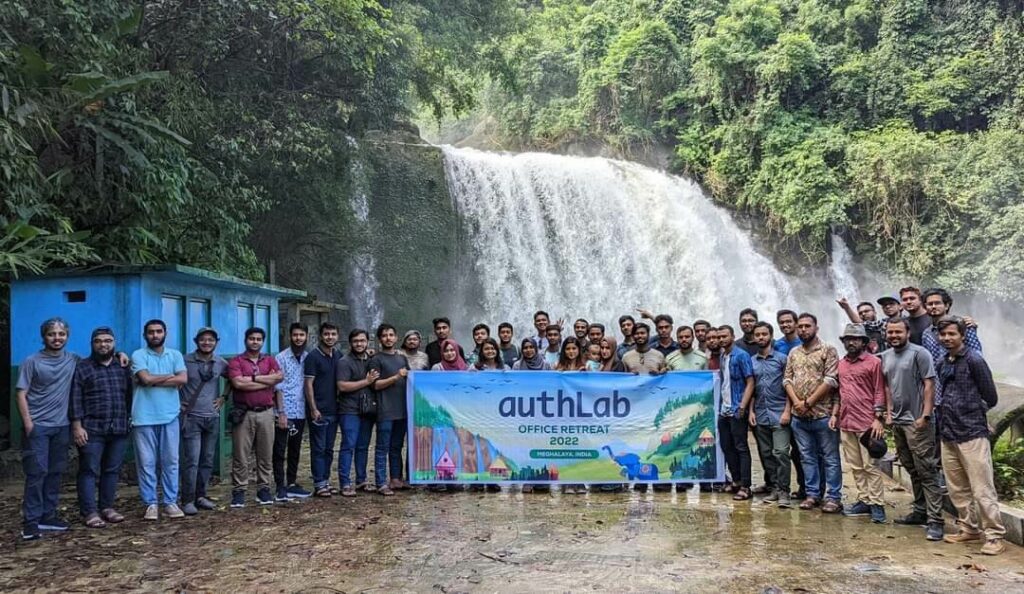 And we try to cheer our minds in between our work to become more productive and innovative. This year we arranged an international tour with all our team members, and here's a glimpse of the last tour we had in India.
WordCamp
Gathering knowledge has no boundaries. And when it's about exploring and sharing ideas, we never miss the chance!
Attending WordCamp Europe this year was one of the memory we would love to share. As we are working on WordPress, and our team has contributed to it, we loved being a part of the conference held in Europe.
That was not all! We also had a chance to meet with the exciting local community in Nepal at WordCamp Kathmandu this month!
Let's celebrate the birthday together
And then the celebration time arrives! Don't you know want to know how we celebrate?
We've all been there, waiting for the party to start. And our entire team has been anticipating this special day with bated breath. A moment from WP Social Ninja birthday chaos;
Well, that's all about our journey of turning WP Social Ninja one. And the celebration is not limited to just the team behind it, but also You! So let's whoop it up together!
Won't you ask what we are going to offer? Well, we have a special treat for you, and we hope you'll love this too. We bring you to the biggest sale on all our premium packages. So what are you waiting for?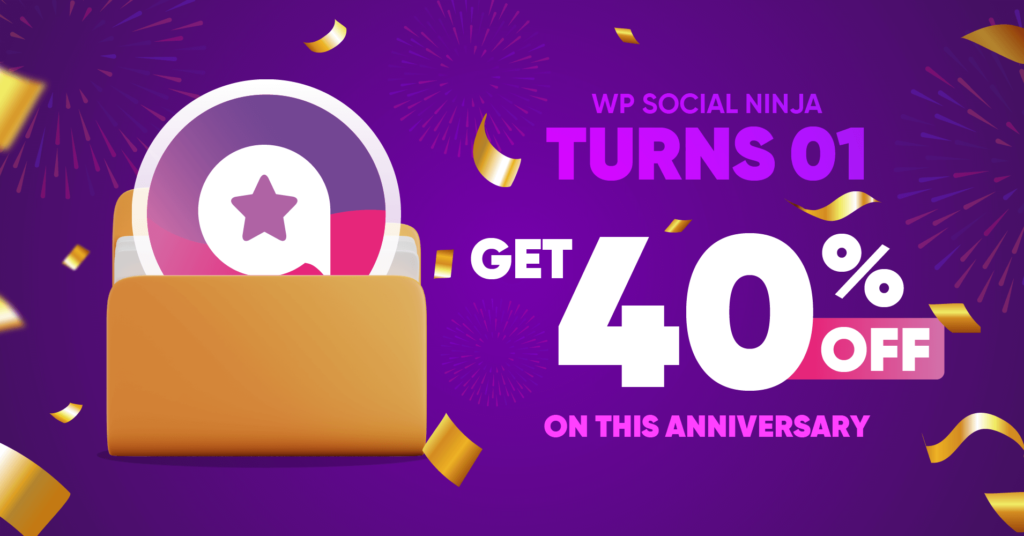 This is how we are growing, and we are blessed and happier with how we are heading. Still, we need your more support and suggestions so that we can consistently give something new to you.
Keep believing in us; we'll have more surprises and successes next year ahead. We can assure you that some big and exciting surprises are waiting ahead of you, courtesy of Team Social Ninja.
Stay connected with us with our Facebook Community. And also, keep following us on Twitter, YouTube, and Facebook.