9 Most Powerful Website Engagement Tools for 2023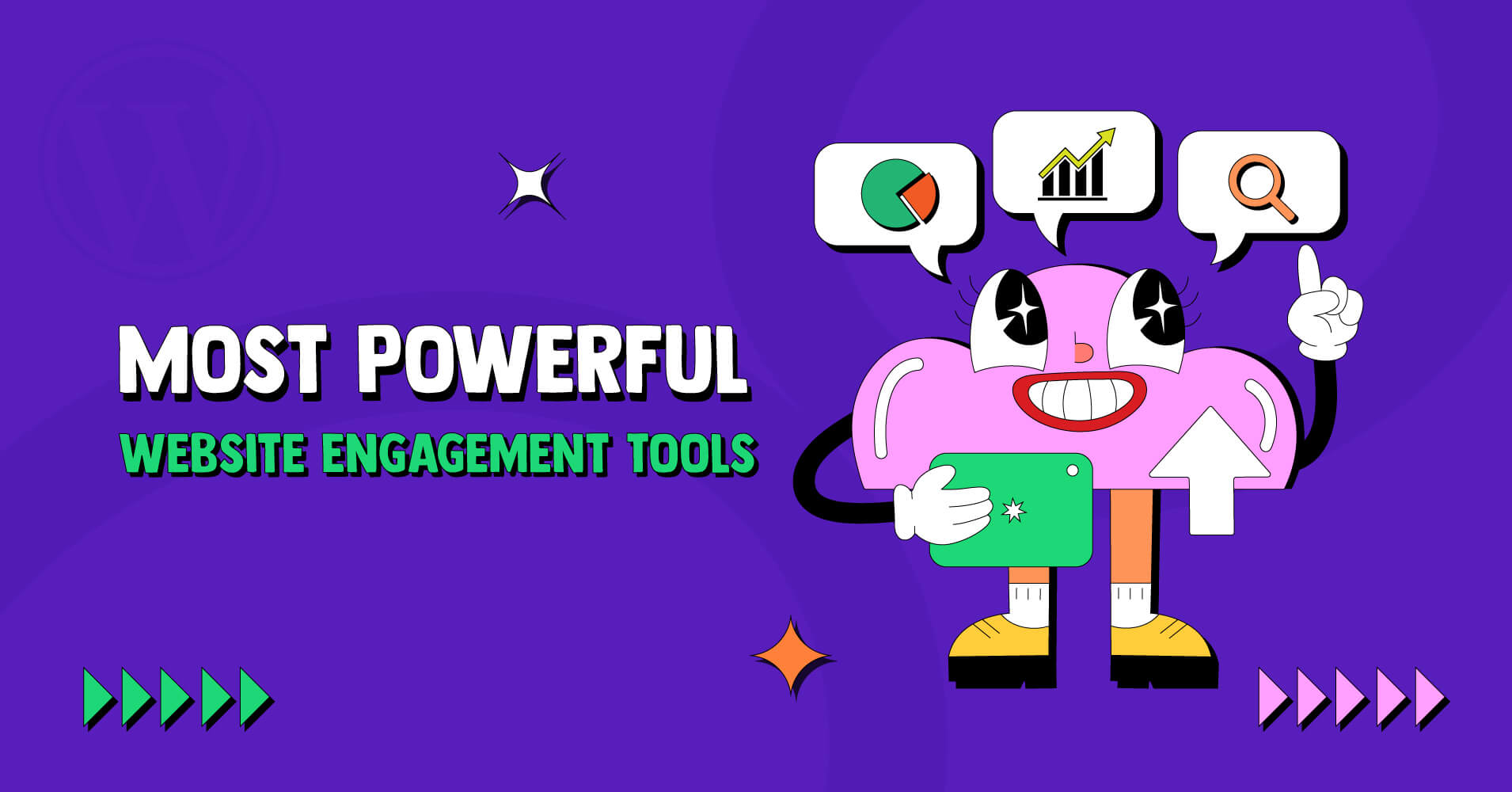 Did you know that 88% of web users are less likely to come back to a website after a bad user experience?
Grabbing and retaining user attention on websites has become an ongoing problem in today's digital world when virtual interactions dominate the corporate landscape. Only proper website engagement tools can solve problems like improving user experiences and creating genuine relationships.
In the following article, we will examine 9 of the finest website engagement tools, evaluating their benefits and standard execution to help you realize your full potential. Prepare to upgrade your online presence and attract your audience like never before!
What are website engagement tools?
Website engagement tools help small businesses to support, engage, acquire, and retain the customer throughout their lifespan. Website engagement tools are all about the website's performance and interaction, making the website more personalized, dynamic, and contextually more relevant to your business.
Overall, website engagement tools can be your website's software or performance analysis tools. Using these tools, you can create forms for collecting your leads, showing customer reviews or testimonials, managing and tracking email campaign performance, getting real-time user and website performance data, and other useful facilities.
Benefits of using customer engagement tools
Using a customer engagement tool takes time to evaluate your website performance. Regardless, if you can utilize the tools correctly for research purposes, you can discover diversified ideas about your business website.
Website engagement tools prepare your sites in a better way to provide the maximum value for your visitors. Considerable people think the benefits of engagement website tools are insignificant, but it works diversified to scale up your target audience.
There are different advantages available to use customer engagement tools on your websites, and you cannot overlook them:
Make emotional attention to your brand as if users can feel your product or services
Users can remember your website or business for an extended period
Generate massive attention to your website without paid traffic
Increase customer loyalty for an unspecific period of time
Collect the lead and transfer them as a loyal customer
Analyze your current performance and take the necessary steps for the next quarter
Spread word-of-mouth marketing displaying social proofs
Provide quality customer support for your customer
Build up an excellent table for and compare the data with other competitors
Fix up the on/off page-related issues to your website for more visibility on SERP
Construct and modify your landing page in a more crazy way and many others
9 most potent website engagement tools for small business
In the digital world, you will find thousands of user engagement tools, but relying on these tools takes a lot of work for small business owners. But with so many options, it's difficult for anyone to pick the accurate one. In this post, we have sorted the top and best user-rated tools for users who can use them for their businesses.
Unbounce (Landing page builders)
Unbounce offers a user-friendly drag-and-drop interface that allows non-technical people to create personalized landing pages without any coding experience. With the help of Unbounce, you can create visually beautiful and clear landing pages that effectively engage your visitors.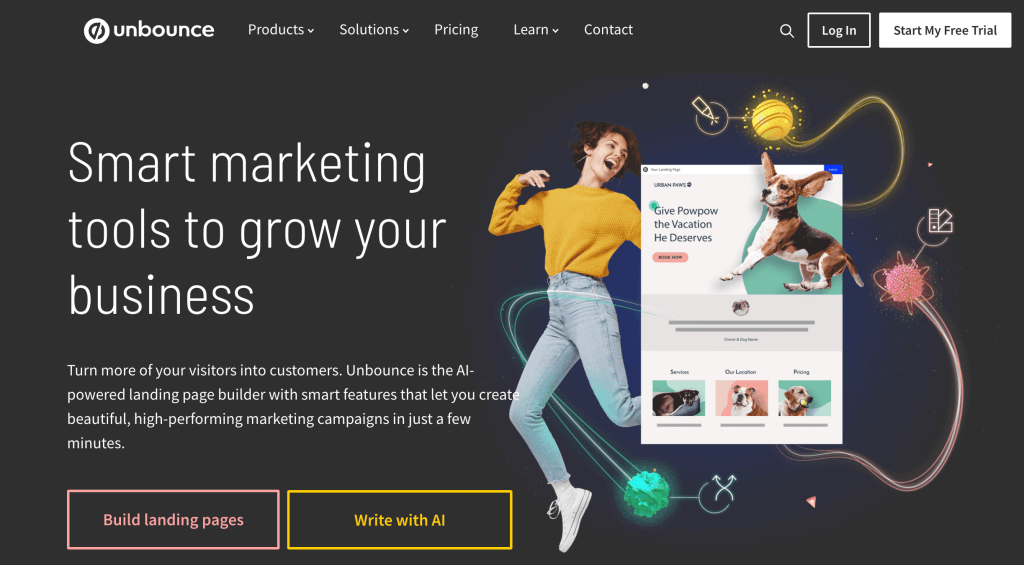 The large selection of editable templates in Unbounce's library is one of its standout features. Every landing page component, including the content, graphics, forms, buttons, and others, get changed to fit the message you want to convey. Additionally, Unbounce has refined targeting and personalization tools that let you create landing pages tailored to particular audiences.
Use Unbounce as part of your online engagement strategy to:
Enhance Conversion Rates
Improve the user experience
Performance Metrics analysis
Copywriting
Traffic optimization
Overall, Unbounce is the most suitable landing page builder to Increase your traffic and get fantastic results!
Ahrefs (Keyword research and SEO toolset)
Ahrefs is an advanced SEO tool created to change how you improve your website and interact with your online audience. Ahrefs allows you to maximize its online presence and fix the site's health issues.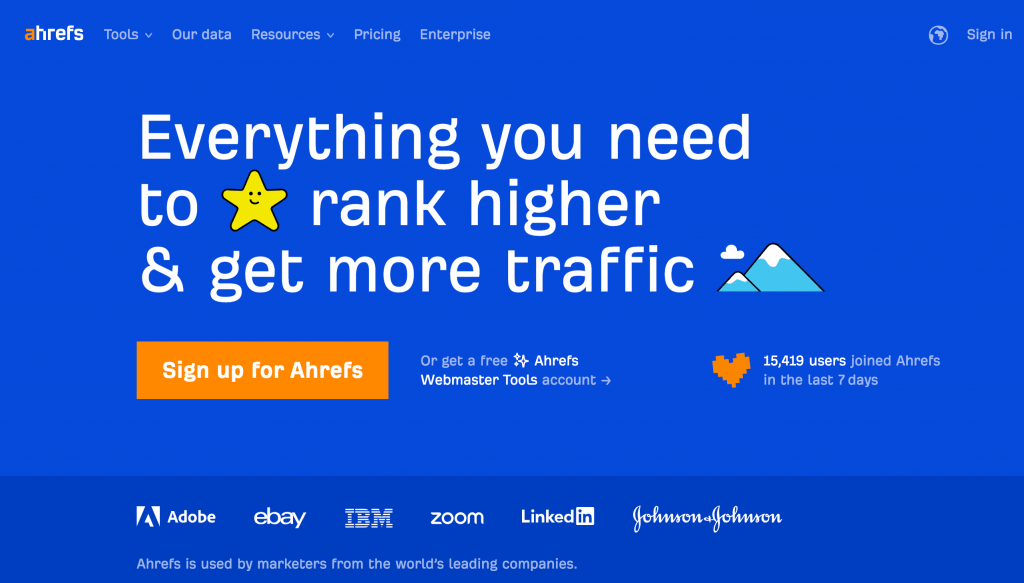 You can easily improve your website's search engine ranks and increase organic traffic using Ahrefs. Its keyword research tools enable you to find high-value phrases and improve your content to appeal to the right audience. You can enhance the exposure of your website on SERP (search engine result page) and make it more manageable for customers to find your business.
It gives detailed competitor analysis so you can gain essential details about the strategies of your closest competitors and identify new prospects. Knowing who other companies are can improve your SEO efforts and maintain a lead in online competition.
Here's how Ahrefs can help you achieve these goals:
Comprehensive Keyword Research
Competitor Analysis
Backlink Analysis
Site Auditing and Monitoring your website's engagement
Rank Tracking and Reporting
Ahrefs can help you expand the potential of your website and take your SEO efforts to new heights.
Google Analytics (Website performance tool)
Google Analytics is a robust web analytics tool delivered by Google that allows website users to track and analyze different aspects of website performance and user attention. It provides helpful insights into website traffic sources, visitor behaviour, demographics, and conversion rates.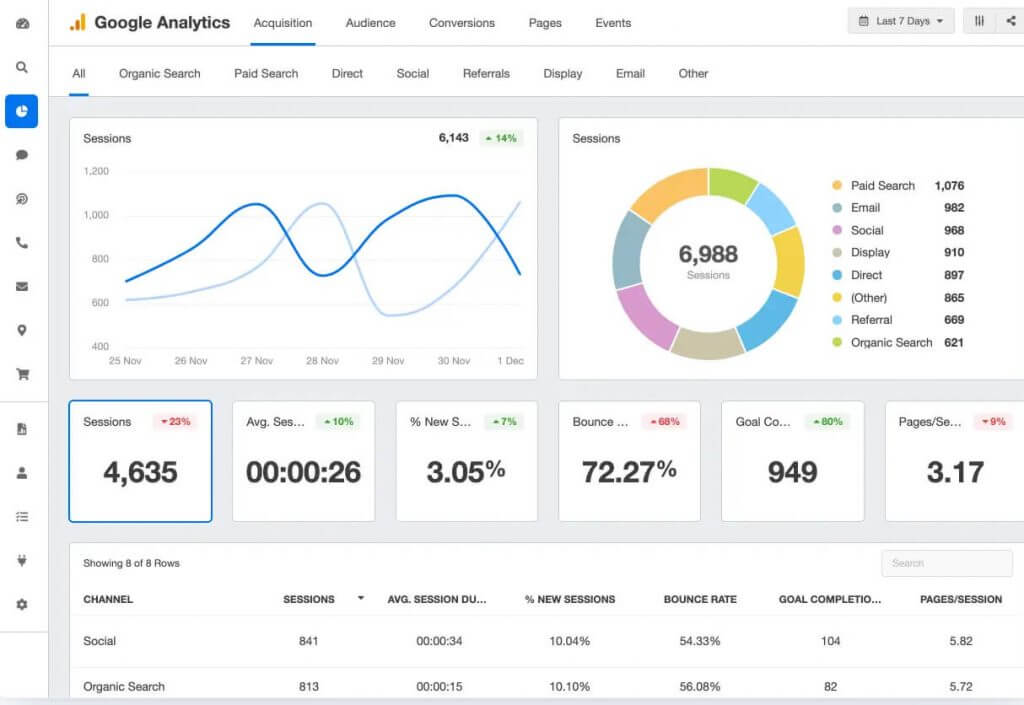 Using Google Analytics, website owners can make data-driven findings to optimize their website, achieve their business goals and improve user experience.
Here are some benefits of utilizing Google Analytics as a website engagement tool:​​
Performance Measurement
Audience Insights
Traffic Sources Analysis
Comprehensive Data Tracking
Conversion Tracking
Real-time Monitoring
Overall, Google Analytics is a powerful user engagement tool that helps your website's performance. If anyone can utilize this more properly, it will likely drive better results and generate sales.
SEOPress (SEO optimization plugin for WordPress)
SEOPress is a popular SEO optimization WordPress plugin that helps businesses increase organic traffic to their websites and improve search engine results. It provides many features and functionalities to improve on-page and off-page SEO.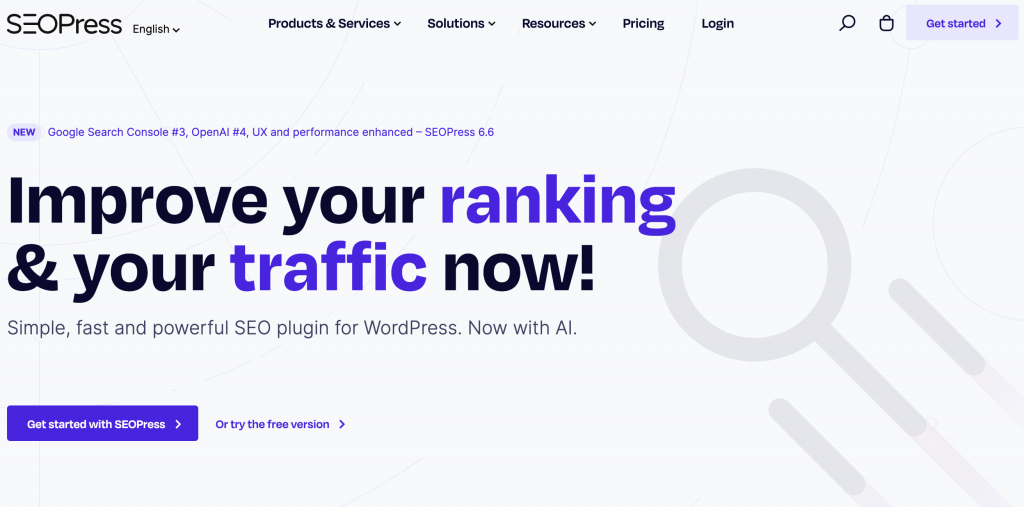 SEOPress is a robust website engagement tool that improves social media integration, on-page optimization, image optimization, and vital SEO analysis. The procedure will help increase your website's exposure and stimulate user involvement for more customer attention.
The following are some benefits of using SEOPress as a website engagement tool:
SEO reports and analysis
Tracks your keywords positions
On-page optimization
Off-page optimization
Generate the title and meta description automatically
Google search console
Attempt to unlock the full potential of your website today with SEOPress, and watch as your interaction levels rise, drawing more people and generating online success.
WP Social Ninja (Social media plugin for WordPress)
WP Social Ninja is a robust social media plugin to increase website engagement and your website's visibility. This plugin is an effective solution for businesses and website owners looking to increase social media interaction and generate online sales because of its vast feature set and seamless integration with 30+ platforms.
WP Social Ninja's ability to increase social media engagement is one of its introductory advantages. The plugin provides visually appealing and user-friendly 4+ social feeds, 9+ social reviews, and 15+ chat widgets that can add to your website for better user engagement.
Win your customers' hearts with exceptional features
Discover how WP Social Ninja can assist you design outstanding customer experiences.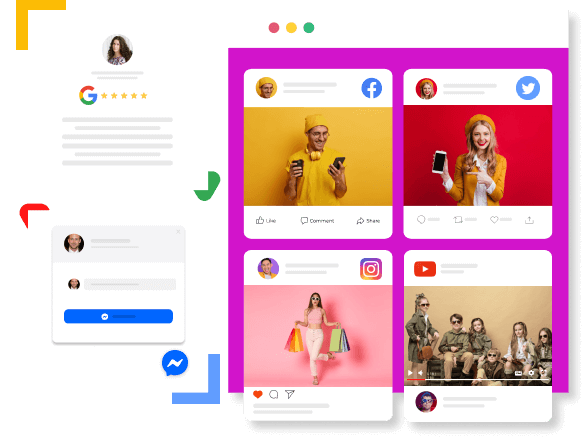 Moreover, you can also display your Testimonials, Shoppable Instagram feed, Facebook album feeds, and many more customer attention-grabbing features on your WordPress websites. The key features of WP Social Ninja are:
Integrate with 30+ widgets
Notification popups
Testimonials
Shoppable Instagram feed
Facebook event and album feed
Dynamic styling option
Full customization facility
SEO focused
Fully responsive, and many more
This promotes more visibility for your website, as each platform or feature has the ability to reach a large number of people. Overall, it's one of the great website or social media engagement tools.
Fluent Forms (Lead generation form)
Fluent Forms is the most efficient and effective form builder plugin, functioning as an excellent website interaction tool. Its purpose is to collect user data and generate leads. Fluent Forms provides a fluid and user-friendly experience to both website owners and users.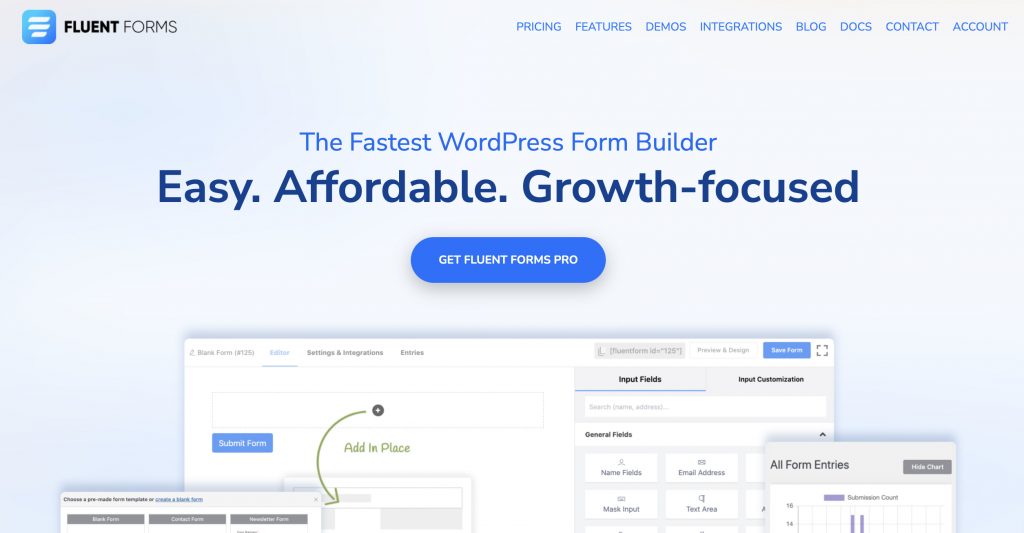 One of Fluent Forms' main advantages is its adaptability and vast feature set. Website owners can use this plugin to generate fully configurable forms customized to their individual needs. The intuitive drag-and-drop interface enables users to easily construct and modify forms by selecting from a number of field options, such as text fields, checkboxes, dropdown menus, buttons, and more. There are the key benefits of Fluent Forms:
Conversational forms
Enriched template library
Smart conditional logic
Convert data into PDF
Collect payments and donations
Connect to CRM
To increase interaction, Fluent Forms offers a variety of form customization choices. Users can include conditional logic, which allows for dynamic form behavior based on user input. Fluent Forms has also integrated with WP Social Ninja.
Fluent CRM (Email marketing tool)
Fluent CRM is a powerful email marketing tool and WordPress plugin designed to enhance website engagement. Fluent CRM empowers website owners to communicate, retain and connect with their audience effectively.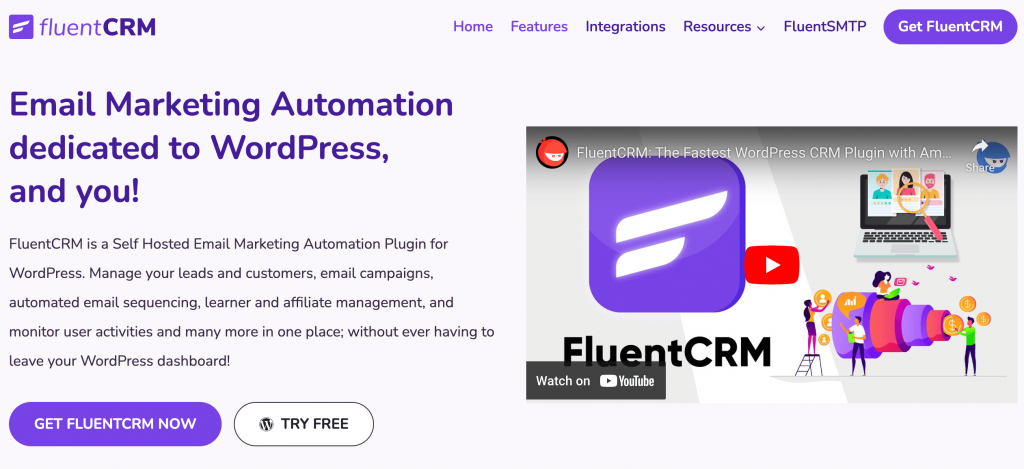 One of the key benefits of Fluent CRM as a website engagement tool is its ability to automate email marketing campaigns. It enables you to create personalized and targeted email sequences based on user behaviour and preferences.
Another notable feature of Fluent CRM is its lead generation capabilities. You can capture visitor information like 360-degree contact overview or details. The process helps you build a valuable email list and allows for your ongoing communication with your audience.
Fluent CRM integrates seamlessly with other platforms like WooCommerce, LearnDesh, BuddyBoss, LifterLMS, and others. The integration process will directly manage your email marketing efforts within your website's dashboard. You can track user engagement, monitor email campaign performance, and gain insights into your audience's behavior through detailed analytics.
Overall, Fluent CRM serves as a comprehensive website engagement tool by providing the following benefits:
Create contact list
Send emails
Personalized Communication
360 contact overview
Automation
Lead Generation
WordPress Integration
Data-Driven Insights
With Fluent CRM, website owners can leverage the strength of email marketing and automation to create meaningful engagement with their audience.
Fluent Support (Customer service tool)
Fluent Support is an excellent customer care tool for increasing website engagement and optimizing the user experience. It provides a wide range of elements as a WordPress plugin, making it a valuable asset for organizations.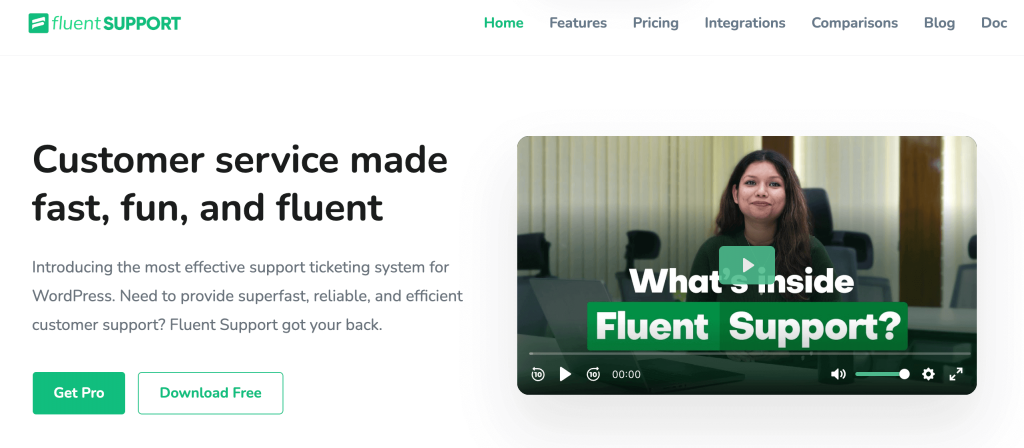 One of Fluent Support's distinguishing characteristics is its product-centred support approach. It means that businesses may organize their support tickets based on their products or services. The technique streamlines interaction and allows support staff to focus on fixing issues specific to a product, increasing customer satisfaction and resulting in faster response times.
Another critical feature of Fluent Support is its ability to collect and present user data. When a customer contacts Support, the plugin gets pertinent information such as their name, email address, and past interactions.
Fluent Support as a website engagement solution has the following advantages:
Instant Assistance
Personalized Support
Data-Driven Insights
Automated Chatbots
Fluent Support increases engagement when incorporated into WordPress websites by offering a seamless and user-friendly support experience. The product-based support system efficiently handles inquiries about individual goods or services, resulting in faster problem resolution.
Ninja Tables (WordPress table builder plugin)
Ninja Tables is a great table plugin that will change the way you present data in tables on your WordPress website. Because of its simple interface and powerful customization options, the plugin allows you to create gorgeous tables in minutes. Because of its distinctive features, this WordPress extension is the best option for building interactive tables for your website.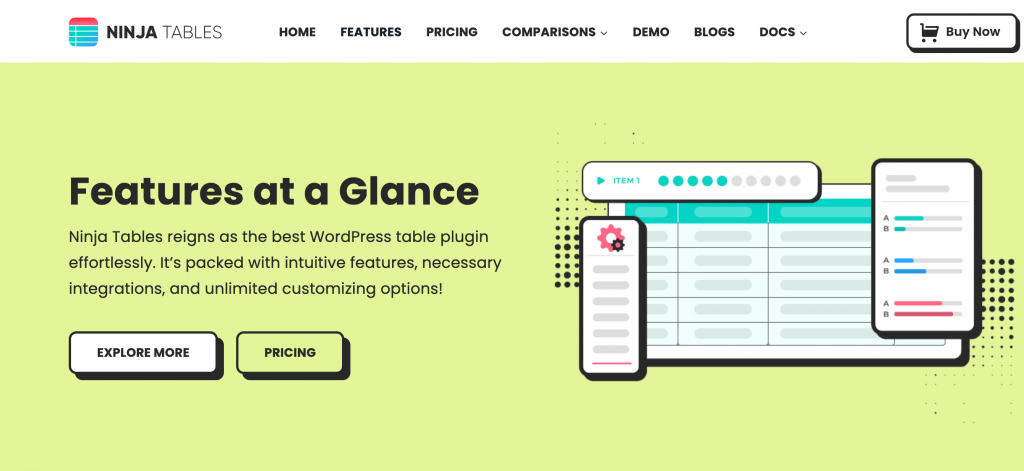 Ninja Tables offers a variety of customization choices. To create a visually consistent and engaging user experience, you can choose from table designs, colors, and fonts. You may also regulate your tables' responsiveness, ensuring they look nice on any device or screen size. The significant benefits of Ninja Tables are:
WooCommerce product table
Google sheets table
Table design and customization
Existing data import-export facility
Pre-made templates
Custom CSS
Multimedia facility and many more
This table builder WordPress plugin is the best option for creating professional and interesting tables on your website, whether displaying product information, pricing details, or any other data-driven content.
Final words
Finally, website engagement tools are essential for any online company or association aiming to improve user experience, raise conversion rates, and promote customer satisfaction.
Websites can form a more immersive and engaging atmosphere for visitors by including the plugins mentioned above. Businesses may effectively connect with their audience, establish meaningful relationships, and ultimately drive success by leveraging the potential of these tools.
Please pay attention to the ability of website engagement tools; they hold the key to unlocking a world of options for your online presence.