10 Best WordPress Testimonial Plugins to Showcase Your Social Proof (2023)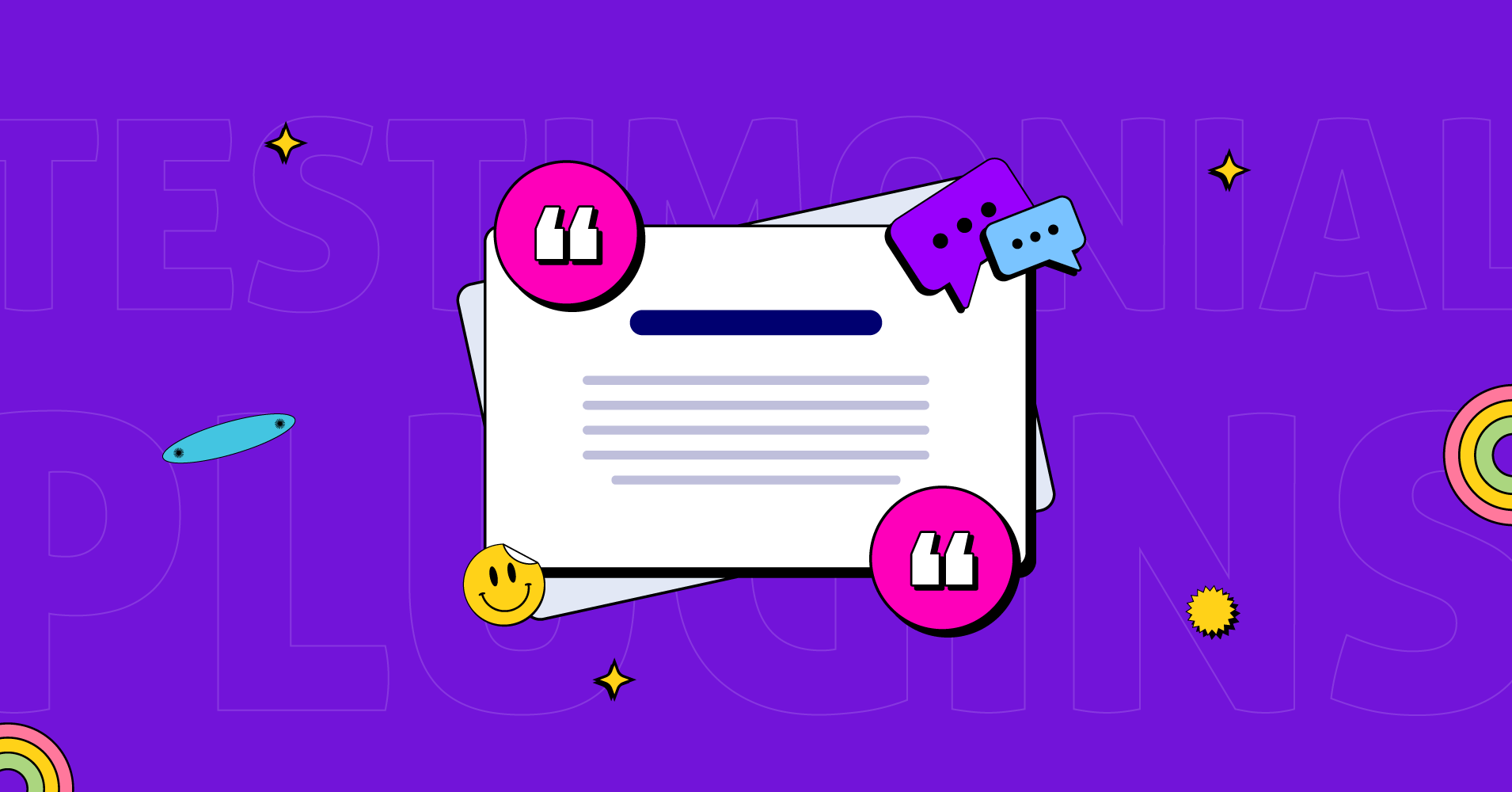 Your brand may hold hundreds or more reviews and testimonials. But what's the point of having those social proofs if you cannot keep them in the right place? A good WordPress testimonial plugin can help you with this.
Your brand promotion and marketing copies are not enough to beat the challenge if you want to make your brand stand out from the crowd. Let your reviews speak too about you!
Testimonials are a great source to make your audience believe more in your business and encourage more to make purchases.
However, if you're in search of a reliable and well-performing testimonial plugin for displaying testimonials on your website; continue reading the blog. You'll find the best for you from the best testimonial plugins list.
In this blog:
So, no more further ado, let's jump to the topic;
Why use a WordPress testimonial plugin?
WordPress testimonial plugins are made only to make your work easier. If you think just having reviews and testimonials is all that you need, but there's more you can do.
Having a WordPress testimonial makes this easier for you to collect your feedback. Moreover, you can take the full control, customize, and display the way your brand demands.
Again, not every business owners are tech-savvy. Many of them may not have the technical knowledge. In that case, WordPress testimonial plugin is the lifesaver for them. Not only it saves your time, also the testimonial plugins will require you to do no coding!
Best Testimonial plugins for WordPress
So, to save your time and effort keeping the price concern we've listed the top 9 best testimonial plugins to add social proof on your WordPress website.
Check out which one takes place on your priority list!
WP Social Ninja
An all-in-one social media solution for any business. To display your reviews and testimonial this plugin should come in first. WP Social Ninja has a full-functional testimonial feature, where you'll get to make your testimonials manually.
The plugin has multiple pre-built widget templates from which you can choose the best one that goes well with your theme and brand. From creating to customizing testimonials, you're free to get unlimited functionalities from the editor panel of WP Social Ninja.
You can create beautiful testimonials you get from your customers and have the accessibility to doing any changes or modify content that your testimonial contains. You can add images too. Additionally, the style editor panel has plenty of custom options that will let you custom-style each of your content details.
As WP Social Ninja has multiple features and functionalities, let's see what else it can offer you;
Key features of WP Social Ninja:
Social reviews
Social feeds
All-in-one chat widget
Notification popup
Testimonials
Shoppable Instagram feed
Facebook album feed
Facebook event feed
Custom reviews
In-depth template style
All-inclusive custom options
Responsive query
Advanced filter settings
Real-time syncing
Manual syncing
Export/import reviews
Translation options
Pricing: $79 per year for a single license.
WPForms
This one is one of the most popular form builder plugins. WPFroms can be used for collecting testimonials too.
It has special form templates pack add-on, which includes a testimonial form template. This plays a role to build your testimonial in some editing forms that are availing you with modifying your reviews as you want.
Also, it will allow you to update media files and documents while you upload your testimonials.
Features of WPForms:
Testimonial form template
Modifications of testimonial form
Allows uploading files
Provides creating survey reports
Pricing: $299.50 per year.
Ultimate Blocks
If you are looking for a Gutenberg-friendly solution to create testimonial sections, you must give a look at the Ultimate Blocks plugin. It has an amazing testimonial block by which you can showcase social proofs in stunning ways. You can easily integrate the block into any part of your web posts and pages.
The block allows you to add the reviewer's photo, name, designation, and current workplace. You can also customize the block's background color, font color, and font size for aesthetics.
Key Feature of the Testimonial Block of the Plugin
Extremely beginner-friendly
Offers styling options
Mobile-responsive
Built-in testimonial schema
Easy to add anywhere on posts and pages
Pricing: Ultimate Blocks is free to use and has no premium version yet.
Easy Testimonials
One of the best WordPress Testimonial plugins is Easy Testimonial. This plugin has some basic and interesting features that will help you create your testimonials easily.
It also has multiple customizations and styling options that you can find in creating your Testimonial widget. Adding images and generating your own shortcodes are also available.
Key features:
Easy and customizable design
Add image to testimonials
Exerprts supported
Compatible with multiple site
Advanced transition options
Pricing: Starts at $99 per year for a single site.
Strong Testimonials
Strong Testimonial is another amazing plugin that has some premium features for creating testimonials on a WordPress website.
This plugin is also handy for the non-technical people who want an easy solution to display their product reviews and testimonials. It provides setting up the testimonial widgets with filtering options and the use of tags or categories.
To give full accessibility to customizing the testimonial template this plugin has customizable frontend settings from where you can decide how to decorate your testimonial. Additionally, with this tool, you can set up notifications for emails and configure the anti-spams too.
Features of Strong Testimonials:
Template customization
Navigation options with slider
User-friendly design and attributes
Supports thumbnails and Gravatars
Pricing: Basic plan starts at $39.
Testimonials widget
This testimonial plugin is great for creating testimonials and displaying them on any post or use as a sidebar widget.
Testimonials Widget comes in both free and premium versions, where you will find only basic features in the free version and for updated features, you have to take the pro version which has a testimonial rotation feature, operable shortcodes, and theme options.
Like other quality testimonial plugins, this plugin also has filtering testimonials by category or tag. Besides, it provides adding transition carousel, sliding and fading animation with the texts, images, and videos.
Important features:
Multiple widgets per page or post
Multisite capabilities
Easy configuration process
Editing options for both admins and editors
A separate dashboard for the admin to manage testimonials
Pricing: Starts at $29.99 for a single site license.
Testimonial Slider
One of the best testimonial plugins is the Testimonial slider. To give a better customer experience is what the plugin has to offer.
You can create testimonials giving them beautiful layouts and choose sliders from various options. Also if you want to collect testimonials from your customers you can add a contact from too.
Key features:
Testimonial sliders are mobile responsive
Have contact form
Creates sidebar widget
Easily customizable
Pricing: Paid version starts at $39 for a single-site license.
Testimonials Showcase
To decorate testimonials in a grid or slider, Testimonial Showcase provides you the option to do that.
As it has an easy submission form, with this you can allow your customers to submit their testimonials by themselves. Additionally, this plugin supports multiple languages; which will make your website more user-friendly and encourage more of your customers to write testimonials.
Important features:
Allows submission form entries
Privacy to decide which reviews to keep
Add testimonials with star ratings
Add media with the testimonial widgets
Both grid and slider available
Pricing: Testimonials Showcase is $19.
Site Reviews
Site Reviews is good for adding reviews on a website; which is easy to set up and the basic features will give you use some amazing functionalities like displaying the testimonials category-wise, the approved reviews, and more.
Apart from the convenient user-friendly features, this plugin has some limitations too.
If you want to create custom submission forms and use extra features like sorting and filtering, that will require you to add extra add-ons. On the other hand, if you choose only your reviews to be displayed on your website, you can try using Site Reviews.
Basic features of Site Reviews:
Needs approval for posting reviews
Have privacy for accepting reviews from users
Categories for displaying reviews
Best reviews can be pinned to the top
Block specific words, phrases, and IP address
Pricing: Free with paid plans starting at $89.
Testimonial Builder
You are able to add an infinite number of testimonials to your website using Testimonial Builder. By using shortcodes or a widget directly, you may add them to any page or post. Numerous customization choices are available, including font type and family, color, and image layout. Name, designation, content, and custom link fields can all be found on the testimonies themselves.
The plugin's pro version offers more slider layouts, grid templates, a front-end submission form, and a rating system.
Important features:
Unlimited testimonial
Front-end submission form
Customization options
Slider and grid templates.
Pricing: $42 for a lifetime license.
Our suggestion on WordPress testimonial plugin
The above-mentioned plugins from which you can choose any one for displaying testimonials on your WordPress website.
But, to choose which one would be best for your business, you need to think about the objective of your website first and go through the features that match your need and meet your budget. And then make the final step!
However, as you've seen those plugins almost all are good in their performance, still, if you want to make the best decision, choose WP Social Ninja. This plugin would be the smartest solution for making your social media journey better.
Read: How to Add Beautiful Testimonials in WordPress Websites (2023)
Whether it's for creating testimonials or showcasing any other social proof from your social media platforms, you can do it by WP Social Ninja. Plus, you will get unlimited functionalities of editing your templates anyhow you want, and all are at a fair cost compared to others. Where you have to pay an amount for a specific feature, here you will get all of the key features in a go at the minimum price.
So get the maximum features without breaking your bank!
Final thoughts
In the end, remember that adding a testimonial will help you make your audience to a potential customer with the power of word-of-mouth marketing.
So, increase your business credibility and earn a good reputation at its best. Upgrade your business today and make your business strategy with a testimonial plugin!
We hope you've found this article useful. Get connected with WP Social Ninja and follow us on Twitter, Facebook, and YouTube channels for more useful tips. And please let us know your opinion about the WordPress Testimonial plugin in the comment section.