WP Social Ninja 3.1.0 | The Most Awaited Features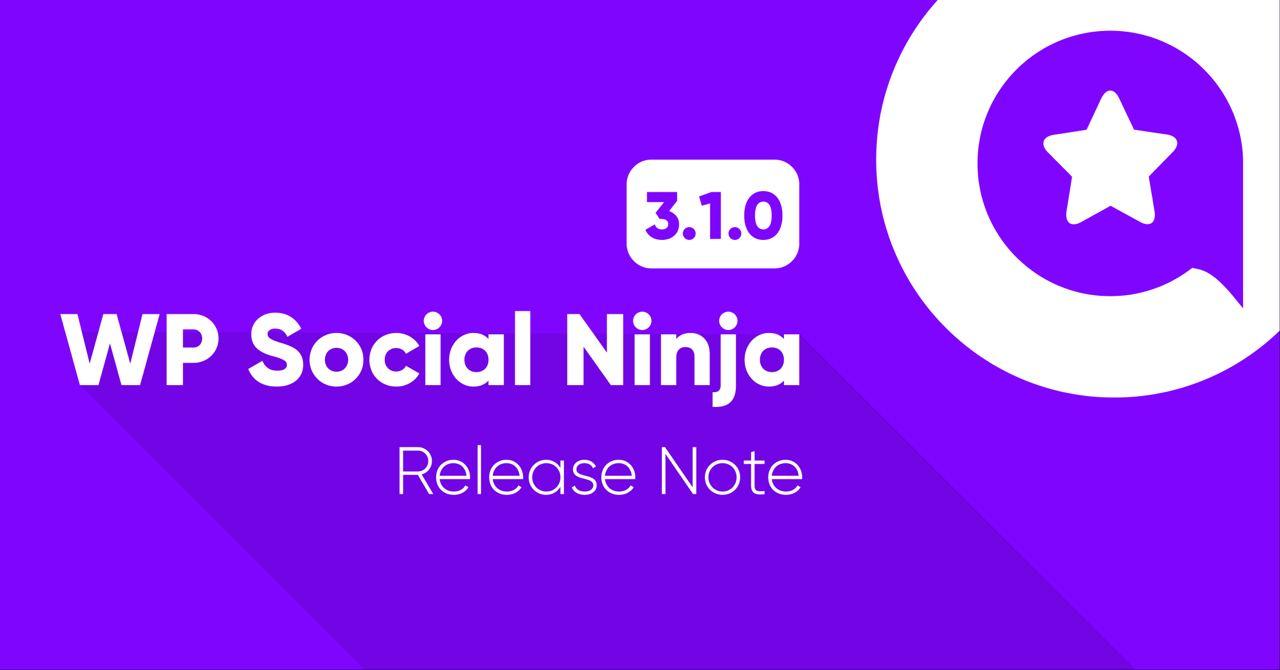 Finally, the wait is over!
WP Social Ninja users had been asking for a lot of features updates. So the team had worked extremely hard with the requested features and came up with massive updates that were originally scheduled for the next quarter. We couldn't be happier than this to present the new, improved features of WP Social Ninja 3.1.0.
In this update, we have mainly focused on user-generated features from our community. So without wasting any more time, let's see what's inside this updated wholesome social media plugin.
Native Oxygen Page Builder Widget
Our users have been looking for this integration for quite some time, and here we are presenting the update.
The Oxygen Page Builder Widget is a brand new update with WP Social Ninja 3.1.0 with super compatibility features. In this page builder, you are allowed tons of customization processes for a well-decorated representation of your social proofs and social media feeds.
From the settings panel, you can select a template and design the template with the advanced settings. Change and adjust the details to create an enticing visual on your website!
The new WP Social Ninja Oxygen Page Builder Widget comes with:
Social Reviews
Instagram Feeds
YouTube Feeds
Twitter Feeds
Brand new Notification Streams
Haven't we all been waiting for the Notification Streams where you can pop up your best reviews on your website every time a user visits your page? So they don't have to go to a particular page and search for the testimonials to get the insights! In this update, we have made sure to offer an effortless user experience on your website for your visitors.
But that's not all. The Notification Streams allow the user's deep customization for effective conversion. Control your popups from the WPSN dashboard and exhibit your social proofs in a killer way.
Notification Streams includes:
Notification Position
Display Reviews in Popup Box
Include Pages to Display Notification On
Exclude Pages to Hide Notification
Or Display by Post Type
Hide Chat on Desktop
Hide Chat on Mobile
Notification Delay
Check Documentation
New Badge Layout Template
Don't we love to read something online which is visually eye-soothing? A webpage full of reviews and ratings might block the other important information on your pages. What if you have a well-organized layout style that saves your webspace so that you get to show every detail about your brand within that limited frame. Insane, right?
WP Social Ninja upgraded version has Badge Layout Template, which is nothing less than a magic box. Worthy social reviews that you can't even think not to share with your users are now on board with the most systematic way.
Not just that! With the Badge Layout, Filter option, create a review section in any corner of the webpage, change the options and stay ahead with style!
Google My Business Groups support
WP Social Ninja now presents you Google My Business Groups Support. Just like the Google My Business reviews, you can now fetch reviews from the Google location groups!
Instagram improvement
New version update brought to you Instagram Multiple Business account connections. Once you authorize the Business Account you can connect multiple accounts from this popup window.
Check Documentation
Updated Chat Widgets
Are you excited about the Chat Widget exclusive updates?
The 3.1.0 update has new custom options, so you get more opportunities to flaunt your brand on the website. Let's see-
Exclude Pages to Hide Chat: Select the pages or a specific one to exclude the chat option from that page. Pretty useful, isn't it?
Hide Chat on Desktop/Mobile: From the dashboard to devices, WP Social Ninja can take access everywhere. Now enable or disable the chat option on the selected devices if you want. Just click on the button and Hide the Chat widget.
Chat Open in Popup Window: Without redirecting to another tab now stay on the same page and start a conversation from the Chat Widget. To do that, turn on the Chat Open in Popup window, and you are good to go!
Custom Button Chat widget: How would you feel if you use a button as a Chat Widget on your website?
Yes, the all-rounder WP Social Ninja has a custom button Chat Widget feature to trigger a button as a chat window anywhere on your website.
Check Documentation
Summary
So this was WP Social Ninja 3.1.0 updated from the community feedbacks. We have made sure that each of the updates is well put with detailed guidelines. So for any further issues, go through our resources or reach out to the support team.
Improvements
Oxygen page builder native widget
Reviews notification streams
Reviews badge template
Google My Business groups support
Inline video play mode for Instagram
Speed up a lazy attribute for feeds images
YouTube videos from the same channel
Custom button chat widget
Chat hide options on desktop/mobile
Chat exclude pages option
Chat popup box hide when the chat box is offline
Chat close button color option
Chat open in same page popup setting
Click ESC key to hide chat popup box
Amazon reviews data fetching issue
Instagram business accounts connection UX
Instagram hashtag feed limit
Gravatar image elements with explicit width and height
Instagram multiple business accounts connections
Manually connect an Instagram account
Chat css overwrite the theme
YouTube feed whitespace
Double slash in assets URL
Swiper autoplay function error
Gutenberg editor console error messages
Lightspeed caching
Cron job
3.1.1 Hot Fix
Reviewer URL map field for Fluent Forms integration
Oxygen page builder native widget assets loading
Oxygen Reviews Widget write a review button css issue
Notification streams date hide option
Instagram business accounts multiple accounts select issue
Reviews filter issue in editor all reviews
Airbnb modal issue
YouTube image loading issue
Chat widget popup delay issue
Stay with us
It's been almost two months that we had launched WP Social Ninja. Since then, it has been a joyful ride to work every day on this tool to make it an even sharper social media solution. Our team has planned so many things coming up for the users in the upcoming updates. So stick around!
Is there more?
YES, there is!
A new team at WPManageNinja has been working on a new product for the past few months. It's a support plugin for WordPress with more than a plugin for support; it is a total solution for any business looking for a complete support system! Since we've been using it for 7-8 months, our support team is more productive than ever!
Introducing Fluent Support, an all-in-one support solution for all kinds of business. I believe Fluent Support will replace some market players with features like analytics, individual agent reports, admin and agent dashboards, email piping, agent assignment, and many more!
Please signup to get the notification as soon as we launch that product. There will be an excellent discount on the lifetime license option for early adopters.