The 20 Most Interesting Google Fun Facts That You Probably Don't Know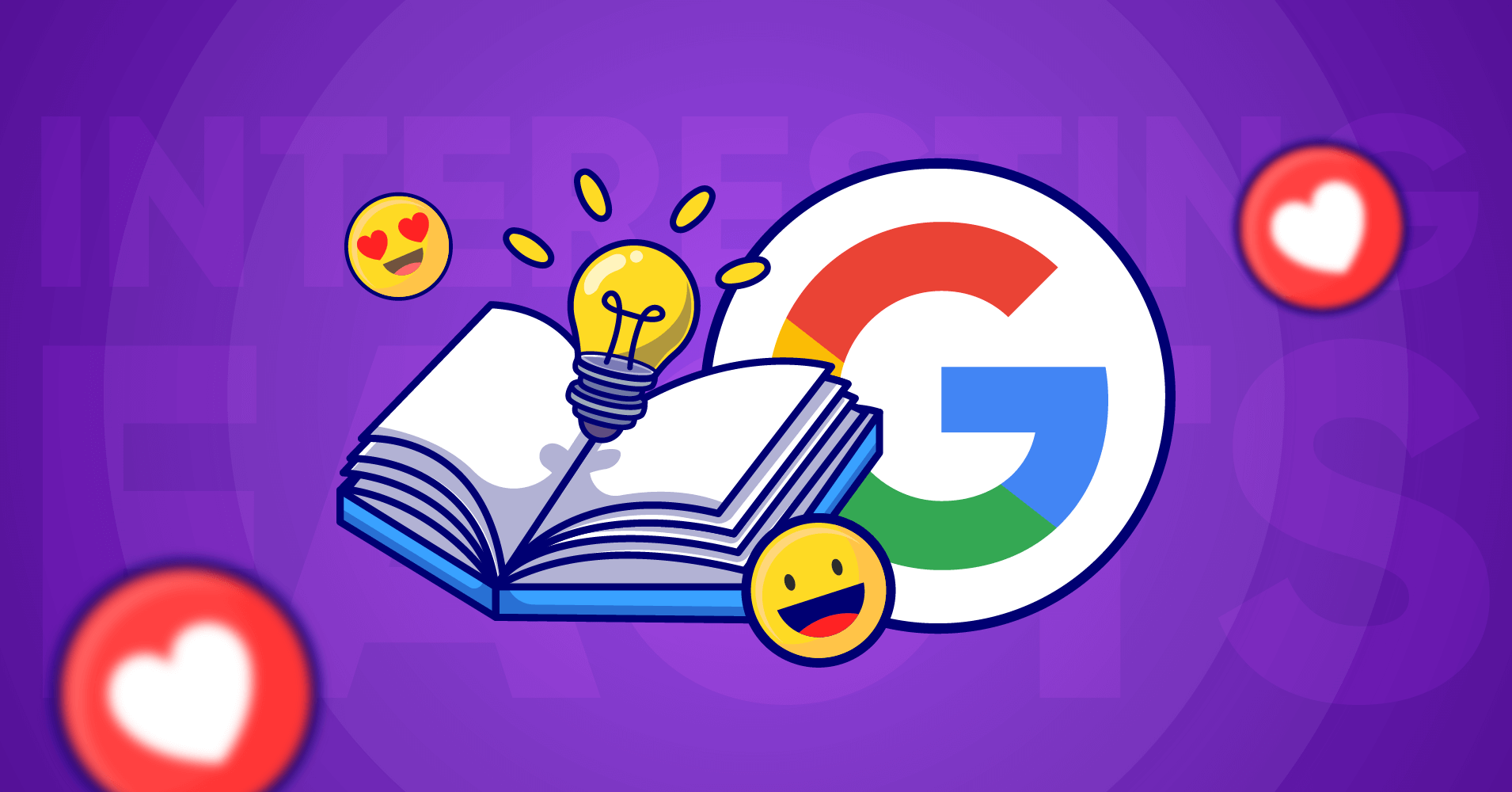 Google, a major player in cyberspace, turns 24. Few people thought an online corporation could benefit the world when Google launched its first mission on September 27, 1998. Today, Google has 4.3 billion users worldwide. This data is enough to show how important this search engine is.
Since today is Google's birthday, we will not discuss anything serious. Few people are unaware of fascinating facts about this online giant. Therefore, we thought sharing some cool things about Google would be fun. Because, without Google's technology, it is currently hard to realize our life.
A few fun facts about Google
Fun facts about Google describe the different interesting and informative information about your company and its users. You will be able to know many inner facts about the specific organization and share the fun facts with all of your friends.
Above all, this is a tech giant with thousands of employees who exist worldwide, it's very common that you will find a variety of Google facts. Here we will share the 20 most interesting fun facts about Google.
20 crazy and interesting Google fun facts
Crazy and interesting things always attract us more rather than anything else. These facts are nothing exceptional here. So if you get to know the fun facts about Google, just go through with this list. Here are 20 fascinating Google fun facts that, hopefully, some of you Google enthusiasts may have missed.
1. Larry Page and Sergey Brin collected cash from professors
The Stanford Alumni Magazine highlighted that when Page and Brin first had the idea of the new and superior search engine, they needed the funds to acquire all the machines, hard disks, and computer RAM required. He was "their major bank," according to Page's advisor at the time, Professor Hector Garcia-Molina.
Brin and Page needed the components to construct the data servers, so the professor assisted in securing $10,000 from the school's Digital Library fund.
2. Google's first office was a rented garage
Like Apple and Amazon, Page and Brin opened Google's first headquarters in a garage-turned-office building in Menlo Park, California, with their investors' funds. The area was a portion of a home owned by Susan Wojcicki.
She eventually ascended to the role of senior vice president at Google and is currently the CEO of YouTube. Later, Wojcicki's sister Anne, who founded 23andMe, will get married to Brin.
According to the firm, the previous offices contained a ping pong table, a brilliant blue carpet, and clunky desktop PCs that "created the mood for such early days and late nights."
3. Google was originally named BackRub
When they started a " BackRub " project in 1995, Brin and Page became interested in wordplay. A search engine was born out of a Page's interest in backlinks or even how one page connects to another.
In fact, to better reflect their objective to organize the world's knowledge, they renamed their search engine Google in 1997. According to the business, the name is "a play on the mathematical notation for the number 1 followed by 100 zeros."
4. The Google home page is available in 80 languages
There are 80 languages supported on the Google homepage. Google is used globally since it provides its search tool in various languages.
All 80 of these languages also have access to Google Translate. Nepali, Hausa, Igbo, Yoruba, Zulu, Mongolian, Punjabi, and Somali are the eight most recent languages to be included.
5. Google planned to soldout in 1999
A very short time ago, two guys tried selling Google to Excite.com. It wasn't a prank or a scam; rather, it was an honest effort to sell the biggest website in the world.
Google co-founder Page and Brin were willing to sell Google for under $1 million in 1999 to internet portal excite, who denied the offer. This process is just disordered because of negotiation. Right now, the market capitalization of Google parent Alphabet is over $858 billion, making it the world's most influential tech giant.
6. Jennifer Lopez's iconic green dress motivated start Google images
Even though Google was established in 1998, Google Images weren't made public until July 2001. And the idea for this wonderful project came from a picture of music sensation Jennifer Lopez at the 2000 Grammy Awards.
The world took notice of Lopez's green dress, and the Google search engine was filled with queries about the image. Although it was the most often asked question at the time, Google did not even have an efficient approach for delivering users' exact demands. Google was motivated by this to introduce image searches on its framework.
7. Google internet usage dropped 40% during five minutes outage
Including Google Drive, YouTube, and Google Search; all of Google's services were down for that five minutes. The 5 minutes outage affected all of Google's services. The corporation, however, declined to comment on its cause.
A notice on the Apps Dashboard stated, "We're aware of a Gmail issue affecting a sizable fraction of customers. Although they may access Gmail, the impacted users are experiencing error messages and other unusual behavior.
8. Arrangement for food
In the office, Google appears to have a peculiar issue with food. While many businesses ensure their workers have enough breakfasts for eating and catering that serves only the best cuisine, Google seems to have gone well beyond.
According to a distinctive requirement, all of their workplaces must be within 150 feet of some type of food supply, such as a canteen or a vending machine.
9. Google has acquired lots of companies
Google owns about 237 businesses worth about $26.88 billion. It has bought a lot of companies for their technology alone.
When Google can't handle a task internally, it purchases a solution and applies it to its processes. Google has bought businesses in various sectors, including social media platforms, advertising, and cybersecurity.
Particularly, with a market capitalization of $1.75 trillion as of March 10, 2022, Alphabet has grown to become one of the largest technology firms in the world. The business reported a 2021 revenue of $257.6 billion and a net profit of $76 billion.
These are the top ten acquisitions owned by Google:
ITA Software, $700 million on software and travel.
AdMob, $750 million in mobile advertising
HTC, $1.1 billion in Telecommunications
GPS navigational software Waze, $1.3 billion
Online video platform YouTube, $1.65 billion
Fitbit, $2.1 billion in consumer electronics
Looker, $2.6 billion for data analytics
DoubleClick, $3.1 billion in online advertising
Nest, $3.2 billion in home automation
Motorola Mobility, £12.5 billion in telecommunications
10. 33% of all searches from Google come from smartphones
Google searches from smartphones account for 33% of all searches. Therefore, cell phones are becoming more significant for accurately representing websites.
On April 21st of this year, Google formally unveiled its new formula that measured mobile usefulness. This means that if you consider the usability of smartphones, you'll rank higher on Google.
11. Google's first tweet
In February 2009, Google tweeted a binary Tweet on the microblogging website Twitter to advertise its presence there. I'm 01100110 01100101 01101100 01101001 01101110 01100111 00100000 01101100 01110101 01100011 01101011 01111001 00001010," the company tweeted." – which means, "I'm feeling lucky."
12. Utilize goats at Google headquarters
Even though they are a technology company, they surprise many with its ecological sustainability. Wherever possible, they take steps to lessen their influence on the environment. Goats are one particular way they use to achieve that.
Instead of hiring machinery to trim the grass and maintain the property's beauty, these keep the grounds in control. The Google employees have said it is relaxing to see the goats out the window while working, which is another effect of having the goats.
13. Google recruits employees using Foo.bar
Google hires new staff in a quite peculiar way. They actively look for people they desire working for them rather than waiting for others to contact them with a CV or application form. They use a website tool called Foo.bar to accomplish this.
This keeps track of the search words individuals enter into search engines. They specifically hunt for folks who do searches using programming-related phrases. Python, for instance, is one of these programming terms, and if you type it into a search engine, Google might get interested in you.
They have previously attempted various other recruitment strategies and discovered they were utter failures. They described the process as useless hiring factors when they relied on test scores and academic performances. Approximately 14% of their team members no longer attended university due to the choice to forgo traditional hiring strategies.
14. The word Google was officially recognized as a verb
As was previously mentioned, Larry Page and Sergey Brin invented the word "Google," which is a form of the mathematical phrase "Googol." Although the word "Google" used to be a little amusing, it is now normal and is frequently used in discussions.
For instance, if a friend were asked where the relatively close Chinese restaurant was, the friend may reply, "I'll Google it." It has now become such a key component of the statement that it was added to the Oxford English Dictionary in 2006 as an official response. In dictionary definitions, it is classified as a verb, a word used to describe an action.
15. Google banned in China
Despite holding approximately 88.6% of the global search engine market, Google is one of many websites that the Chinese government has blocked. Yes, you are right. You cannot Google in China.
The world's most popular search engine is banned in this country. If you want to search for something, Baidu is Google's rival there. On the contrary, Google is widely accessible in Hong Kong, Taiwan, and Macau.
16. Google's first doodle was a burning man stick figure
An out-of-office message appeared as the first Google Doodle. The date was August 30, 1998, less than a week before Google formally registered as a business and over two years after Larry Page and Sergey Brin created a search engine in a Stanford dorm room.
Google was so new at the time that it still had an exclamation mark in the Yahoo! design as part of its symbol. Google would subsequently describe the Google Doodle as a humorous reminder to Google users that the founders were out of office in the history of the Google Doodle.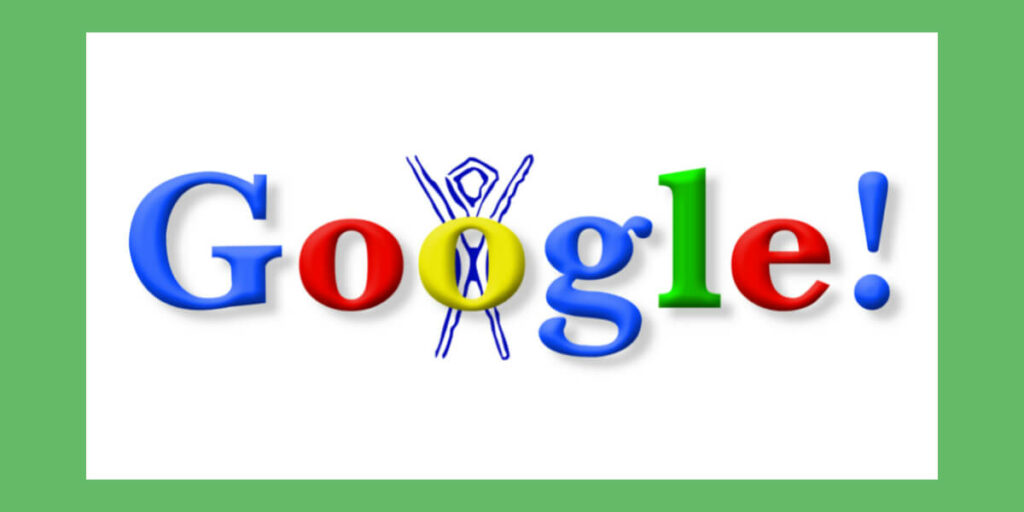 The history also mentions that the initial drawing was very simple, and the idea of adorning the company to honor noteworthy occasions was created.
To assemble a doodle for Bastille Day in 2000, Google's founders asked Dennis Hwang, an intern at the time and now the company's webmaster. Still, over time they expanded to encompass everything from celebrations of everyday pleasures to specialized histories.
17. Acquisition of YouTube at Dennys over mozzarella sticks
Chen claimed that the complete $1.65 billion purchase of YouTube was finished in just one week. At a Denny's in Palo Alto, Chen met with Google and Yahoo officials, including Yahoo's Jerry Yang.
We won't be meeting at workplaces, and we were like, where's a place where neither of us would go? said Chen. The Mozzarella sticks, as per Chen, represented his order.
Chen and the team worked until the very last minute at Wilson Sonsini's offices to finish the paperwork because the acquisition was supposed to be disclosed at the close of the markets on Monday. As it turned out, Mike Arrington from TechCrunch was the one to break the news.
Chen claimed that the decision to pick Google was influenced by his encounter with Eric Schmidt, the CEO of Google at the time.
18. Google gave Mountain View the miracle of free Wi-Fi
In Mountain View, the location of its corporate headquarters, Google has offered to provide free WiFi connections. The company's previous offer to do the same for the city of San Francisco was made around two months before this one.
This proposal is technically equivalent to San Francisco WiFi and is in the same spirit of making the world's knowledge easily and fast available.
19. Google has had a pet-friendly office since the opening
Google has constantly ranked at the top for its top-notch office environment. Sprawling offices, rich office culture, diversified food canteen, and numerous factors are reasons for it. Another fascinating part is accommodating diversified people from various cultures.
Google is at the top of our list of dog-friendliest employers because of its incredible staff benefits, which range from free and upscale meals to on-site haircuts. They provide detailed dog owners with rules in their specific dog policy, including cleaning up after messes and being aware of allergies.
20. 15% of new Google searches generated every day
Google can monitor the keywords that users enter into its search engine. As the search engine starts to guess what you could be looking for on the internet, you may have noticed that some possibilities show below the search box whenever you start typing something.
Depending on what you start typing, the alternatives below the search box are the ones that have been used the most frequently. These choices could seem to be available at all times when you begin an investigation.
You might be amazed to realize that Google is frequently searched for brand-new topics that have never been looked for before. In reality, this is incredibly common up to 15% of Google queries are brand-new daily. That is a lot of new queries, particularly knowing that approximately two million searches are conducted per minute.
Final words
Altogether, from its beginnings as a research work by two Doctoral students at Stanford University, Google has taken many steps. The powerful force here to stay will only increase tremendously, absorbing businesses like YouTube and enhancing the effectiveness and ease of information search.
To sum up, we believe the business will keep innovating its offerings and providing us with more Google fun facts.
Keep reading to discover about: