WP Social Ninja 3.9.0: Get Ready Your Site for The Latest Updates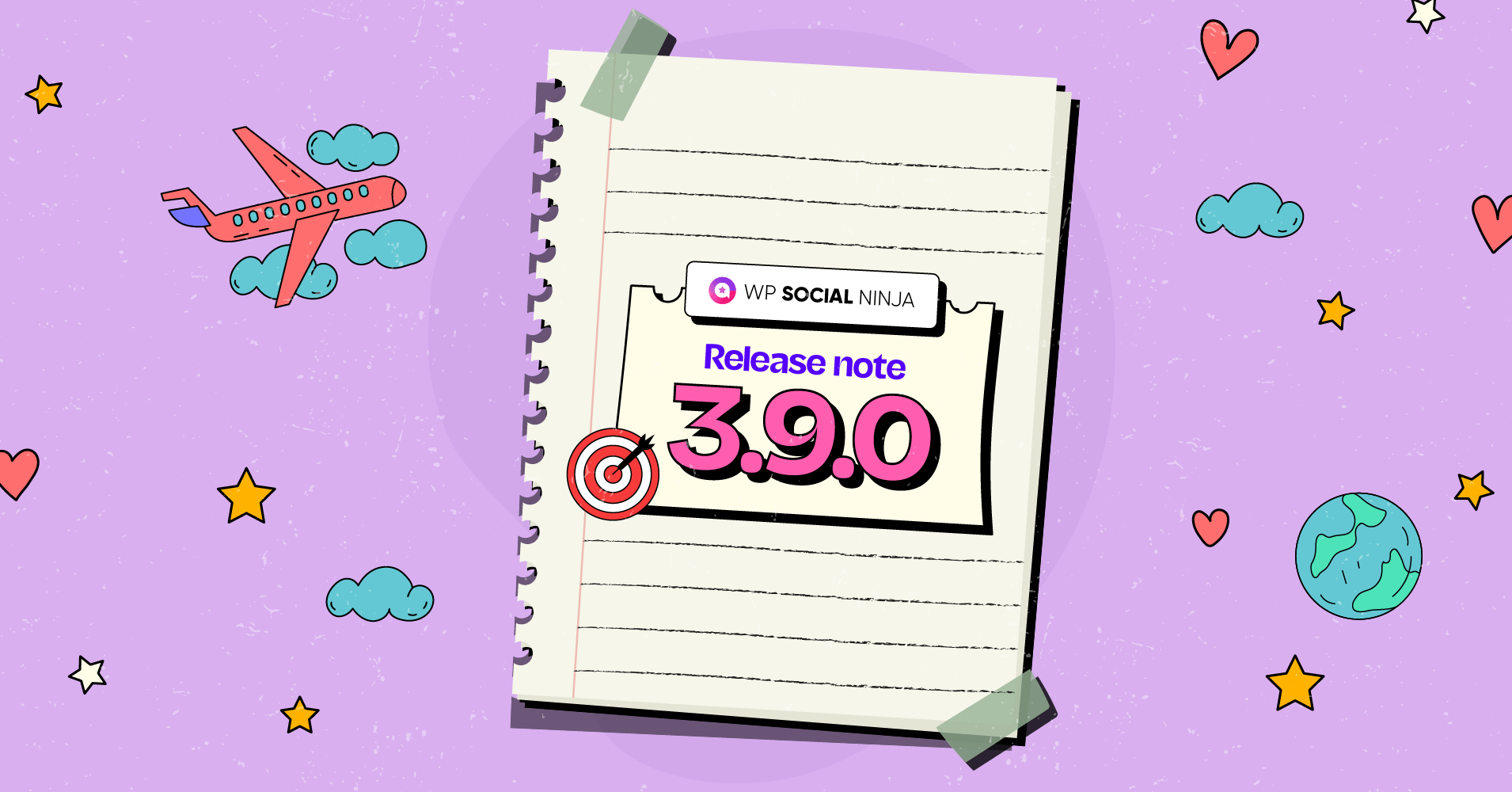 Team Ninjas are never satisfied with a better tool that just does the work. We constantly work hard to provide the best to make our customers happy and shape their social media marketing in the easiest way possible.
Hello good people; welcome to the 2022s last update to make your holiday season even more special. Presenting WP Social Ninja 3.9.0 to roll out your site with a Facebook Events feed, Albums feed, and lots more!
Let's check them out.
Facebook Events Feed
Well, we got a bunch of requests for this feature, and what better than to end the year with a smile on our user's faces? This feature was on our list for a long time, and finally, it is here!
If you want to let your audience know about your upcoming events and create instant engagement, Facebook Events feed is the best solution. But before we talk about the technical part, why even a Facebook Events feed?
Facebook Events feed is a game-changing feature, If you want to promote your business event, even for those who don't have a Facebook app. It also allows you to showcase your Facebook page, increase followers, and reach your business to a new level.
Moreover, Facebook Events feed boosts your website traffic, helps your visitors stay longer on your page, and reduces the bounce rate. That's something dope, isn't it?
Let's do the configuration; first, you need to select the credentials type, then insert your Facebook Page ID and Event Access Token.
Next, you need to select the Events feed type, and select the pages to show your website visitors, what event you are up to.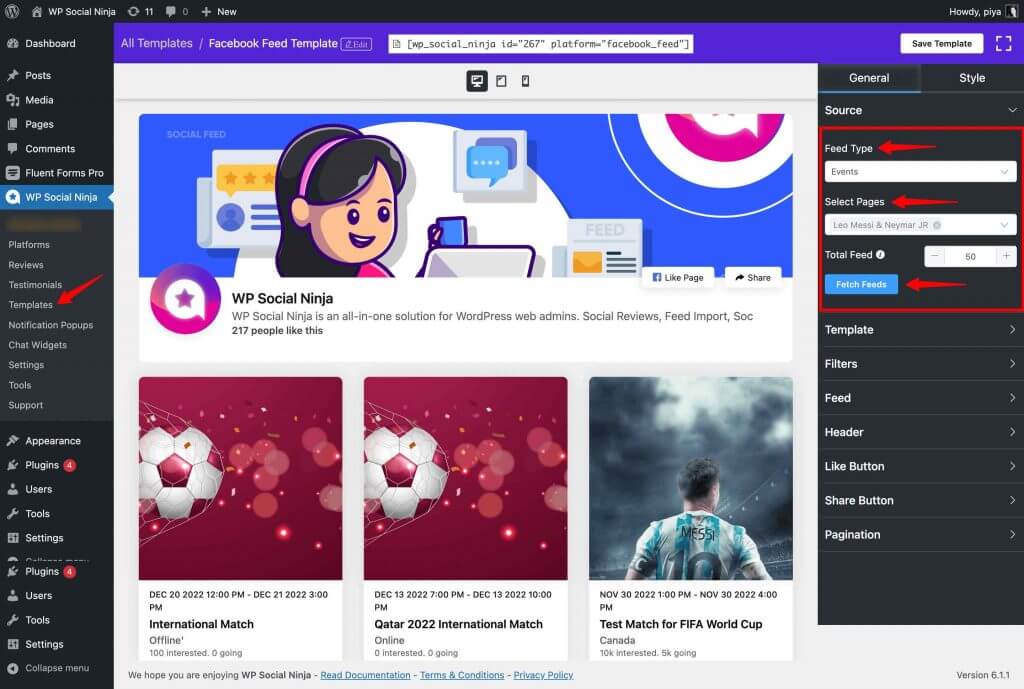 Voila! Now display these events on your website and stand out.
For more details, please check out our user guidelines.
Facebook Albums Feed
Do you know people recall 65% of visual images even after three days, whereas only 10% of written content is stored in the brain in the same amount of time? And that's why they say a picture is worth more than a thousand words.
Presenting Facebook Albums feed to create a top-notch appearance for your website with dazzling graphics. You can cross-promote your Facebook feed and reach the targeted traffic. And most importantly, you can leverage user-generated content and encourage your potential customers to buy more.
To do that, select Albums from the Feed Type and display all the eye-catching visuals in your feed.
Manual Access Token
Who doesn't have security concerns? And as a business owner, you must take all the necessary steps to secure all your privacy issues.
Sometimes you work with agencies and share your password to generate an access token and, later on, change your password. However, when you change your password, the access token gets invalid and creates issues.
Now with the Manual Access Token, generate your access token without sharing your personal credentials. And simply connect to your Facebook page to display the Facebook feeds and reviews in a secure way.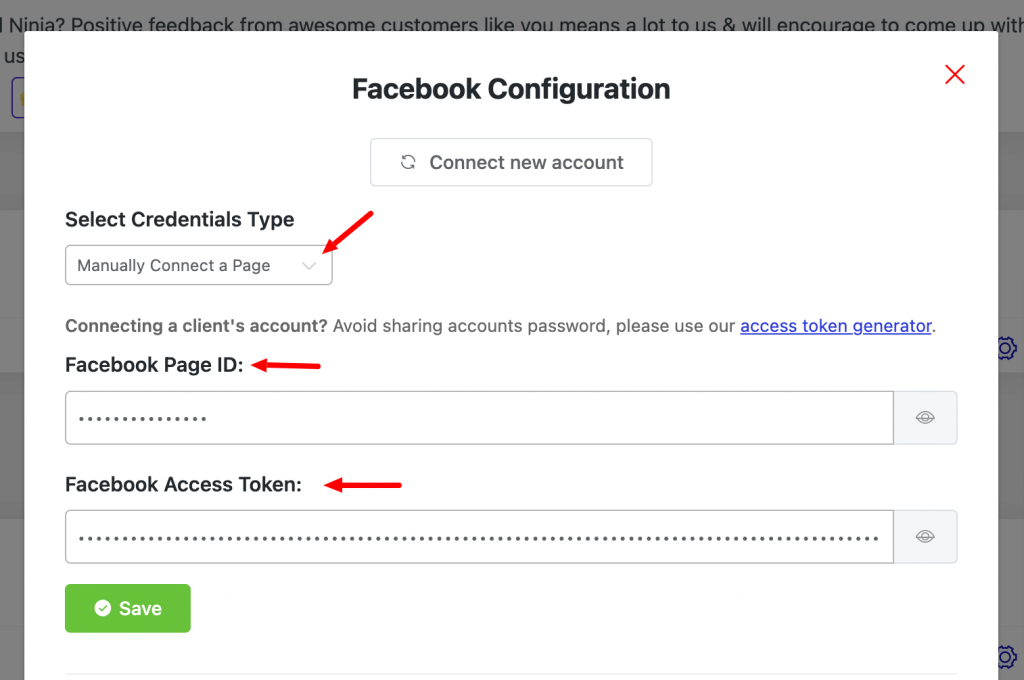 For more details, read our documentation.
Fluent Forms & Custom Reviews Header
Header is the first thing that a potential customer would see on your page, and it has the power to score a win instantly! So in this version, WP Social Ninja brought you a Header feature for Fluent Forms and Custom Reviews.
Easily add your Custom Title Text, Custom Number of Reviews Text, and relevant information to catch potential users' attention to stand out.
Badge Template & Notifications Popup
Some of you wanted more control over reviews. So we have added some tweaks to the Badge Template and Notification Popups to make the best use of your precious reviews.
When you select a Badge template to display your precious reviews, you can select a Page or Custom URL and direct your visitors to the exact destination you want.
If you select the page option, you can choose a particular page where you want to showcase the feedback. Similarly, if you select Custom URL, insert the URL, and you are all set!
For Notification Popups, follow the same steps.
Other bug fixes and improvements
The Ninjas continuously work on improving and upgrading WP Social Ninja. We keep track of our communities and note down your valuable feedback.
Here are the fixed issues and more improvements we have worked on in this update.
For free version
Added Facebook Feed access token manually connect option
Added Facebook Reviews access token manually connect option
Added support for PHP 8.1
Added external URLs hide option in reviews settings
Added date option, title & author spacing option in the testimonial module
Fixed Google My Bussiness access token expired issue
Fixed Google My Bussiness accounts limit issue
Fixed CRON JOB issue
Fixed the YouTube feed popup scrolling issue
Fixed PHP mb_strpos function undefined issue
Fixed autoptimizeCache method undefined issue
For pro version
Added Facebook Event Feed
Added Facebook Album Feed
Added total rating and reviews count for fluent forms, custom reviews
Added custom URL option for reviews badge and notification popups
Added support for PHP 8.1
Added external URLs hide option in reviews settings
Added date option, title & author spacing option in the testimonial module
Improved Tripadvisor API
Fixed reviews business info empty issue
Fixed the Instagram Item box CSS issue
Fixed Yelp Php error
Fixed Booking.com date incorrect issue
Fixed masonry layout column break issue
Final words
WP Social Ninja 3.9.0 is all about new, most requested features with a smooth user experience. This update mainly revolves around the Facebook Events feed and Albums feed. However, we have shipped some pretty awesome features as well.
That's all for now. Update WP Social Ninja 3.9.0, and let us know your thoughts in the comment section below! For more updates, follow us on Twitter and Facebook and join our Facebook Community.
If you love using WP Social Ninja, please give us positive feedback on the WordPress repository. It means a lot to us.
P.S. Why not upgrade to the WP Social Ninja Pro & make your brand roar? Grab the product with a flat 30% discount.