WP Social Ninja Year in Review 2021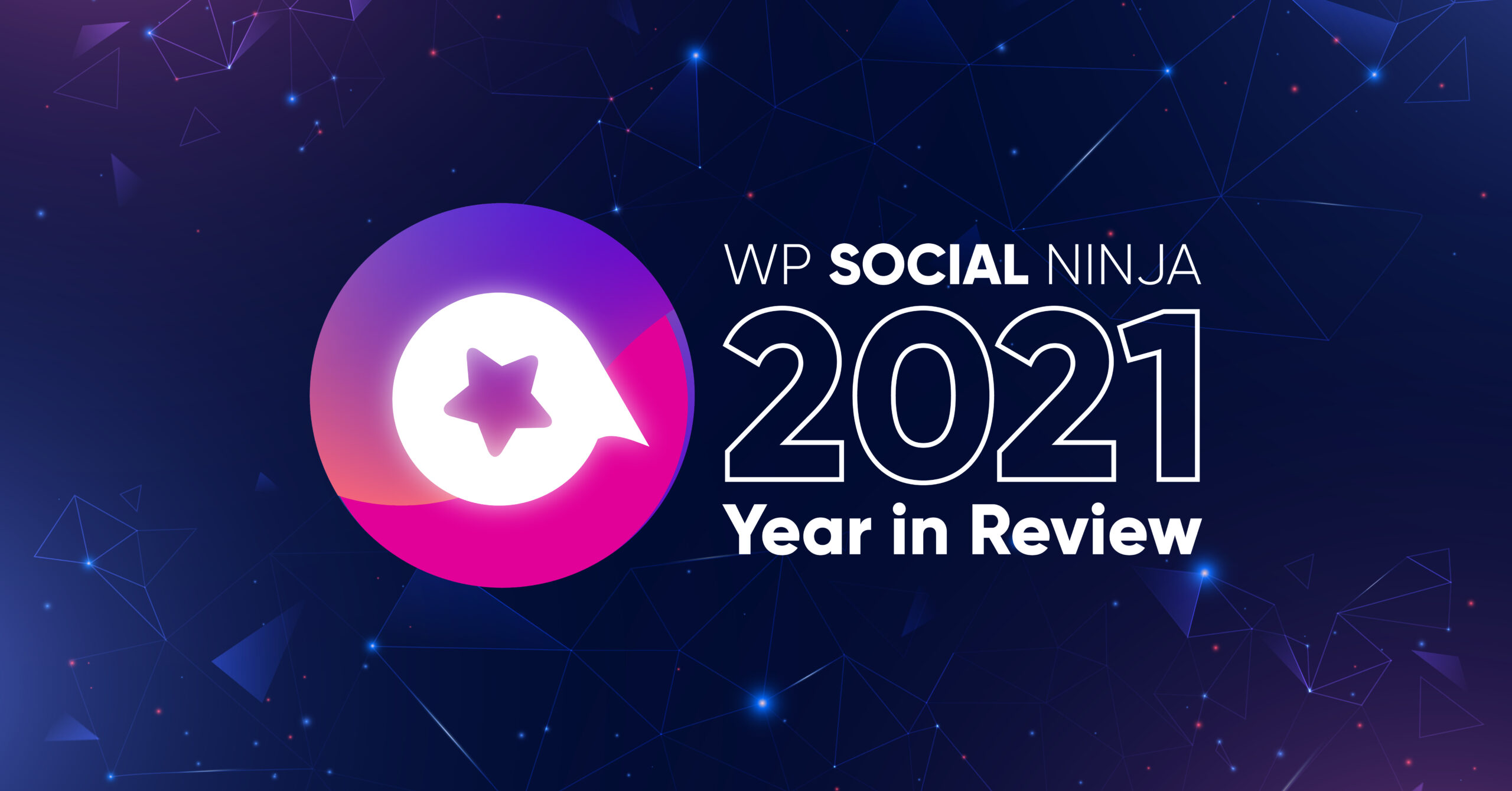 Have you ever lived a dream? We are living in a dream and want this to continue forever!
The year 2021 went by too fast for us. Although the world couldn't heal from the COVID-19 pandemic, we mostly worked from home. But after more than a year-long hard work, finally, we successfully launched the long-awaited social media plugin: WP Social Ninja.
I am SPEECHLESS. This plugin is by far the easiest and painless plugin to configure when it comes to social media… designing what it looks like on the front end is seamless and no need for refreshing unlike Rich Reviews plugin. LOVE IT!

Donald McGuinn
And we proudly tell you starting from the development to launch, the WP Social Ninja journey was nothing less than a challenging mission with a beautiful landing. The whole WPSN team still hasn't gotten over the excitement.
We sincerely thank our users and well-wishers as none of this would have been possible without YOU! Because of you, we work every day to add value to the WordPress community, make innovations to your social media activities, and improve the features and functionalities to the next level.
About us
As you all know, WP Social Ninja is an all-in-one social media solution for your WordPress website. Integrating social media with a website has always been dreadful. But after our arrival, nothing seems difficult now.
We are now helping 2K+ businesses around the world with loads of updates.
In 2020 we built a foundation with a small yet focused team. Today we have a big team working day and night so the product quality surpasses the last version.
Moreover, our mother brand WPManageNinja has launched another trendsetter support ticket plugin Fluent Support. All of our products have shown immense growth this year. We are now contributing 2M+ websites with our robust WordPress plugins.
Throwback to 2020
2020 was filled with little moments that etched big memories. We started as WP Social Reviews with a vision to create a revolution in brands' social media presence. Along with massive updates and improvements, we eventually changed our brand name to make it inclusive of all the services offered. It took us some time to get back in shape, but we came back even stronger.
We relentlessly worked to provide a smooth user experience with a solid design and layouts throughout the year.
Year in review
We took a leap of faith this year and landed successfully! The first six months went according to the plans. Along with marketing, the team mainly focused on the social platforms and code refactor.
When we were getting close to the launch, our entire team doubled the speed and managed to release both Beta & Pro versions on time!
Beta version release
On 10th September 2021, Ninjas created the WP Social Ninja Facebook community to share all the updates and directly communicate with users. Moreover, our Beta testers started using the trial version and gave excellent feedback.
Pro version release
Finally, the D day! After almost two years of developments and updates, we launched the all-in-one social media solution – WP Social Ninja, on September 22, 2021.
The Ninjas were over the moon and celebrated hard to mark the day. Although the party was still on, the team started working on the next big updates just for you!
WP Social Ninja 3.1.0
On November 8, we released our first update after launch within less than a month! This was a huge update with all the user-requested features.
Native Oxygen Page Builder Widget
As we promised, we came up with the Oxygen Page Builder Widget. It is a super cool feature with lots of exclusive functionalities. In this page builder, you are allowed tons of customization processes for a well-decorated representation of your social proofs and social media feeds.
You can select a template from the settings panel and design the template with the advanced settings. Change and adjust the details to create an enticing visual on your website!
The new WP Social Ninja Oxygen Page Builder Widget comes with:
Social Reviews
Instagram Feeds
YouTube Feeds
Twitter Feeds
Notification Streams
You all have been waiting for this one!
Presenting the Notification Streams for your website. Now you can make your best reviews pop up every time a user visits your page. They don't have to go to a particular page and search for the testimonials to get the insights! In this update, we have made sure to offer an effortless user experience on your website for your visitors.
But is that it? Not at all.
The Notification Streams allow the user's deep customization for effective conversion. Control your popups from the WPSN dashboard and exhibit your social proof to engage your users right on the spot!
Badge Layout Template
Another big update!
Don't we get triggered to read something online when it is visually eye-soothing? A webpage full of reviews and ratings might block the other important information about your brand. What if you had a structured layout style that saves your webspace so that you get to show every detail within that limited frame. Useful, right?
WP Social Ninja upgraded 3.1.0 version has Badge Layout Template, which is nothing less than a magic box. Worthy social reviews that you absolutely have to share with your users are now on board in the most systematic way.
Moreover, with the Badge Layout's Filter option, create a testimonial section in any corner of the webpage, customize the way you want and stay ahead with style!
Improved Chat Widgets
We added plenty of custom options in this update, so you get more opportunities to flaunt your brand on the website.
Exclude Pages to Hide Chat: Select the pages or a specific one to exclude the chat option from that page. Pretty useful, isn't it?
Hide Chat on Desktop/Mobile: WP Social Ninja can access everywhere from the dashboard to devices. Now enable or disable the chat option on the selected devices if you want. Just click on the button and Hide the Chat widget.
Chat Open in Popup Window: Without redirecting to another tab, stay on the same page and start a conversation from the Chat Widget. To do that, turn on the Chat Open in the Popup window, and you are good to go!
Yes, WP Social Ninja has a custom button Chat Widget feature to trigger a button as a chat window anywhere on your website.
The list is not over yet! But today, we are not gonna talk about all the updates. For more information, please check the 3.1.0 Release Note.
More updates
Google My Business groups support
Inline video play mode for Instagram
Speed up a lazy attribute for feeds images
YouTube videos from the same channel
Custom button chat widget
WP Social Ninja 3.2.0
The second update took place within less than a month after the first update. This update was quite special because we didn't think that we could pull off the release in such a short period.
Native Beaver Page Builder Widget
Beaver Page Builder Widget is an excellent function to be added to the WP Social Ninja feature list. Before the release, we already asked you what feature should come along with this version, and here it is.
The Beaver Page Builder Widget has the WP Social Ninja four widgets:
Social Reviews
Instagram Feeds
Twitter Feeds
YouTube Feeds
With some eye-catching customization and styling options that have colors and typography functions, you can adjust it anywhere on your website. Moreover, you can select a template from the Beaver Page Builder settings panel and decorate it for a stunning visual representation.
So start playing with your Native Beaver Page Builder Widget inside your dashboard and create some vibrant templates for your website!
Fluent Forms integration in chat widget
Fluent Forms is one of the most compact feature-rich form builder plugins in WordPress. And in our second update, we have Fluent Forms integration in the Chat Widget.
But why do you even need that?
When brands communicate with their website visitors via Chat Widget, sometimes the conversation might get interrupted. Even coming up with solutions could take some time. But after a while, your potential customer might get lost. So you lose a lead then and there.
Sounds frustrating, doesn't it?
Moreover, searching the exact user from a load of chat heads with a bit of information can take forever. But if you have installed Fluent Forms on your WordPress dashboard, then you don't have to worry about connecting back with your valuable customers. Furthermore, the submitted forms would work as a support ticket. Easy and quick.
Fluent Forms reviews manually approve settings
In this update, we have made sure you can take control over the Fluent Forms user's reviews from the dashboard. Well, this one is quite a "make life easy" feature to be added to the store, we must say!
Fluent Forms reviews manually approve settings option gives you the command to accept or decline the submitted reviews. So this way, custom reviews that are inappropriate or irrelevant can be rejected right from your dashboard. You can showcase the best ones and disapprove any that you want to.
More updates
Badge Layout Custom Title
Custom Header
Load More Button Text
Improved badge template 2 style
Improved feeds Hide Specific Posts input field validation and more
Team WP Social Ninja
We started with three members and a vision to stand out in the brand's social media presence. Throughout the time, the team got bigger, and we have added tons of exclusive features and expanded our activities.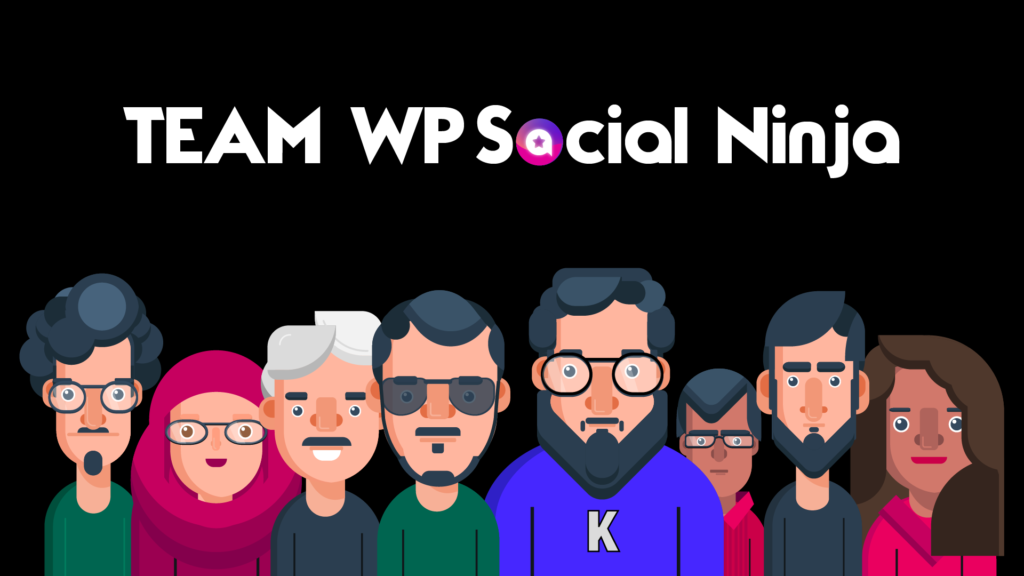 In the last one year, the Ninjas have published more than 50 pieces of content. Moreover, we have a dedicated WP Social Ninja Facebook group with our Facebook page, and Twitter handle. This year we plan to be active on other popular social platforms.
But the fun part is, ever since we have been active in the communities, we are bombarded with loads and loads of user-requested features. Along with two of the last updates, our whole development has made sure to add the maximum amount of requested features from the community.
We want to tell our users we are so blessed and overwhelmed to get all the love and support from you all. Even if the feature requests scare us sometimes, you people constantly give us the courage to make an effort possible!
TLDR
Almost two years of development
22nd September 2021, the launch day
Early bird campaign
2 record-breaking fast releases
2K+ active installations in less than 2 months
50+ published blogs
1.5K+ Twitter followers
Active Facebook page & group
YouTube tutorials
24/7 support
We can't thank each and every person enough who was involved in the WP Social Ninja journey and made it successful.
Looking forward to 2022
We all have survived another dramatic year in which we were all supposed to be back in the office, but things didn't work as per plan. We all got habituated to working remotely in our pajamas and do hour-long virtual meetings.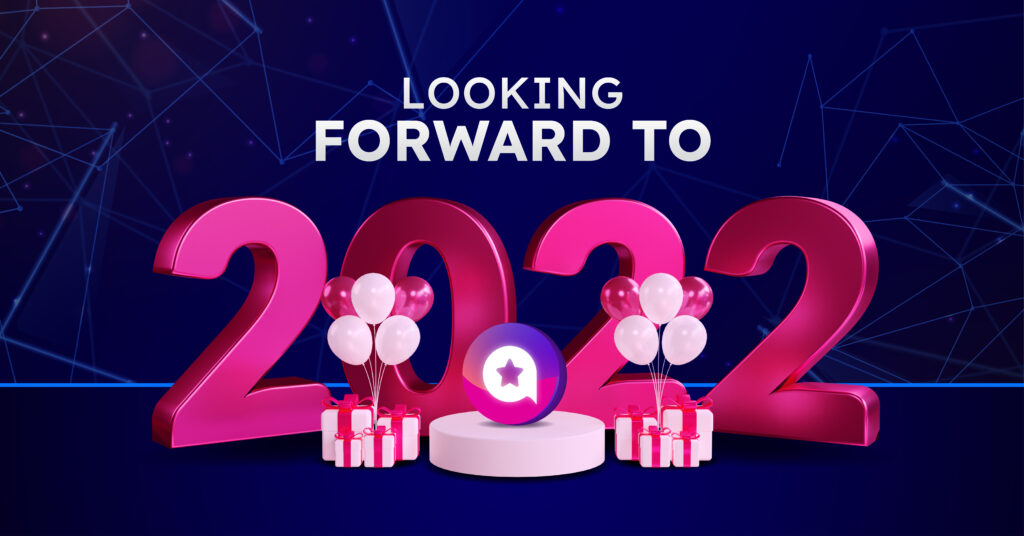 But in 2022, we hope to start with a positive attitude. We have so much exciting news for you. But before saying anything else, we want to thank you once again for being with us in 2021. The Ninjas have set new goals. We are more than excited to ship new features and functionalities on board, and the team is counting the days.
We wish you all a happy new year and don't forget to have some fun. Cheers!
To stay connected with us, join our Facebook community. Also, follow us on Twitter and Facebook.