Branding vs. Marketing: What Are The Major Differences?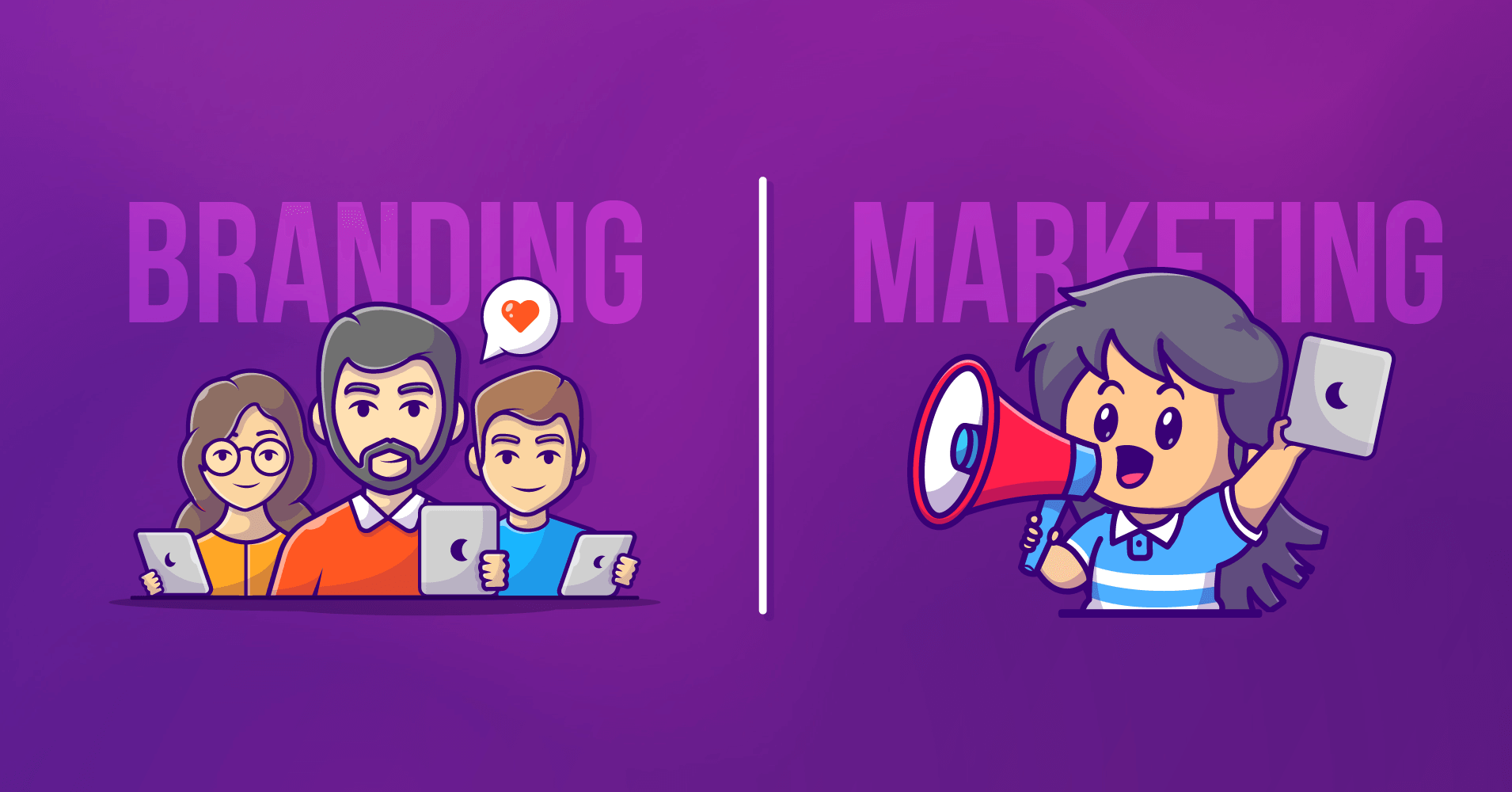 The basic distinction between branding vs. marketing is as simple as bread and butter. Here, branding and marketing are the tactics and tools required to market the products and establish the business. If you want your company to prosper, you must comprehend the distinctions between the two and how to use each to advance your company.
Marketing and branding are two ideas in particular that frequently get grouped. What then is branding and marketing? What are the distinctions between the two, and how can you use both to create a fruitful, significant business? We will explain it to you in this article.
What is branding?
The practice of setting one firm apart from another through a name, logo design, history, motto, and other means is known as branding. Any product can develop a brand, just like a service. It's referred to as product branding.
Even though businesses may offer comparable goods and services, their branding may enable them to draw in entirely different clients with a particular emotional connection to their brands.
As part of branding, developing a logo design and other visuals is necessary, but first, you must establish your brand's identity, voice, and persona. Remember that not just your company's logo counts as branding.
Branding refers to the associations that customers make when dealing with your company, its goods, and its services. Each experience modifies such connections; its qualities do not exclusively determine the choice to purchase a product.
As a result, providing superior customer service and maintaining a strong online presence on social media are crucial components of branding.
Types of branding
A clear branding strategy is crucial to the growth of your business. Studies demonstrate that reliable and robust branding can boost a company's income by up to 33 percent.
So, before developing a strong branding strategy, you must understand what branding is, why it's crucial, and what types of branding to use to advance your company. We've summarized the 12 primary branding categories to help you to develop a possible brand.
Product branding
Personal branding
Corporate branding
Co-branding
Ingredient branding
Geographical branding
Seasonal branding
Offline branding
Online branding
Activist branding
Service branding
Retail branding
As there are different types of branding available. So you can pick a specific one which one is the most suitable for your business model.
Branding example: Apple
Apple is a leading global brand in its industry. Marketing professionals worldwide claim that Apple's brand is the secret to its success and has little to do with its products, such as the Macbook or iPhone. The emotional and experiential foundation of the Apple brand is expressed in its fundamental values of imagination, innovation, and design.
Apple is the perfect example of an emotional brand. Customers of Apple not only value but also love their interactions with the company and the goods it offers. Apple strengthens strong, long-lasting customer relationships, enhancing loyalty and satisfying user experiences. The main factor in the brand's continued existence is its relationship with its consumer base.
What is marketing?
Promoting and selling goods and services, including industry analysis and advertising, is referred to as marketing. Today, marketing is a factor in any business and organization's growth strategy.
Unaware that they are doing it, many businesses use marketing strategies to promote business and drive sales of their goods and services. One of the essential components of businesses today is marketing.
When asked to define marketing, people frequently give generic definitions such as promoting or branding. These responses are not incorrect but simply an aspect of marketing.
There are many more marketing elements, such as distributing its products, promoting, designing, and developing materials like landing sites and content for social media, improving the customer experience, conducting market research, identifying market segmentation, and much more.
The term "marketing" refers to a broad group that includes any methods used to support a company, business, or person in attaining its objectives.
Types of marketing
You can set your marketing process to be a more diversified way. Different methods are available in the market to boost your business more diversified way. According to your business need, you can pick the right marketing methods from the 12 simple marketing types.
Digital marketing
Search engine marketing
Social media marketing
Inbound marketing
Outbound marketing
Content marketing
Video marketing
Influencer marketing
Email marketing
Word-of-mouth marketing
Emotional marketing
Voice marketing
But you must remember that the wrong marketing types may waste your money and time. So be specific when selecting the specific marketing method for your business.
Marketing example: Nike
Nike is a renowned sportswear company well-known in the sports business due to its effective marketing. To present itself as a positive brand, it has achieved enormous success on a global scale by appealing to people's comfort, aspirations, and ethnic values.
Instead of using aggressive sales tactics, it emphasizes developing a strong bond with its audience. Because of this focus on the customer's needs, athletes and regular consumers favor its products.
The brand concentrates on customers' wants and improves features to keep up with current trends. As a result, its customers almost always give its items positive reviews. A prime example of this would be the beginning of Nike.
However, the heart of Nike's marketing model is storytelling and emotional commercials. It is how it attained initial popularity, established a reputation, and now expresses its brand values.
When it introduced the "Just Do It" campaign in 1988, it included marathon runner Walt Scott's life biography in a simple scene. The advertisement was one of its most successful efforts and is still used to attract clients.
Purpose of branding
With the help of branding, your firm can establish itself from the competition by providing something special and valuable. Because of this, branding is something that smaller firms can also take full advantage of and should use as the primary priority of their business strategy.
Branding provides identity
Never undervalue the effect experience may have. A buyer is more likely to buy a product when they are shopping and notice the recognizable font, colors, or images of a brand than the sea of many other nearby products. Why? Because it's appealing and well-known.
Good branding will stick in consumers' thoughts, whether it's for something excessive and impressive like Apple products or something simple and soft like Nike.
Customer loyalty
A strong brand will keep customers coming back for more after they start to recognize and purchase a product or service. A good business with excellent products and strong branding resounds strongly with customers.
Long-term, this will boost client loyalty. Apple, which has one of the most compelling brand histories, is a great example of a company that values its customers' loyalty.
By developing an emotional bond with its clients, it was able to garner a devoted following. One of the main factors contributing to Apple's enormous market success is customer loyalty to the brand.
Improve company values
People can better connect to your company's objectives and goals if your brand seems to have a personality. People are much more likely to require to deal with you when they can identify with your company's beliefs.
Consider the shoes from Toms. Despite being among the most well-known shoe companies in the world, the company is mostly remembered for its charitable contributions.
In collaboration with charitable organizations, they provide a pair of sneakers for each pair of shoes you purchase. One of the key components of branding is how this helps the firm and the client develop a mutually emotional connection.
Increase word-of-mouth marketing
People will tell friends, relatives, and strangers at the bus breakpoint about your brand when they hear a narrative they want to hear. These individuals represent your brand.
Word-of-mouth marketing is a form of social proof of the trustworthiness of your company. In fact, 64% of marketing executives believe word-of-mouth is the most effective marketing form.
High-quality products that deliver on any promises made by strong brands are produced via word-of-mouth marketing that works.
Increase confidence
Strong branding inspires customers and increases confidence, but the business owner also benefits much from it. All the effort, money, time, and struggle that have been put into a business come together as a full and expert presentation with great branding.
In order to promote the original good or service, branding is necessary. It advances it by drawing attention to it and getting people to pay attention. The public should be able to recognize a company's brand, but the owner should also be able to recognize their work.
Influence talents
It is difficult for customers to ignore a company with strong branding. Influencers, content producers, social media marketers, and other thought generators are attracted to this.
A company's creative powerhouse is increased when these individuals are tempted. Working with the proper people might help you grow your brand's online presence and promote it.
Because consumers trust the advice of their preferred influencers and content creators, this lets you reach an even broader audience.
Purpose of marketing
The development of a brand depends on marketing. It explains your good or service's benefits, value, and distinctive qualities and why customers should choose your brand.
Additionally, marketing enables client engagement and keeps those ties strong, promoting word-of-mouth and referral marketing.
Simply put, marketing increases your customer base and earnings while attracting and maintaining consumer interest. Keeping that in mind, let's examine the purpose of marketing and how you may utilize it to expand your business.
Marketing opens the market
Marketing uncovers consumers' unmet needs, generates new demand, identifies untapped markets, and investigates the potential for new product sales. As a result, the market is expanded, allowing the manufacturers to raise their output and improve their profit.
Increase sales
Sales will increase when you use effective marketing strategies. Additionally, it goes beyond merely luring in new clients.
A good marketing strategy will also increase sales from your present and previous consumers, despite the widespread belief that marketing is just about attracting new clients. That can only be a beneficial factor in future business planning.
Understanding marketing strategies has several key advantages, including increasing your brand recognition, making it simpler to locate when buyers require what you provide, and increasing your visibility when people are interested in learning more about what you do.
There are many marketing advantages, but it is the one business management tool you must never be without when it comes to boosting sales.
Find the proper audience
Many digital marketing tools now help to target a specific group, making it simpler than ever to classify audiences. Online tools that track a person's online behaviors and demographic data are available.
Digital marketers can use this data to offer consumers items or services they would be interested in. For instance, a brand may target a visitor with other and similar advertising after they click on a display ad, whether on social networks or via a search query.
It encourages positive attention and makes purchasing simpler and more enjoyable if the visitor notices depending on their preferences and online actions.
Track and measure results
Creating a complete marketing approach is a massive amount of work. Real-time data from online marketing makes assessing performance and modifying our plans simple.
After posting, you may monitor the number of views, interactions, and clicks on your posts and advertisements. You can compare the outcomes of a separate test on your advertisement using a different image or text. Overall, it will give you a precise picture of how your marketing strategy is performing.
Improve traffic and SEO
When you market your product and services, more people will know about your product or services and spread the brand or business name to other users. As a result, it will increase the overall traffic of your business sites.
Moreover, when your web traffic increases, the process hits your search engine to indicate that this site is on the right track; you should rank it higher. So the benefits of marketing are huge if you can use it in the proper way to market your business.
How to develop your business's branding and marketing
Market and brand development are essential for every business if you want to establish a strong business presence. There are different methods and types available to develop your brand and marketing. Suppose you want to establish your brand and market your product through online branding and social media marketing. Which method will you use to accomplish it?
The answer is simple and easy. Everyone will go with WP Social Ninja. This plugin will help your business increase its social media presence. Because it has social feeds, you can show Twitter, Facebook, Instagram, or YouTube's most recent business content to your follower base and give a detailed idea about your products and services.
On the contrary, customer feedback or social reviews may also insist the buying decision. So if you want to display your user-friendly reviews with the customer, you can fetch the reviews from 9+ platforms and show them on your WordPress websites.
That's not all; you also need customer support for brand and market development. Without a proper customer supper system, your customer may be disappointed with your products or services. That's why you can fetch 15+ social chat widgets using this super cool plugin.
The process can help to create a loyal customer base via instant customer support. This also builds a long-term relationship with your customer base.
Final thoughts about branding vs. marketing
In this post, we've distinguished the fundamental concepts of branding vs. marketing; nevertheless, there is much more to it. Businesses, products and services, and other factors all influence marketing and branding differently.
Overall, branding vs. marketing provides a variety of successful approaches for extending your organization's reach and reputation – and, eventually, your firm itself.
You may create a powerful lead-generation machine that will drive your business to greater profitability, brand improvement, and overall success by utilizing the advantages of online or offline branding and marketing through techniques like product branding, social media marketing, inbound marketing, emotional marketing, and others.