Easiest Way to Configure Instagram Business Account on Your Website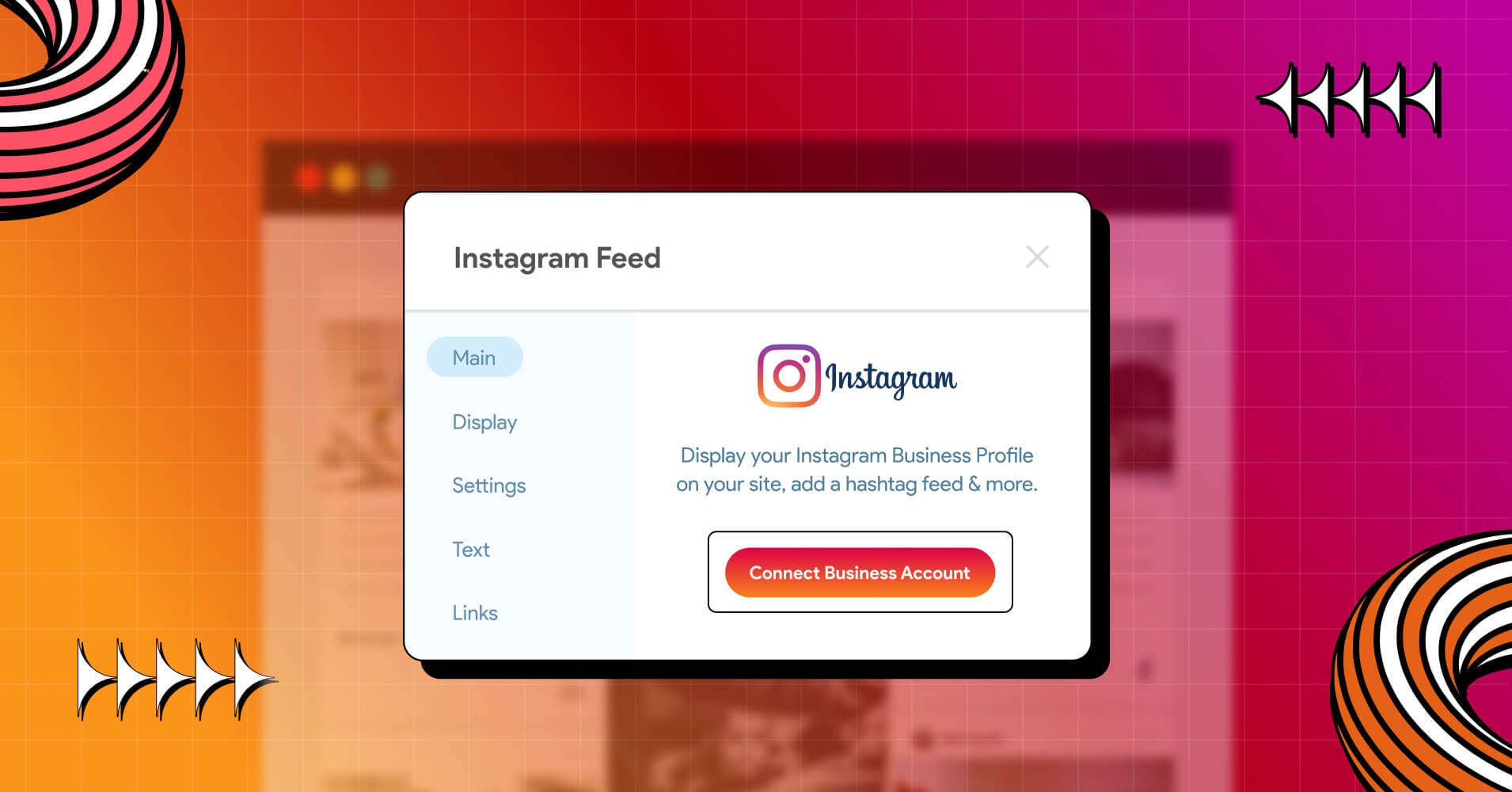 When Erik Qualman said, "We don't have a choice on whether we do social media, the question is how well we do it!", trust me, he was not out of line!
When social media platforms have 4.88 billion active users, almost 60% of the world's total population, should you not care to do well with your marketing over there?!
The answer is, yes, you definitely should!
Among social media platforms one is constantly outshining its competitors with its tremendous potential and immense popularity, Instagram!
When first launched Instagram had a single profile format. But in 2016 Instagram introduced a business account. Since then it started to landscape social media marketing with features like Contact Buttons, Analytics, Schedule, and many more.
Now if you have an Instagram business account and a WordPress website both, look at the following questions:
Is it really necessary to maintain my business account?
Can I bring my business account feed to my website?
What would happen if I show my feed to the website?
Would it be difficult?
If you find yourself familiar with these questions, you are at the right place. This article will unfold the answers to your questions one by one.
Let's get started.
Why an Instagram business account
Around 35% of Instagram users make a purchase decision on this platform! To leverage your social selling from this platform, you need to play the right cards at the right time!
And a business account can pave the way for your strategic approach! Let's look at some features that will justify the reason!
Professional appearance
An Instagram business account lets you show three pieces of information that a personal account doesn't have.
Types of service/business
An address
Contact button
This information gives a glimpse of your business and the contact button makes it easier for visitors to engage with you. And your profile looks more professional.
Analytics
Now this is a huge feature. A business account lets you access built-in insights that show data about the performance of your profile.
Insights will allow you to know about follower activities, post impressions, reach, and interactions and you will get an in-depth idea of how well your content is doing.
Add links to Instagram stories
If your Instagram business account gains more than 10,000 followers you will gain access to swipe-up links with stories.
Now we know how addicting Instagram stories could be! And adding links can fire up your sales by highlighting your latest content, deals, or scheduled posts!
Instagram ad campaign
If you are struggling with reach and facing barriers to reaching the 10,000+ followers threshold, paid promotion through an Instagram ad campaign might be your way out!
But you would need a business account to do so! You can launch ad campaigns only when your Instagram business profile is attached to a Facebook page.
Benefits of configuring Instagram business account feed to your website
A meta-commissioned Ipsos marketing study showed that Instagram is the most preferred social media platform by people to keep up with their favorite brands.
Marketing strategies went through evolutions over the years as businesses tried to look for better customer interactions. Displaying an Instagram business account feed might be the right idea to achieve this goal.
Configuring a business account feed on your website has many benefits. We have summed up a few for you.
Increase reach for your Instagram content
Increasing the reach of Instagram content might be the most underrated yet obvious benefit you would get from displaying your company feeds on the website.
When visitors will find an Instagram feed on the site, chances are higher that they would go through your profile and engage with your content.
Instagram's algorithm usually doesn't show a few days older posts on the status feed without any paid ad campaign. So if your older content gets more reach through your sight, it's a win.
Grow more followers
An uplifting Instagram feed on your website can surely captivate new followers. And your new followers are your potential customers.
Most Instagram users usually follow their familiar faces and scroll through other posts. Even if your business appears on their feed, they would probably skip fast without following. One photo might not be enough to follow your business!
But a beautiful Instagram grid can do otherwise. A grid will tell more about your business and is a lot more convenient than a single post.
Additionally, the Instagram feed will add more colors and vibrancy to your site making it appealing and attractive!
Increase time spent on the website
How much time people spend on your site indicates the quality of traffic and engagement rate of individual pages. But what can you do to make them stay?
I think you can guess the answer, display your business account feed! Visual information is more powerful than text or sound and creates more interest. If your traffic finds what's interesting, they will stay!
Boost sales through social proof
So what's your goal as a marketer?
It is surely to generate more leads and convert them to your customers! And when you are showing your business feed where you are showing content like feedback or UGC (User-generated content) you are killing two birds with one stone!
You are attractive with your striking visuals and proof of your authenticity. The win is yours!
How to configure an Instagram business account on websites
The easiest way to configure an Instagram business account feed on your WordPress website is to use a plugin.
And when you are using a trusted plugin, you don't need to be tech-savvy! The plugin will do all the staff on your behalf!
Now that we are on the topic, let us recommend WP Social Ninja, an all-in-one social media plugin, and certainly the best of its kind!
So why WP Social Ninja? Let us highlight some key features of Instagram feed.
Add multiple user accounts
Show/hide posts with specific keywords/hashtag
Show like, comments, trim words
Shoppable feed
Custom header and follow button
GDPR Compliance
Now, let us show you how easily you can display your feed with WP Social Ninja.
Install WP Social Ninja
This plugin is available in the WordPress repository, simply search, install, and activate it!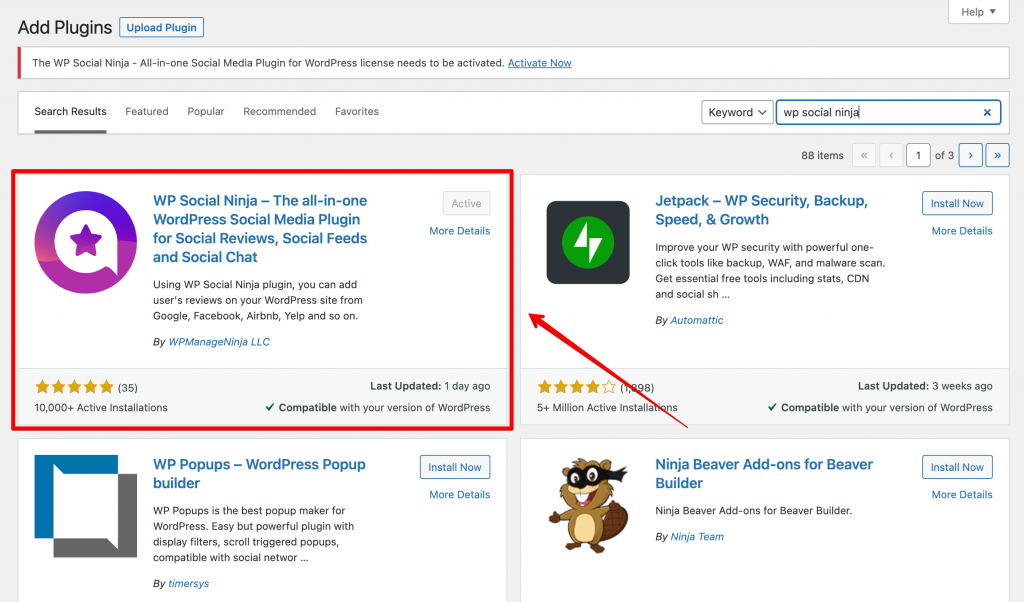 Select Instagram from Social Feeds
Click WP Social Ninja from your dashboard, and select "Instagram" from "Platforms".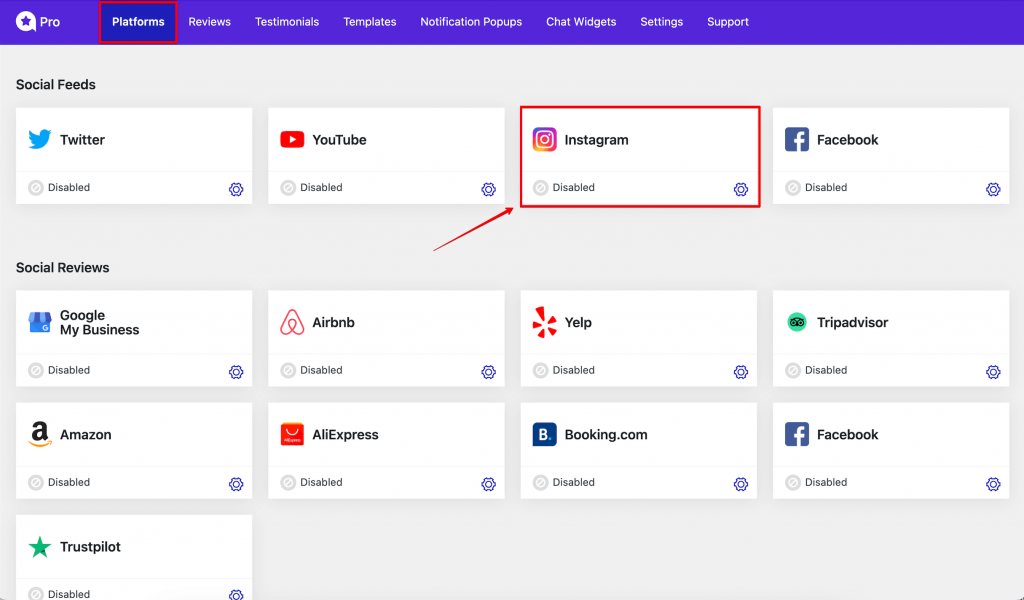 Select account type
Select "Connect Your Business Account" from the options.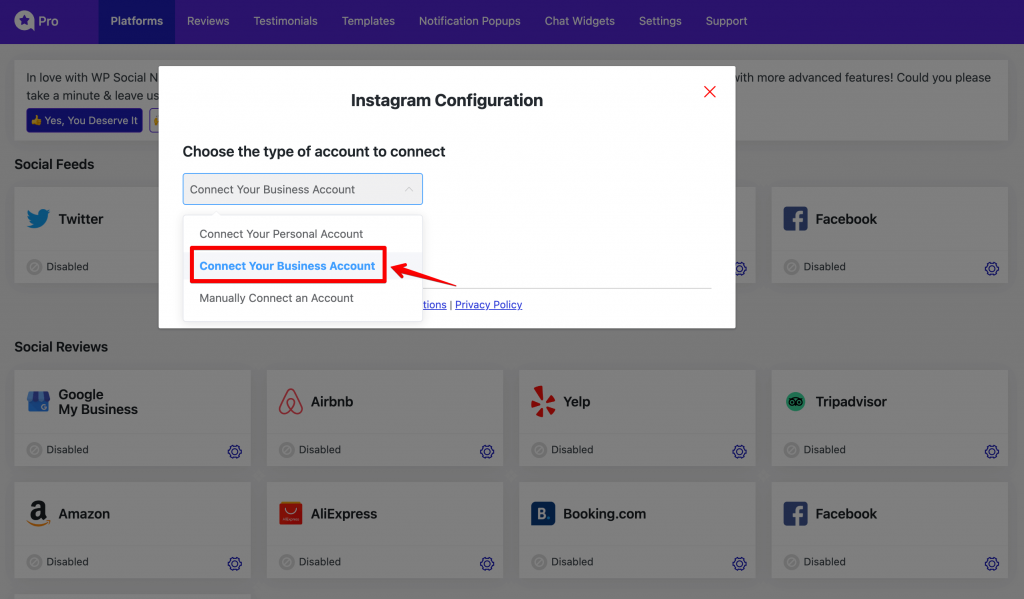 And then click "Continue with Facebook".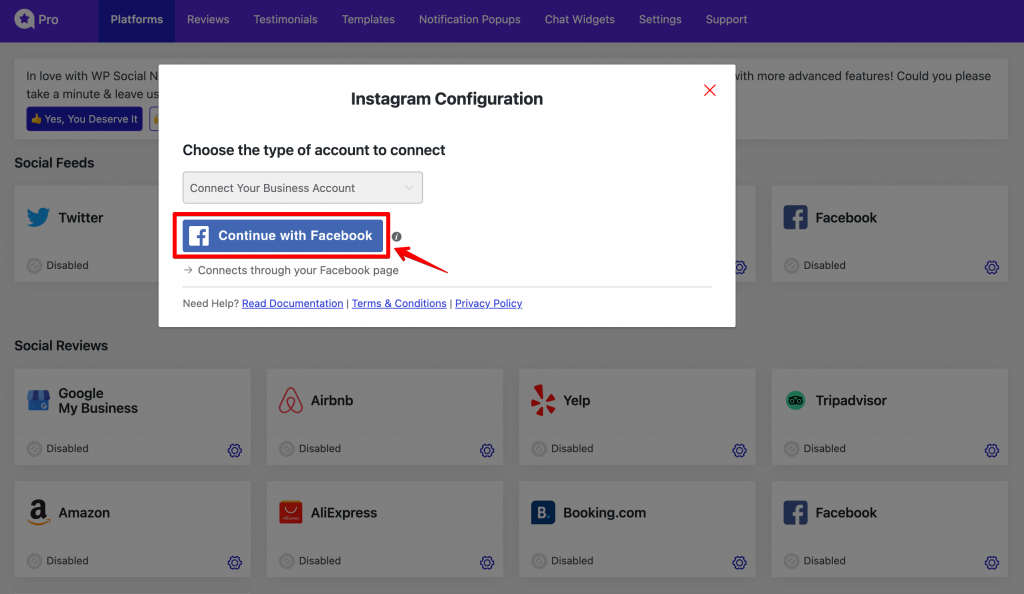 Select your account
Select the account you want to connect to. And then click the "Connect Accounts" button!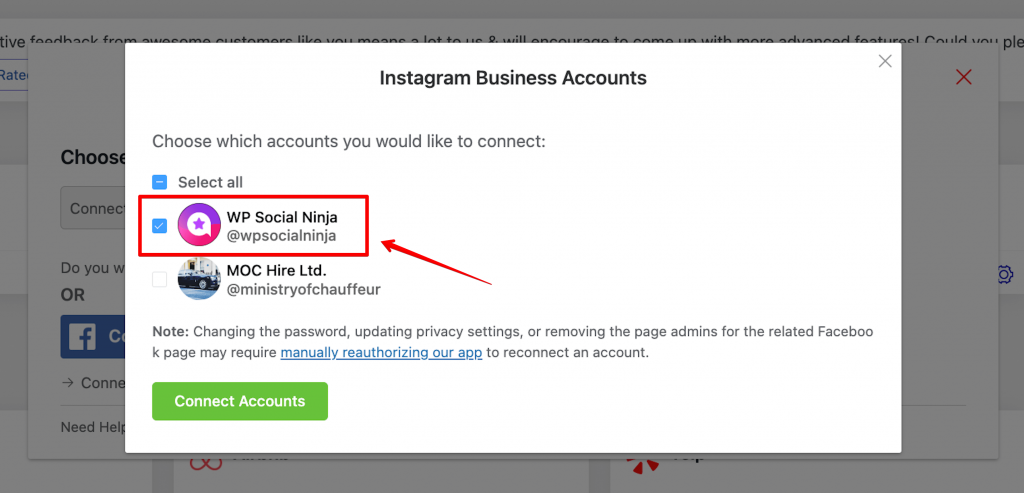 If you have come this far, you have connected your business account. Now all there is left to do is customization.
Set up template
By setting up the template, you can show your feed on the site however you want. First, go to the "Add New Template" section.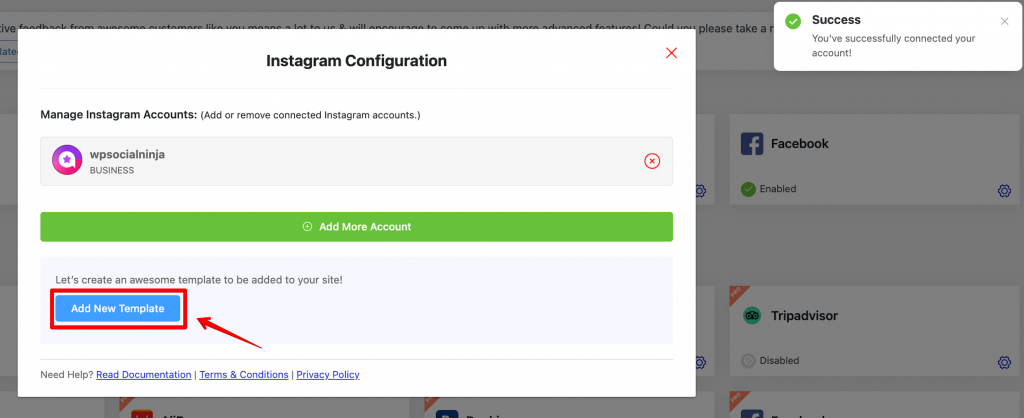 Then you will find two options "General" and "Style" in the top right corner.
As for "General" settings you will find different layout types in the Template section. And you can set the number of columns and set different spaces between Instagram posts on Squarespace.

Moreover, you have a Filters option from where you can literally filter out the posts you want to show with specific words or hashtags. And some more options like Header, Follow Button, and Pagination.
What's more, WP Social Ninja offers a unique feature Shoppable Instagram Feed to generate more sales. This lets you connect your e-commerce website with the products uploaded on your Instagram and you can choose which product to link.
And that's not all. To make your Instagram feed even more appealing, go to the "Style" section, and you can edit the whole template down to each element. Check out our blog on styling templates.

How it looks
So if you have set up your template, save it, and your site should be like this.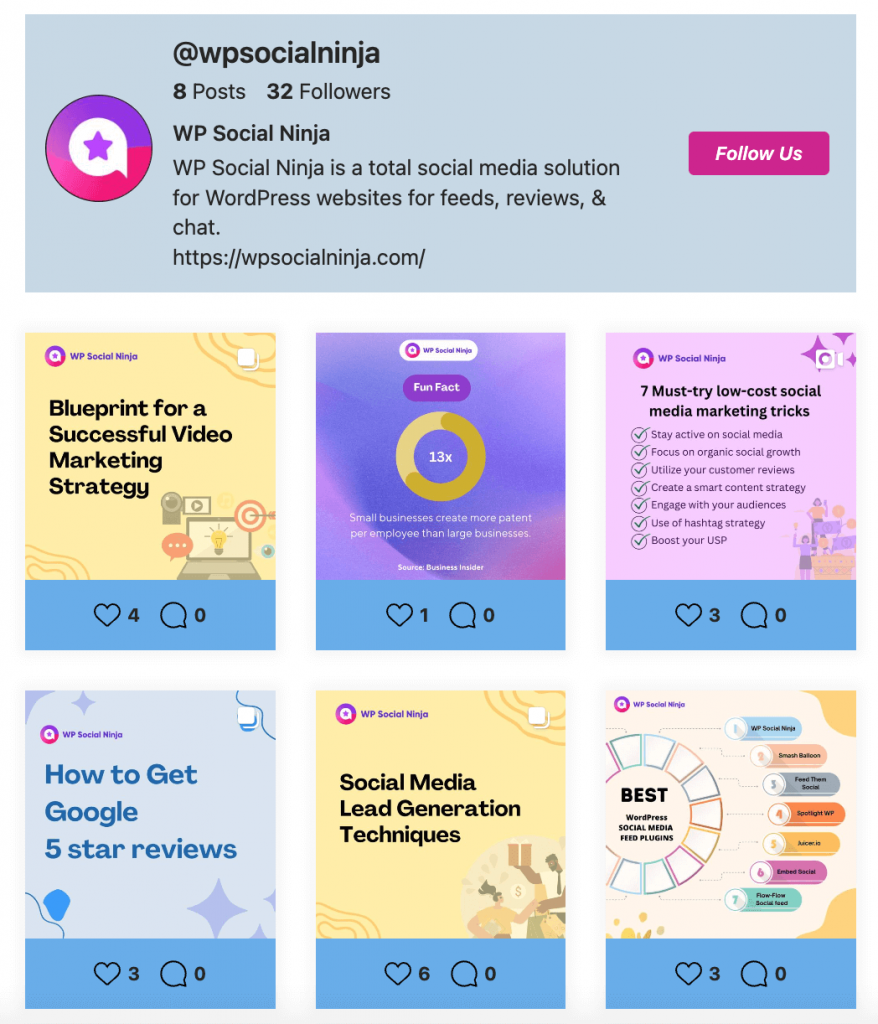 Of course, it would vary with your setup. Customize your template as you see fit.
Super easy, ain't it? But if you still have questions, we have our documentation ready just for you. And you can go through our user guide on YouTube for visual information.
Conclusion
Your Instagram business account feed on the website will be beneficial for both. And when you can do this so easily, don't let this opportunity pass by!
This collaboration can boost your sales, create engagement, and many more but be a little more careful about your content. Make sure you are following the trends, maintaining quality, and being consistent.
WP Social Ninja will take care of the rest. May luck be with you.
FAQs
Is an Instagram business account free?
Yes, it is free. You can always have one if you want.
What is a business account for Instagram?
Instagram business accounts are slightly different from personal accounts. A business account comes with some additional features like Contact, Analytics to boost your business.
Is an Instagram business account private?
No, an Instagram business account can not be made private. Only personal accounts can be private.