How to Configure Instagram Personal Account on Your Website (Easy Steps)
With two billion active monthly users, Instagram is the fourth largest social media platform right after Facebook, YouTube, and WhatsApp!
So why is this platform so famous?
The answer lies in how users perceive this platform from their point of view. Instagram is a visual content-based platform where you can share photos, short videos, and Reels. And that's why users are quite cautious about being active on this famous social platform and standing out!
It can be said that one's Instagram profile reflects his/her sense of aesthetics. And it is true Instagram profiles are well-curated, organized, and maintained with care!
If you have a WordPress website as your personal blog or for any other small business purpose and a well-curated Instagram personal account, merging them should be beneficial for your purpose.
If you are wondering if is that possible or not, the answer is yes and it is quite easy to do that. This article will show you why and how easily you can configure your Instagram personal account to your website.
Let's dive into the details!
Why display your Instagram personal account on your website
Whether you are running a website for personal purposes, for your business, or for any other reason, you would definitely want more activities on your site.
From engagements to the site's health, displaying your Instagram feed on your website could come in handy in several ways.
Let's look at some benefits you can get from configuring your Instagram personal account feed to your website.
Build solid engagement and grow followers
What can be the reason behind Instagram's popularity?
With different filters and editing tools, you can make vibrant, interesting, and appealing visual content on Instagram. Your profile is your social proof. And that should be a good enough reason.
So while you are showing your Instagram feed on your website, visitors will feel more interested and connected. When your feed is telling a story, a journey, your site is getting more lively as well. And eventually, appearing as a credible and trustworthy place.
Moreover, it's easy to communicate through social media. So you are creating room for engagement, building solid relations, and driving traffic from the site to visit your profile at the same time. And it is a huge "win-win" situation, isn't it?
Reduce bounce rate
We always prefer visual information over texts or sounds. And when you have a well-curated Instagram profile, you literally have the ultimate pipeline of supply.
If people visit your site and find an Instagram feed with stunning photos and videos, they will naturally be interested and not going to leave before going through them.
While people are spending more time on your site, the bounce rate is falling and the site's health is improving.
Improve the website's UI
Instagram feed will add more colors and vibrancy to your website and make it visually more attractive.
Not just that, visuals will provide them with a good experience, and your site will feel more friendly. And the good experience will make them visit your site again, eventually generating more leads.
How to display your Instagram personal account on your website
Till now we have discussed the benefits of adding an Instagram personal account on your website. This section will show you how you can do that.
Though displaying your Instagram account is not that hard, you may run into some unusual troubles. And some trouble may lead you to other trouble, or you may fall into some "not so user-friendly" tools!
But that's not the issue with WP Social Ninja. Because this all-in-one social media plugin can easily fetch the feed from your Instagram personal account to your WordPress website.
Let us show you the simplest steps.
Step 1: Install the WP Social Ninja plugin
First, you have to install the WP Social Ninja plugin. It is available in the WordPress repository, simply search and install.
Then activate the plugin.
Step 2: Select Instagram from social feeds
Go to your website dashboard and click WP Social Ninja. Then you have to go to the "Platforms". And select "Instagram".
Step 3: Choose the account type
Now you will see three options. As you are connecting your personal account select "Connect Your Personal Account "
And then select "Continue with Instagram".
Step 4: Click the Allow button
Now all you have to do is to select the "Allow" button to connect your personal account to your website. And you can always disconnect, simply click the red cross!
Now that your connection procedure is complete, click the "Add New Template" to complete the setup procedures.
Seems super easy, right? If you want more elaborated details, we have documentation ready for you.
Step 5: Set up your template
Here is the most fascinating part! You can customize your feed, and you can pretty much decide how you want to show your feed on your website.
You will find different layout types in the Template section. And you can set the number of columns and set different spaces between Instagram posts on Squarespace.
Moreover, you have a Filters option from where you can literally filter out the posts you want to show with specific words or hashtags. And some more options like Header, Follow Button, and Pagination. For more details, check the documentation.
And that's not everything, you can make your Instagram feed even more appealing. Just go to the Style section, and you can edit from your whole template to each element. Check out our blog for more details.
Step 6: Save and go
After you are done with your setup, click on Save Template. Then you have to copy the shortcode (Instagram embed code generator) and paste it to the page where you want to display your Instagram account.
And your page will look like the way you style your feed.
Bottom line
Your Instagram feed on your website will make it look more credible. And if you can do that with such ease, you should definitely go for it.
You will get more engagement when you will show your Instagram personal account. But you have to be careful about the ideal size, feed layout, and updating new content to make sure you are getting the most out of it.
Win your customers' hearts with exceptional features
Discover how WP Social Ninja can assist you design outstanding customer experiences.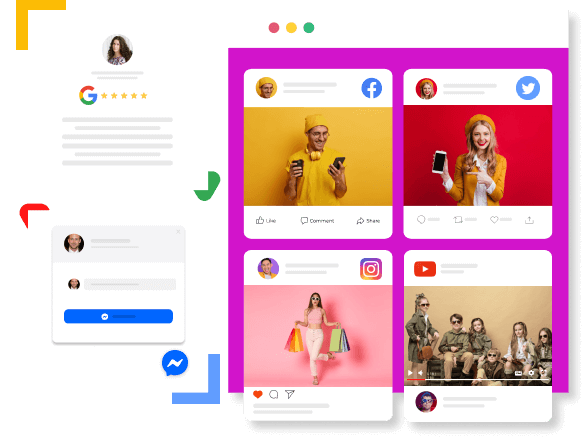 But let WP Social Ninja handles all the hassles for you. Focus on your goal. Good luck!
Related blogs:
FAQs
What is a personal account on Instagram?
Instagram offers you two types of accounts- Personal and Professional. With a personal account, you will get access to all the basic features like posts, Reels, Stories, and IGTV videos. But you can not monitor the performances of your posts and you will have no access to in-depth analytics.
Is it better to have a personal account on Instagram?
If you are running a personality-based brand like influencers, where you share both business and personal posts, we suggest you stick to a personal account. That's how you can be more personally connected to your followers.
Do personal accounts get paid on Instagram?
Yes, you can earn through your personal account. But you have to be an influencer with followers. If your personal account can gain many followers you can earn money through brand collaboration.