8 International Women's Day Social Media Post Ideas for 2023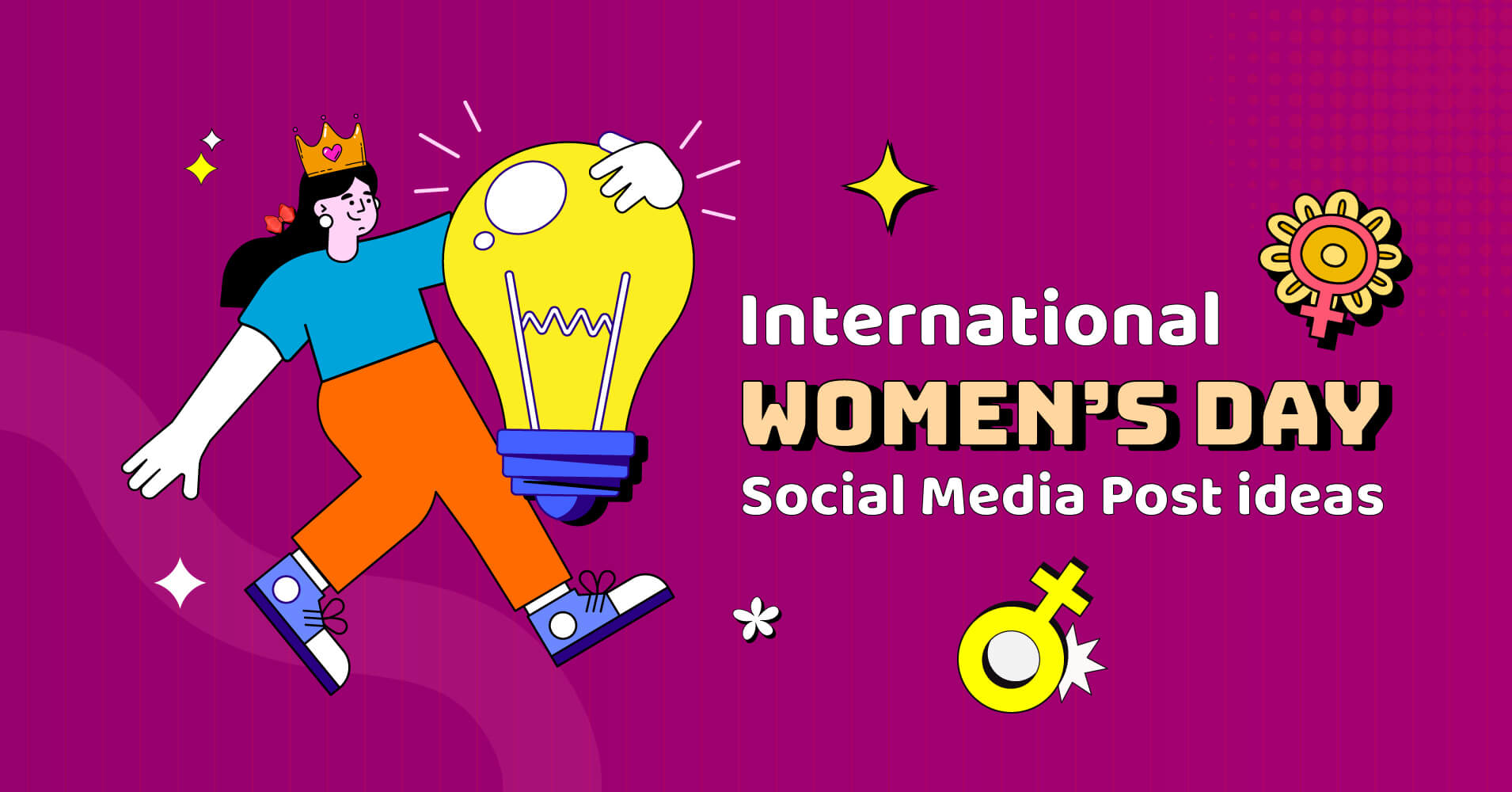 If you are thinking about some catchy International Women's Day social media post ideas, then make sure you address the issues women face worldwide.
On that note, International Women's Day is a great event celebrated every year on March 8th to honor and recognize women's social, economic, and political achievements worldwide.
This is the ideal occasion for people and groups to support gender equality and empower women's activities. By using social media effectively, women's voices can be amplified, and change can be inspired.
Today, we try to cover some effective social media post ideas for International Women's Day that you can use to recognize women's accomplishments.
8 International Women's Day social media post ideas
What should I post about International Women's Day on social media? This is a common and essential query across many types of readers and businesses. To address this, we've done some brainstorming to come up with some potential topics for your Women's Day social media post.
Share stories of successful women who have overcome challenges
Social media is an ideal platform for making awareness about women's rights and highlighting them. Tell the story of a woman who motivates you and explores her significance. There are countless examples of women who overcame limitations and earned victory. So this can be a great source for your social media post idea.
Moreover, you can share these experiences on your networks to encourage and inspire other women. Let's read about a successful lady J.K Rowling. She was a single mother when she wrote Harry Potter. After losing her job and entire savings, she realized she had gone rock bottom. But, She was unwilling to give up on her hopes.
J.K Rowling wrote for a long time in cafes while her baby slept beside her. Most of the time, publishers turned her down, but she never stopped believing in herself. Eventually, a small publishing company agreed to publish her handwriting; the rest is history.
We can say that J.K. Rowling is one of the most popular authors ever. Her Harry Potter series has created a new generation of readers. Even her story indicates the faith and the significance of pursuing one's dreams.
Celebrate the women in your life
The woman would be your mom, sister, or wife. So take the time to write a genuine note or attach a greeting card to a woman you care about. Thanks, them for existing in your life, and respect the hard work they've done.
At large, a gift that shows you put some care into it can also go a long way. You can consider what they like a book, flowers, or something unique. You can even share an image of your two online with an insightful caption.
Post a graphic or image with statistics
A graphic or image with statistics or data on Women's Day can have several benefits. It can help raise awareness about the issues women face in society.
On the other hand, it can highlight the achievements and work that still needs to be done to achieve gender equality. Here you can see the post from UN Women; they share this content on this special day.
Only well design images or graphics can grab the audience's curiosity and engage them. It can encourage them to do something or stand up for women's rights.
These posts typically capture remarkable accomplishments in various industries and encourage followers to repeat them.
Share a list of books and media resources created by women
You can share women-created media content or other resources on social media. The equal representation of both genders is necessary for social advancement. Even this kind of activity will support female creators and break stereotypes.
Here is a checklist of some resources made by women:
TEDWomen
The Broad Experience
Shondaland
The Color Purple by Alice Walker
As a social media post idea, you can share these resources with others who have been planning to do the same job.
Arrange Women's Day giveaway event
Women's Day giveaway ideas on social media can help improve customer engagement by allowing women to interact with your brand positively and memorably. The process can build trust with your target audience.
Hosting an event specifically for women and sharing the post on social media can create a positive image for your brand among female audiences. Last year, Starbucks Malaysia arranged a giveaway event with bonus star points, and these points were also available for the next purchase.
Giveaway event helps to boost your sales and visibility. It also makes it memorable for existing customers. You can also announce the event on social media and share interactive Facebook posts on your business Facebook page.
Here are some women's day giveaway event ideas:
Virtual talent show
Quiz competition
Image and story-sharing contests on social media
Overall, you can arrange these kinds of giveaway events and share the gifts with the winners. At the same time, it is one of the best approaches for International Women's Day social media post ideas.
Promote Women's Day special discount deal
You may demonstrate your support for women and give them financial independence by giving them a discount on Women's Day. This can go a long way toward making your female consumers feel welcome and appreciated, which can lead to increased repeat business.
The discount can help people on social media talk about your brand and bring in new customers. You may reach more people and attract more visitors to your site or store by using trending Women's day hashtags and interesting visuals.
We are not exceptional; every year, WP Social Ninja arranges Women's Day discount deals for their valued customers and women who have been running small businesses. This is a small token of appreciation and support from us.
Here are some ideas for International Women's Day social media posts.
Girls' Night Out Discount: Give a discount to groups of women who come in to shop or eat together so that they can have fun and get to know each other.
Women in S.T.E.M. Voucher: Offer a price drop to women who work or research in science, technology, engineering, or math.
International Women's Day Discount: March 8 is International Women's Day, so offer a special discount to respect women worldwide.
Collaborate with influencers and share on their platforms
Collaboration with influencers and sharing on their social media platforms or your own platforms can be one of the great International Women's Day social media post ideas. To do that, you can approach inspiring women who have achieved breaking stereotypes and invite them to contribute to your social media brand collaboration campaign.
Bloggers, politicians, activists, or stars who have contributed to different sectors are welcome to create awareness and celebrate empowering women's activities. Brands can invite women to organize, appear in a commercial, or collaborate on your product and convey the message you wish to spread to your users.
Launch video campaign
You can create videos and share stories about the limitations of women for social media posts. You can also select a topic about how successful women have overcome obstacles.
This video content can demonstrate how different women are, including women of colour and other difficulties. To keep the content excellent, you must maintain the message positive and inspiring. Likewise, try to add some extra chilly using music and story-telling techniques.
Here are five ideas for Women's Day video campaigns that can share on social media:
Inspiring messages video
Thank you video
Women's voices matter video
Women who inspire us video
How to celebrate International Women's Day?
This is a special day to honour women's progress. It's an occasion of recognition and shows unity with their rights. Here, we'll describe great ways to respect women.
Support women-owned businesses
Make an effort to shop at women-owned business owners in person and online to help female business owners. Your little contribution can change the world and its thought.
Attend and arrange virtual events or workshops
Arrange virtual or in-house events about women's day and attend the events or share personal experiences that can change others' life.
Notify yourself and others
Try to notify you and others to understand the origins of women's issues and the ongoing fight for equal rights for men and empowering women's activities. You can even share your personal experiences with others about what you've learned to promote awareness.
Donate to a nonprofit that helps women
Donate funds to a charity organization that fights for female issues or an issue you care about. It can also change people's thoughts about many social post ideas or financial issues. 
Speak about women's rights and discrimination
There are many local and international issues known to all. To address this, anyone can arrange the event, create awareness, and raise their voice against discrimination.
You can do it in different formats, like publishing content on other social or news platforms, producing music, making emotional YouTube content related to Women's Day etc.
Remember, every action you take to support gender equivalency helps create a more just and fair world.
International Women's Day social media post Ideas example
Every year many well-recognized brands arrange different kinds of campaigns on social media and spread the word on various platforms to generate awareness and create a vast reach. Here we try to explain a few brand marketing approaches focusing the International Women's Day. Let's explore.
Spotify
The team at Spotify is dedicated to celebrating and promoting women's voices through its equivalent initiative – a year-round venue dedicated to highlighting women artists.
Spotify is starting a global campaign for International Women's Day to continue bringing attention to women who make music. Through their social media campaign, they try to spread the news about equality and diversity. This would be one of the best international Women's Day social media post ideas.
Netflix
Netflix initiated a social media campaign called Wear it Like a Crown. The action inspired women to share photos wearing crowns or close accessories. They also used hashtags in this campaign. Above all, the motto was to show their strength and confidence.
A video representing women from all origins explaining what it means to wear crowns and feel empowered was also included in the ad.
Hershey's
The "SHE" candy bars from Hershey's returned to stores on March 1, 2023, to honor women in the United States. With the help of Girls on the Run, new candy wrappers have been made with more than 200 phrases that define women and girls.
A decision to put a trans woman on packs for a similar plan in Canada to celebrate International Women's Day. This kind of action can be a significant part of International Women's Day social media post ideas. You can use the concept for your social media campaign.
International Women's Day business ideas
Women's Day is a great event for all kinds of businesses to recognize the achievements of women. For International Women's Day, the following business ideas could be put in place:
Launch a women's leadership summit
Create an online course for women entrepreneurs
Host a fundraiser for women's causes
Create a mentorship program
Conduct a women's health awareness campaign
Develop a female-centred product line business
Host a networking event
Launch a women's empowerment campaign
Women's career development
Remember that International Women's Day is about promoting and supporting women. Therefore, any business idea that empowers women is an excellent means of marking this important day. We have a blog post about the 5 best small business ideas for women. You can take a look and get awesome business ideas for your next project.
Final words
International Women's Day is a great opportunity to respect women. In other words, social media is an excellent way to raise awareness and change people's minds.
So there are many ways to use social media to change a difference. You can implement the above-mentioned social media post ideas or your ideas. Using social media platforms and exclusive posts can establish a more dynamic taboo-free social community. That advocates the rights and ambitions.
WP Social Ninja
Try WP Social Ninja today and see for yourself!
Let us continue to use social platforms to raise female opinions and highlight their achievements every day of the year, not just on International Women's Day.