Worst Instagram Wall – What Do You Know About This Scam?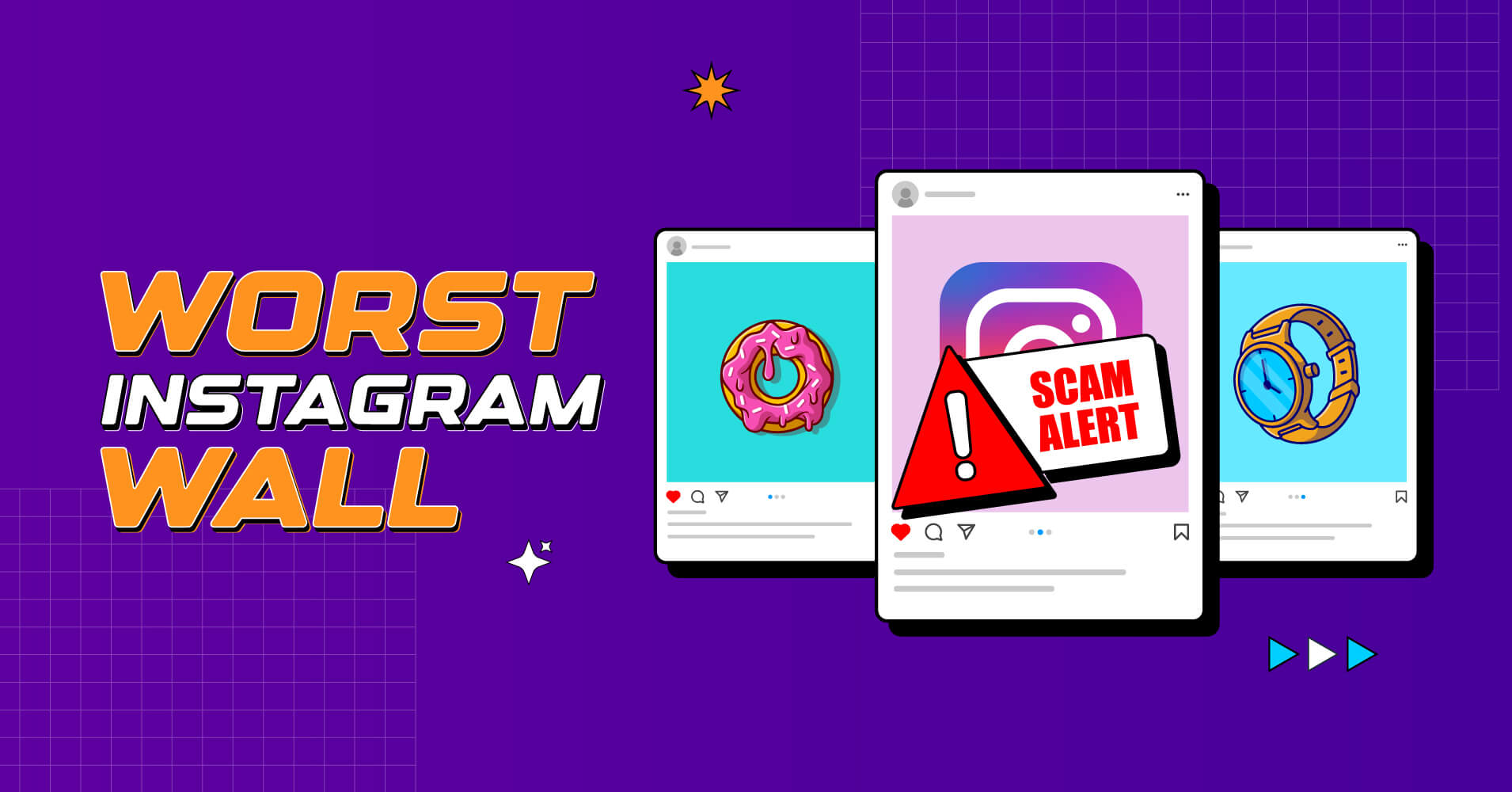 Have you ever been trapped in the worst Instagram wall hack or any other Instagram scam? Let's discuss it and see what you can do if you are searching for the worst Instagram wall 2023 help.
So, basically, this may have brought you here from a text message like "You have been added or fell on the Instagram worst list or on some unwanted unethical worst people list. Well, any of these are kinds of phishing that are meant to get your personal information or account credentials to bring you some trouble.
Anyways, these are some common phases of internet users; which can be ignored and prevented if you're smart enough to handle.
Continue reading this blog, and unveil the facts you should have known before!
What is the worst Instagram wall?
Have you heard about online phishing or scams? If you're already known to this, then this term should be quite familiar to you.
To know well about this, first, you should know how not to get into the trap and how does Instagram worst wall work.
If you look back to the past years, the whole online scam started in 2019. It started as an explosion of terror. The social media was proof of how people shared their experiences on Reddit, Quora and other social media platforms about this Instagram worst wall list.
Alert: That DM will invite you to click on a link. It will request you to share your Instagram login credential. It can be look something informative, and even make you trigger you somehow visit the page. So here's the quick tip- DO NOT SIGN IN! It's nothing but a phishing page. If it were true, you would see it on your account and not in a DM, right?
So, actually, this is how the crap of the worst Instagram wall hack gets you in trouble. People even search for the worst people to use Instagram instead of looking for the real fact behind it. So, If you ignore it, then undoubtedly you're a genius! But somehow if you respond to this, we got you there.
What happens if you log in to the Instagram worst wall list?
Who wants their personal information to be leaked? No one will be ever happy to see their own stories used in somewhere inappropriate or someone else using them for a bad purpose.
So, if you somehow slip into this scam, what happens here is, SCAM never intends to do good to you. They'll spread unethical and illegal information about you using your own information from your social media access.
And that trouble of Instagram worst wall list may include your other information too, such as your Bank account, or other confidential things.
What should you do?
Well, if you've already signed into the scam link of the worst Instagram wall DM, don't worry.
The first thing you should do is take immediate action to protect your Instagram account and your personal information. Let's not let cybercriminals steal your login credentials or other sensitive information.
These types of walls are often used by cybercriminals to steal your login credentials or other sensitive information. Just follow the actions you should immediately take:
1. Change your password
This is the first step you should take immediately. Change your password. This time choose a strong and unique password that's easy to guess. Also, for more security, enable two-factor authentication.
2. Check the unauthorized activities
This step will help you to log out from the devices that tried to access your account. Go through your Instagram account and check for any suspicious activity, such as new posts or messages you did not create or send.
3. Remove the plugin or app
If you have installed a plugin or app that prompted the wall, remove it from your device. These types of plugins and apps are often malicious and can compromise your personal information.
4. Report the incident
If you see your Instagram account has been hacked or getting any trouble logging in, report it to Instagram. You can report the incident through the app or on the Instagram website.
5. Stay alert
Always be cautious of any links or prompts that ask for your Instagram login credentials or personal information. If it seems too good to be true, it probably is. Ignore anything that seems suspicious or fraudulent.
In addition to these steps, it is a good practice to regularly monitor your Instagram account for any suspicious activity and keep your device and software up to date with the latest security patches. By taking these steps, you can help protect yourself and your account too from falling victim to Instagram worst wall list or any online scams and cyberattacks.
Tips: To prevent the future scams
It's great if you've overcome the unwanted incidents online. But there's no loss in staying always prepared to tackle any future obstacles or those online scams.
So what should you do if you want to prevent future scams like the Instagram Worst Wall hack?
Secure your account
First of all, the use of two-factor authentication is highly suggested. With this authentication, Instagram will be configured to send you a special login code.
A smart technique to stop someone from accessing your account is to utilize two-factor authentication. Because they need your phone in addition to your username and password in order to do anything with it. That's because each time you log in to Instagram, a code will be texted to you.
Warn others too!
Raising awareness about SCAM is the best tactic for preventing it in the public sphere. Share your story with your family, friends, and anybody else who may have been a victim of one of these scams.
We know you're doing an excellent job of alerting their friends. In order to save them and others too from this worst Instagram wall scam, warn them by your Instagram posts, texts, tweets, Facebook posts, and Snapchat stories.
Let's introduce to others Instagram scam as well
To keep yourself safe from cyberattacks, it's important to be aware of other Instagrams too! So, here are some of them:
Fake Instagram post
The most common other scams on Instagram involve profiles that pretend as well-known brands. They will create an account and try to act, for example, as Patagonia.
On their fake Instagram posts, they advertise sales and good deals from there. When they submit their personal information and credit card number into the website's forms, many fall for it and purchase fake goods or become victims of fraud.
Sales scam
Sadly, Instagram is frequently used in fake products and online sales scams. These fake Instagram profiles frequently have a large following, giving them a more trustworthy appearance.
Fake product scammers frequently use- advertising and posts promoting fake products, links to suspicious web pages, and requests for private information in order to complete the transaction.
Once the scammers get your personal information, you could lose access to your Instagram account, get a fake version of the item you ordered, or even worse, have your identity stolen.
Phising scam
You might get a direct message or email from a phishing scammer urging you to act quickly before your Instagram account is "suspended." A hacker will pretend to be an official Instagram customer support account in the message and attempt to persuade you that your account is in danger.
Ordinary phishing scam characteristics are:
Alerts that your account is at risk
Requests for your username and password, among other sensitive information
Warnings that "suspicious behavior" has to be investigated
Engaging with an Instagram phishing message could give them access to your account, let them steal your data, or let them use it to extort money from you. Never provide any information to an account you are doubtful of in order to prevent this.
Crypto scam
The goal of a crypto scam on Instagram is to deceive people into parting with their money in a fake or fraudulent cryptocurrency offer. Scammers frequently make up phony profiles, groups, or pages to spread their hoaxes and employ a variety of strategies, including pretend freebies, celebrity endorsements, and guarantees of big returns.
They might request money transfers to a wallet or private information from you, which they can exploit to steal your money or steal your identity. Crypto scams are particularly common on Instagram because scammers can simply target a lot of potential targets and exploit the advantages of the platform to provide the illusion of legitimacy!
So, before investing in any cryptocurrency possibility, it's crucial to be cautious and get a comprehensive research.
Lottery scams
In an Instagram lottery scam, hackers build fake profiles, pages, or groups in order to appear as trustworthy lottery or gaming companies. They may deceive you into thinking they have won a reward by using official-looking logos and branding, frequently in exchange for a modest price or personal data.
Scammers may request your bank information, urge you to send money via money transfer, or beg you to buy gift cards in order to claim the fake prize. When you receive unexpected lottery or lottery notifications on Instagram, you should proceed with caution and properly research the authenticity of any organization before disclosing any personal or financial information.
Closing note
Scams on social media, like the Instagram worst wall hack, are common. In this case, the wise suggestion would be just avoid focusing on anything unimportant and instead pay attention to your work. You won't fall victim to such traps in this way.
Hope you won't fall this way. But if you have already, leave a comment below with the time and day you received those DM's or messages regarding Instagram's worst wall of 2023.
You can give read our other blogs too: