Want to Embed Facebook Feed on Website? Choose The Best Way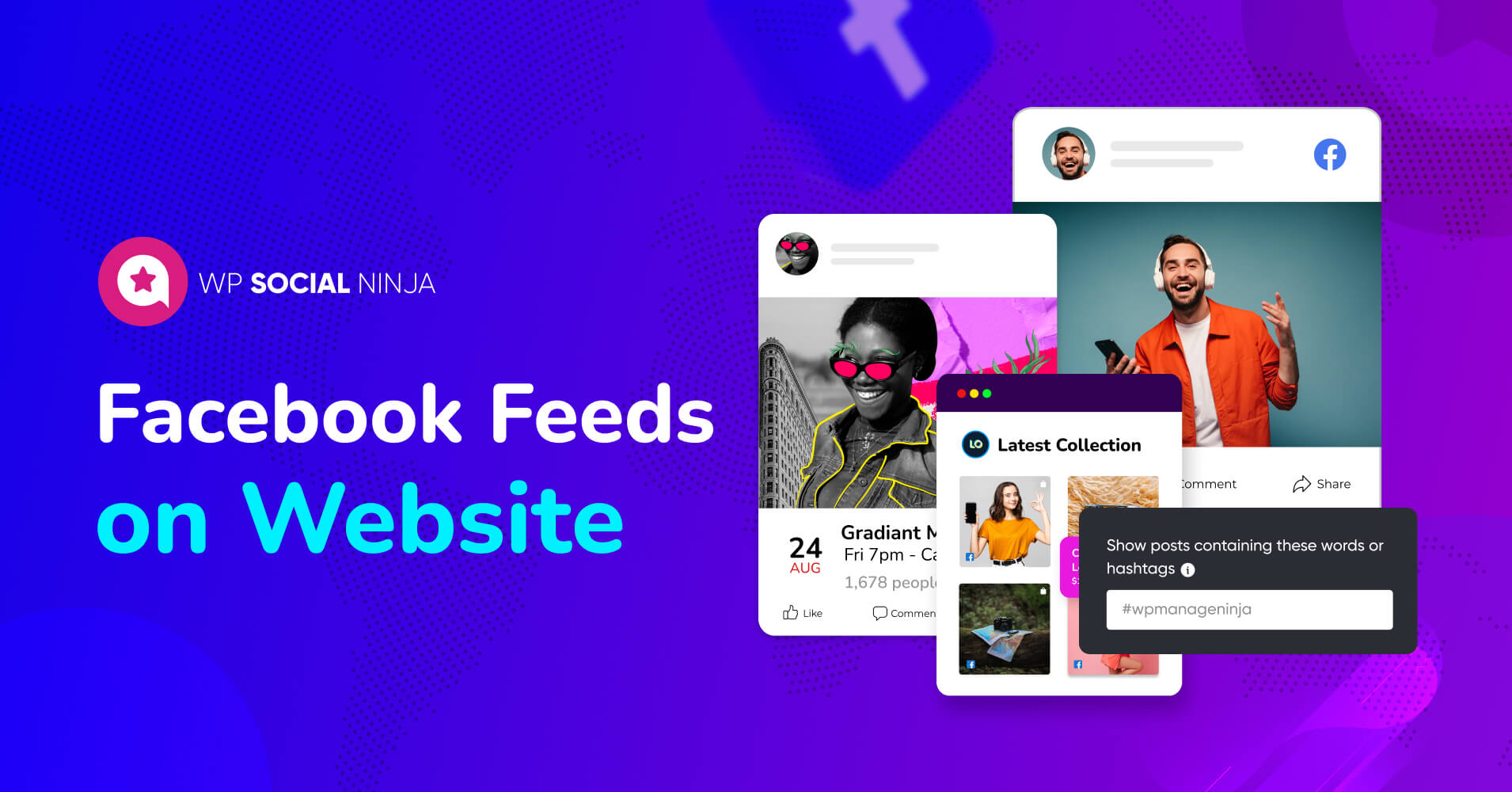 People want to go on the Internet and check out their friends so why not build a website that offers that? Friends, pictures, profiles, whatever you can visit, browse around, maybe it's someone you just met at a party. I'm not talking about a dating site. I'm talking about taking the entire social experience of college and putting it online.

Mark Zuckerberg
Well, social media is not only about fun and chilling at the beach. You might have a business account on Facebook and want to bring that to your website too!
Among all the social media platforms, Facebook itself holds on to 2.96 million users per month. Undoubtedly, this number is huge and severely impacting people's lives, and encouraging to grow this number more day by day.
So, here we will be showing you how to embed Facebook feed on website to give your business a new height. Just showing off the existing social media feeds on the website can be interesting and rewarding at the same time!
Let's see how;
How to embed Facebook feed on WordPress with HTML
Except for business needs or other purposes we most often need to embed Facebook posts on our blogs or any documents or it could be any place on a website.
Or, you might need it for different cases also; we got it. Follow the steps;
Find the post you want to embed. This can be from your own Facebook profile or a public post.
Now, get the Facebook embed code. click on the top-right corner of the post and get the option "Embed".
You will find a code within the dialog box of embed option. Copy the code.
Next, go to your web page where you want to place your post. Place your cursor at the appropriate spot and right-click, then choose "Paste" from the context menu.
After pasting the code, save the changes to your website's HTML. Depending on your platform, this might involve clicking a "Save" button or updating the page. Once saved, preview the page to see the embedded Facebook post.
Remember, embedding a Facebook post may require the post to be public or accessible to the audience of your website. Also, websites built on certain platforms might have different steps for embedding content, so make sure to refer to any platform-specific instructions if applicable.
The best option to display Facebook feed on website
Embedding Facebook posts is one thing. But to seamlessly integrate your entire Facebook presence into your website, trust WP Social Ninja as the best social media feed plugin.
This all-in-one plugin delivers exclusive features that enhance your Facebook feed. Explore real-world examples of integrated Facebook feeds to amplify your visual impact and drive sales!
Unveil engagement: Enrich your site with Facebook feeds
This dynamic plugin allows you to seamlessly integrate live Facebook content, boosting interaction and connection. So elevate your site's appeal by showcasing real-time posts, photos, and videos, creating an immersive experience for visitors.
From curating your Facebook feed to placing it with full-page template customization, WP Social Ninja will be your favorite handpick. Transform your website into a captivating hub of engagement, connecting your audience to the pulse of social media seamlessly with a Facebook widget.
Showcase Moments: Embed Facebook Album Feed
Content visualization is important. With WP Social Ninja, ignite your website's allure using magic in Facebook photo album feeds.
Give your visitors a visual narrative with seamless album integration. Showcase your products and stories, creating an immersive journey. Your site transforms into an album-inspired haven, boosting engagement and inviting visitors to explore your brand's captivating imagery!
How to Embed Facebook Album Feed on Your Website (Easy Way)
Visual Stories: Showcase Facebook's Event Feeds
What's more? Revitalize your website by effortlessly integrating Facebook event feeds through WP Social Ninja. Bring curiosity and engagement as visitors effortlessly explore your upcoming events.
From workshops to launches, provide an interactive glimpse into your brand's calendar. WP Social Ninja converts your site into a hub of events, offering real-time updates that spark anticipation and interaction.
How to Embed Facebook Events Feed on Your Website (Easily)
Feeding Trends: Embedding Dynamic Hashtag feed
Lastly, boost your website's charm with WP Social Ninja's hashtag feeds. Immerse your visitors in trending topics and conversations seamlessly, adding a dynamic touch.
From viral trends to niche discussions, offer a curated glimpse into social buzz. WP Social Ninja makes your site trendy by hashtags, igniting engagement, and connecting visitors with the online conversation's pulse!
How to Display Social Media Hashtag Feeds on WordPress Website
Bonus: Get more with WP Social Ninja
As WP Social Ninja is the ultimate social media solution, it has more to offer than just embedding feeds.
Highlight customer's feedback with Facebook reviews
No doubt, your customers are giving you feedback based on how you're serving them quality products. Don't limit them only to your Facebook page, bring them all, choose which one to show people, and display the Facebook reviews on your website.
Facebook Messenger live chat support
Giving the best to customers is not only about making them amused by your products, but also about how you treat them. Embed Messenger Chat widget on your website and let your customers know you're always there whenever they need help.
Sum up
That concludes our journey through embedding Facebook feeds on websites, a powerful upgrade for your brand. Now equipped with insights from our embed Facebook feed on website examples, we hope you're ready to dive into the world of website enhancement.
So, whenever you need your website to have social media feeds or to embed Facebook feed into website there you go with the all-in-one social media plugin. Upgrade your strategy, and upgrade your website to WP Social Ninja's pro version to get all the premium features!
And don't forget to tell us how you like our product. Our comment section and Facebook community are open to hearing from you.
Good day! You may also like reading: