7 Best WordPress Social Media Feed Plugins for 2023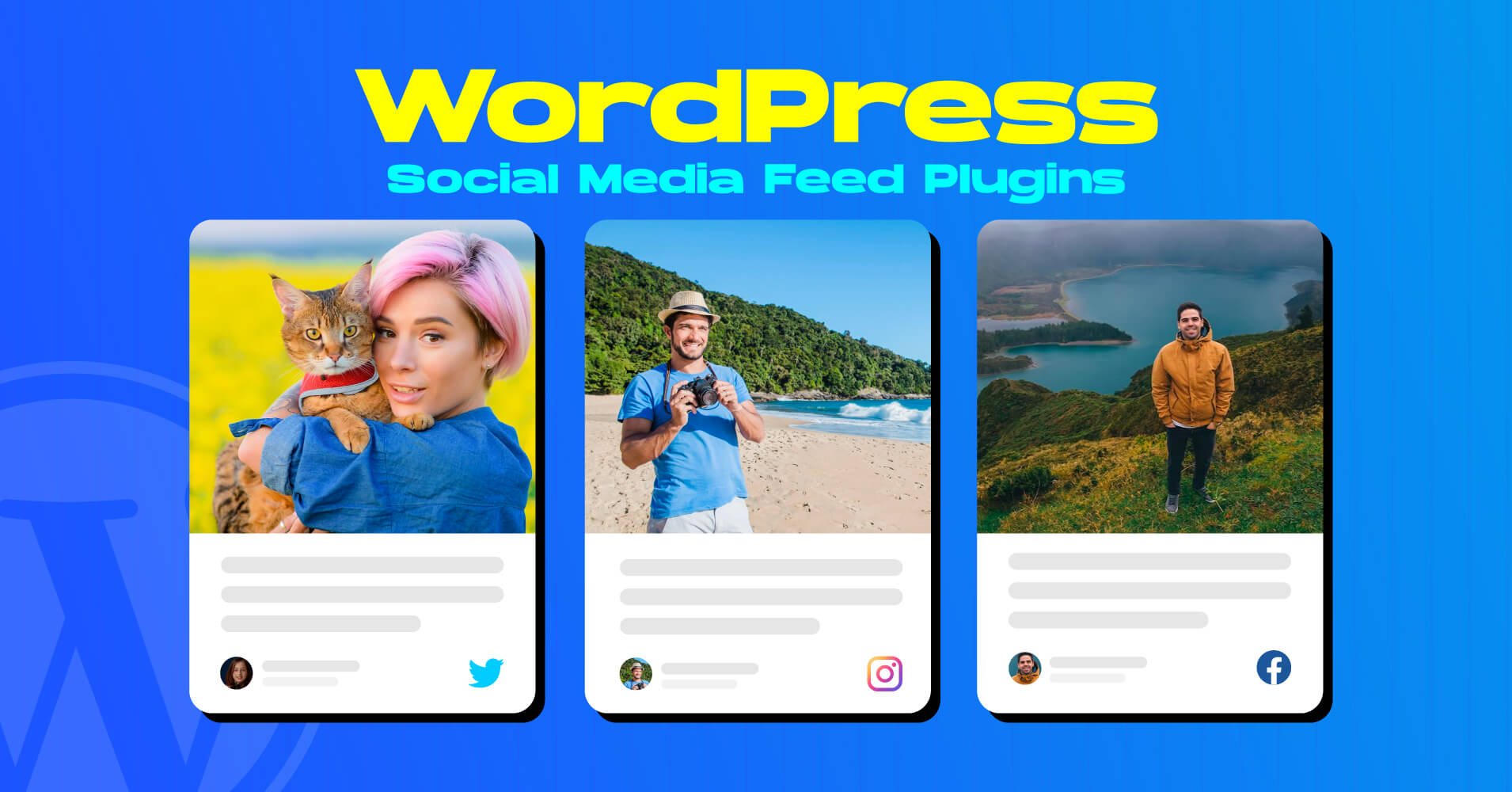 If you run a small business or even do a sales promotion, you probably know how crucial to use WordPress social media feed plugin for your online presence. Unsurprisingly, including social media feeds on your WordPress website has become essential. A study found that over 4.26 billion people actively use social media.
Indeed, manually keeping your social media feeds up-to-date is a painful process, especially if you're responsible for multiple platforms or projects. Fortunately, different feed plugins for social networking platforms are available to add social media to WordPress websites.
That's why this blog post will address 7 of the most useful WordPress plugins for integrating social media feeds into your site. Features such as advanced filtering, social media platform support, and design customization are all available with these plugins. Without further ado, let's dive in and learn about the top WordPress social media feed plugins.
What is a WordPress social media feed plugin?
WordPress social media feed plugin is a widget that can help you display your social media feed on your websites. The plugin can connect to your social accounts and fetch your latest posts, photos, and videos. If you want to connect your Twitter feed, so with the help of a social feed WordPress plugin, you can display multiple feed types like User Timeline, Home Timeline, Hashtag, and Mentions feed content.
Many WordPress social media feed plugin allows you to set the post order, hide posts that include a specific hashtag or word, customize the header, and other options. It also offers security features like exhibiting profile pictures, post dates, and additional information. The procedure will give your website visitors a view of your social media presence and engage them without leaving your website. A professional web design company can help you select the best social media feed plugin for your website and ensure that it is integrated seamlessly into your website design.
Why should you consider WordPress social media feed plugin?
WordPress social media feed plugin is becoming more popular among website users. When improving your online visibility and streamlining your social media integration, employing a WordPress plugin social media feed is one of the best options available. Here are some reasons why you could consider using a social media feed plugin for WordPress websites:
Easy Integration process that means you can easily integrate your social media accounts into your website without any coding knowledge or technical skills.
Display multiple feeds and make it easy for users to see your latest content across all social media platforms.
Save your time by automating the process because manually updating your social media feeds on your website is time-consuming.
Increase your audience engagement by displaying your social media content directly on your website.
Diverse customization options with WordPress social media feed plugins make visitors more visually appealing.
7 game-changing WordPress social media feed plugins
In this digital age, social media feed plugin has become essential to every business's marketing strategy. Integrating social media feeds into your WordPress website can help increase engagement, drive traffic, and boost sales growth.
With so many WordPress social media feed plugins available, choosing the right one for your small business can be overwhelming. In this section, we'll glimpse 7 market-leading WordPress social media feed plugins that can help you display your social media content on your website effectively and visually appealingly.
WP Social Ninja is a social media plugin with 29+ social platforms that allow small businesses and others to manage and display all their social media content. This supper plugin supports 4+ social feeds, 9+ review platforms, and 15+ chat widgets.
WP Social Ninja is a customizable and light WordPress social media plugin to help you reach even more leads or followers by showcasing your social feeds and reviews and keeping chat support on your websites. It has multiple benefits with Testimonials, Notification Popups, and a Shoppable Instagram feed on your WordPress websites.
The WP Social Ninja is a user-friendly plugin specialized for social feeds and reviews for businesses that want to enhance small businesses. This plugin will be the most convenient if you're heading to improve your brand value and word-of-mouth marketing through the free social feed widgets on your website.
Advantages of WP Social Ninja
Effortless integration with 29+ platforms
Facebook event and album feed facility
Multiple templates and layouts
In-depth template style
Responsive checker option
Translation option
Realtime synchronization
Manual syncing
Supports all page builders
Export/Import custom reviews
100% SEO friendly for all devices
Disadvantages of WP Social Ninja
A limited number of customer reviews
The free version gives you limited styling options
Smash Balloon is another social media feed plugin. It has powerful attributes like a social media aggregator and feed facility, with other features that make this plugin more dynamic.
Using this plugin, you don't just get the opportunity to display social feeds like Facebook, Instagram, Twitter, and YouTube. Moreover, you can collect feed content from mixed social platforms and share them on a single wall.
Smash Balloon is a stunning yet simple, customizable plugin for WordPress websites. It allows anyone, no matter how tech-savvy, to seamlessly embed their social media wall onto their website in minutes.
Advantages of Smash Balloon
Easy to setup
Updated in real-time
Multiple feed layouts
Responsive
International language support
Disadvantages of Smash Balloon
Limited customization option in the free version
Insufficient review widgets
No chat widget feature
Expensive for small business owners or individuals
Different widgets for different functionality
Feed Them Social is another user-friendly plugin to embed social media feeds on websites. You can fetch the platforms like Twitter, Instagram, Facebook Pages, and Photo Albums. Choose how many posts, pictures, tweets, or videos to show in your custom feeds.
Feed Them Social enables you to combine all your social media accounts into one dynamic feed, which is an excellent option to save space. It also can generate the shortcodes for as many custom feeds as you like. Copy the shortcode to any page or post or use our newly developed widgets; it's simple. With one plugin, you can create feeds for your business or yourself.
Advantages of Feed Them Social
Quick install and setup process
Diverse customization options
Responsive design for social feeds
Simple access token fetching
Compatible with any theme
Disadvantages of Feed Them Social
Limited feature for free users
Lack of customization options
Spotlight could be an excellent alternative if you like WP Social Ninja but want to concentrate exclusively on Instagram. This social media feed WordPress plugin lets you connect your site to multiple accounts and allows visual customization.
Spotlight has a lightbox to show off your photos. Dynamic loading and caching prevent images from overloading WordPress.
Moreover, you can easily embed your social feed with a handy Instagram widget or generate a shortcode. At the same time, Spotlight has other advantages and disadvantages too. Let's explore!
Advantages of SpotlightWP
Connect unlimited Instagram accounts
20+ design customization options
Custom feed header options
Combine multiple Instagram accounts
Embed Instagram feed using block, shortcode, or widget
Disadvantages of SpotlightWP
Problematic support
Limited social feed widgets
The price is high for a single widget
Juicer helps you find an easy way to collect content from multiple social media networks and put it together in one display. With this social media aggregator, users can manage all posts and hashtags for a brand from one place.
This social media aggregator WordPress plugin works with Facebook, Twitter, Instagram, YouTube, and other social media sites. Juicer starts by collecting content, then showing it, and then selecting the best of it. It begins by getting all the new posts from social media accounts and then organizing them on the website in the best way possible.
Advantages of Juicer.io
Diversified feed options
Responsive grid for dynamic layouts
Moderate and remove your social media content
Advance analytics
Custom CSS
Disadvantages of Juicer.io
Limited feature in the free version
A small number of reviews for evaluating the plugin
EmbedSocial is a social media plugin that can embed user-generated content from different social platforms. The primary purpose is to showcase user-generated content from multiple platforms and display it on a website. The plugin also has several social platform integrations, like Facebook, Twitter, TikTok feeds, etc.
Like other WordPress social media feed widgets, this one also claims to serve the multipurpose of a website, which enables a website to display social media feeds, reviews, albums, and stories.
Advantages of Embed Social
Different feed plugin options
Improve your SEO and brand presence
No coding skill required
Customizable layouts
Disadvantages of Embed Social
Have to buy all widgets individually
The plugin is relatively new
A limited number of customer reviews
Flow-Flow Social Feed Stream is another option if you want to show your social media feed on your website. This plugin allows you to display a mix of social media feeds with dynamic customization facilities.
With the help of the Flow-Flow social feed plugin, you can easily show your social media content from different platforms like Facebook, Instagram, and Twitter. Displaying user-generated content from multiple sources is a dynamic way to show your social proof and establish a good brand presence.
Advantages of Flow-Flow Social Feed Stream
4 different social feeds
User-friendly admin
Rich design settings
Translate option
Multisite compatible
Disadvantages of Flow-Flow Social Feed Stream
Responsive issue
Problem with the Facebook feed
Poor customer support
How to embed WordPress social media feed Plugin on the website?
We all love social media integration for our websites to establish a solid social media marketing presence to accelerate sales. You can embed your social media feed in two ways: from the WordPress admin panel or by downloading WP Social Ninja from the dashboard. Here are the basic steps to embed social media feed on website:
Initially, Download the WP Social Ninja plugin from the WordPress repository to start your social media marketing
Now go to the Plugins > Add New > Select the Zip file > Click the install now button > Activate
Select the WP Social Ninja from the dashboard menu
Now you can fetch social content from 29+ platforms like Facebook, Instagram, and Youtube feeds.
After selecting the widget, you'll need to connect your social media accounts to the plugin. This usually involves entering your account credentials or generating an access token.
Now customize your social feed section, click the save button, and copy the shortcode.
To display your social feed, paste the copied shortcode to a page or post where you would like to show your social content.
In this last step, you must update or publish the content. Now, your social media feed should be up and running on your website!
Consider users' privacy and ensure you're only fetching content you can use. By the way, if you want to know more about the embedding process, then you can read our blog post about how to embed social media feeds or detailed documentation about the embedding process.
Final words
In conclusion, WordPress social media feed plugins are essential for any website looking to increase its online marketing game. With so many social media feed plugins available, picking the right one for your needs is challenging.
However, we have highlighted 7 market-leading options that stand out for their features, ease of use, and customization opportunities.
Among these, WP Social Ninja is the best WordPress social media widget and standout plugin that offers a wide range of features at an affordable price. The pricing plan makes it an excellent option for those looking for a feature-rich social media feed plugin without wasting the extra coin.