The Best Time to Post on YouTube: Insights for Content Schedule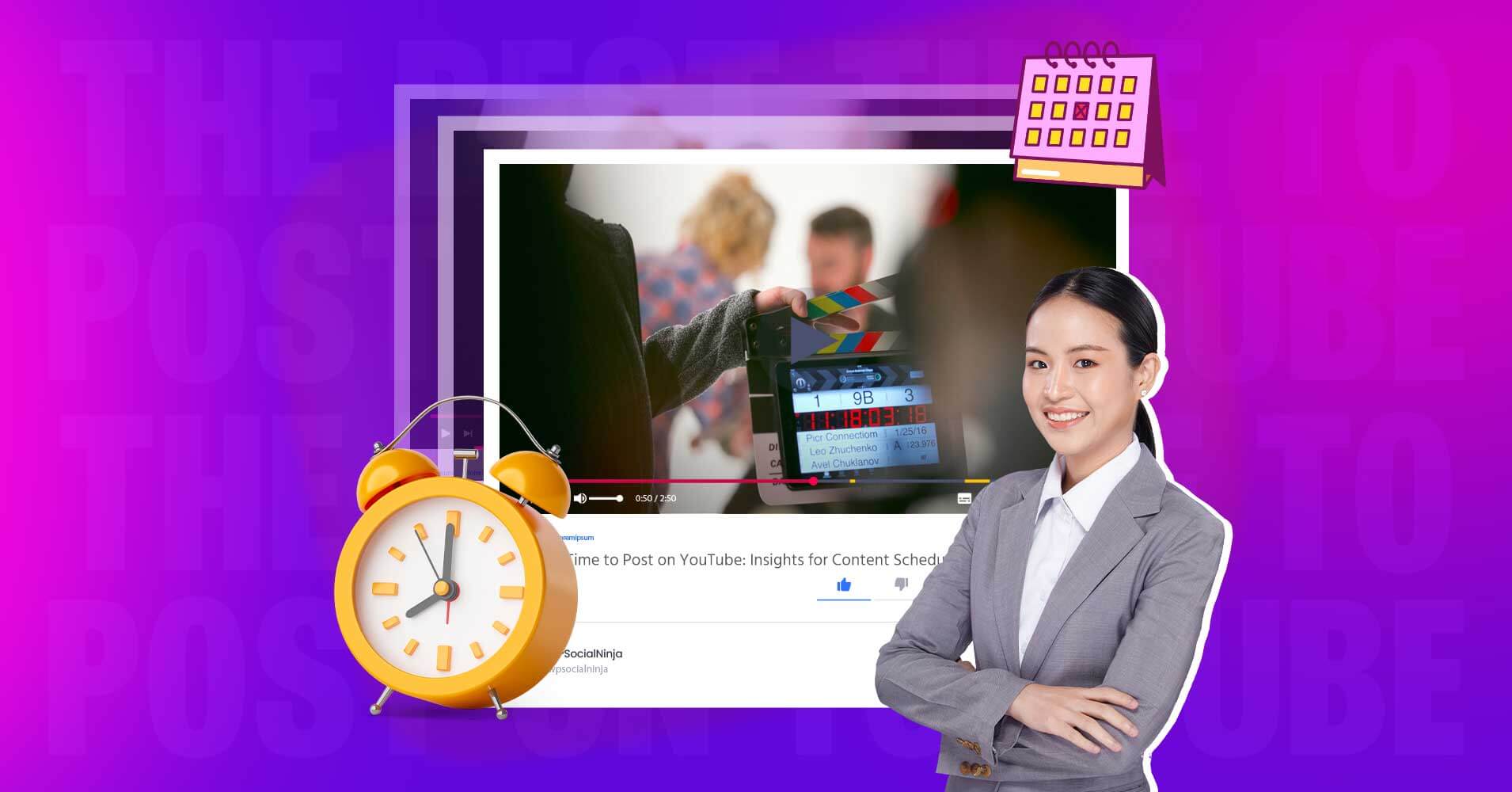 Whenever we look for video content, what comes first in our head? YouTube, right? With 2.68 billion active monthly users, it is the most popular video platform!
Since its foundation, YouTube has been a place of interest for marketers for brand promotion! And without quality content, you have no chance to stand out at all!
Even after making quality content, it might not get enough views! You might wonder why and what went wrong!
But did you consider that timing might be the culprit?
If so, you are on the right track! Unlike other social media platforms, YouTube does not have a feed! It takes time to index your content, and shows as per relevancy!
That's why it is important to know about the best time to post on YouTube!
If you are thinking about how to do that, you are at the right place!
This article will walk you through a journey. And at the end of the journey, you will know why you should consider the best time to upload on YouTube and how you can find the best time to post!
Let's start our journey!
Why does the best posting time on YouTube matter?
For YouTube marketing, upload time influences watching hours on YouTube. To understand the best time to post on YouTube, you have to understand its algorithm first!
To make it simple, you can think YouTube acts like Google but for video content only! The best time to post on social media platforms like Facebook, Instagram, Twitter, TikTok, or Pinterest differs because your uploaded content immediately goes to the feeds of the followers and associates.
But that's not the case for YouTube. YouTube does not have a 'Feed'. Like Google, your video is indexed, and shown to the users upon searching as per relevancy! And you need a solid video marketing strategy.
That's why you need to know when your audiences might look for content and post 2-3 hours before the peak time! That's how you can get maximum views!
But all these understandings will be efficient when you know the best time to post on YouTube! Let's know how can you find out about the best time, shall we?!
Which time is preferable in general?
To be clear, your best time to post on YouTube may differ from others, and that's okay! You have your own different audiences, thus there is no generic best time to post on YouTube!
But yes, various types of research have been conducted, and there are time ranges for everyday preferred by the marketers!
If you want a plain time range, look at this range based on a study conducted by HubSpot: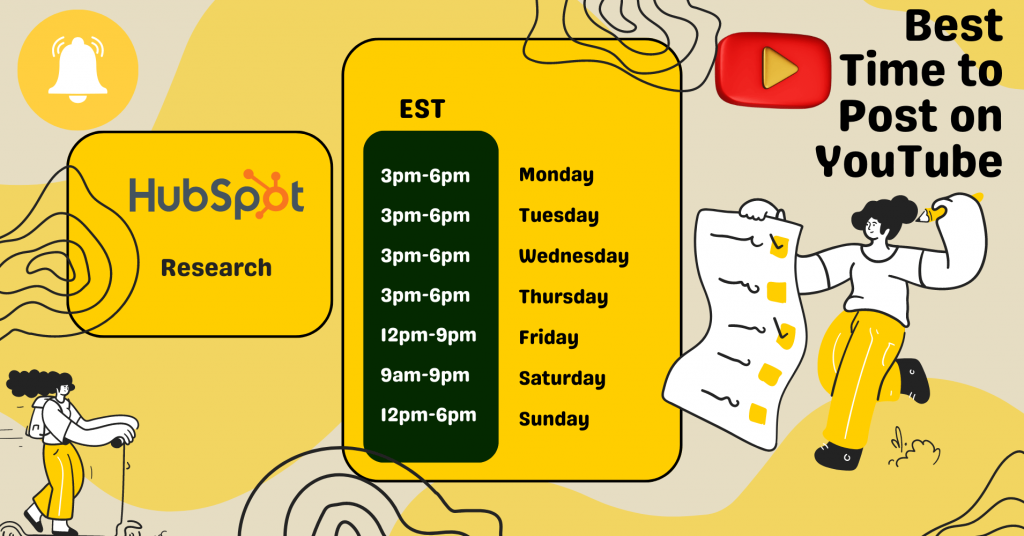 We are reminding you again, there is no one-size-fits-all time range for YouTube! Your best time depends on your location, and user behavior as everybody has their own preferences!
You can find your best time through YouTube analytics and audience overview, we are going to talk about that later!
But if you are new and do not have much traffic, you can not access analytics. In that case this time range can be your starter pack!
How to find your own best time
Now that you have a rough idea of the average time range of the best time to post on YouTube, in this part, we will show how you can find your very own best time!
We will get you through the step-by-step process of how you can access YouTube analytics!
Step-1: At first, go to the "YouTube studio" section of your channel.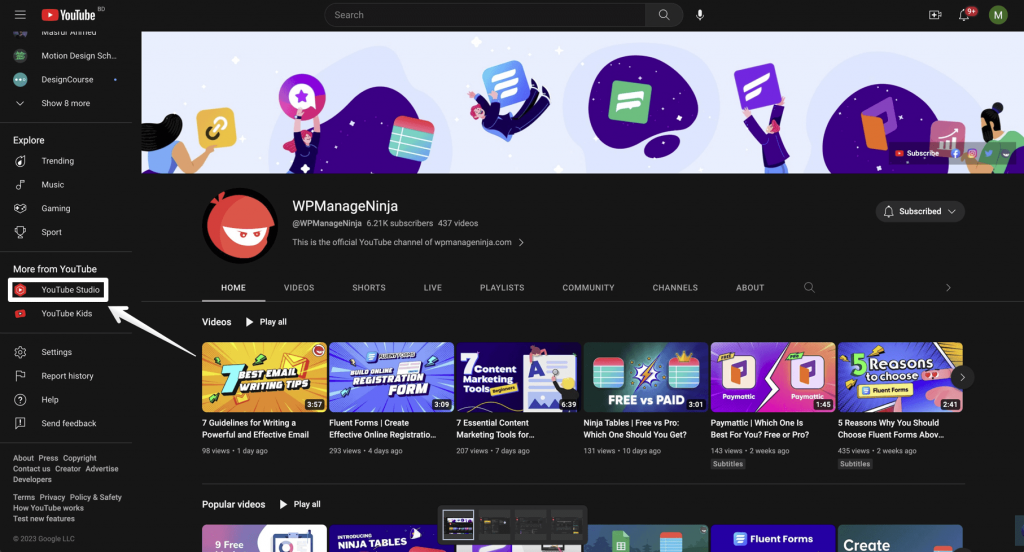 Step-2: Then you will find the 'Dashboard' with some features on the left side. Click the 'Analytics' option.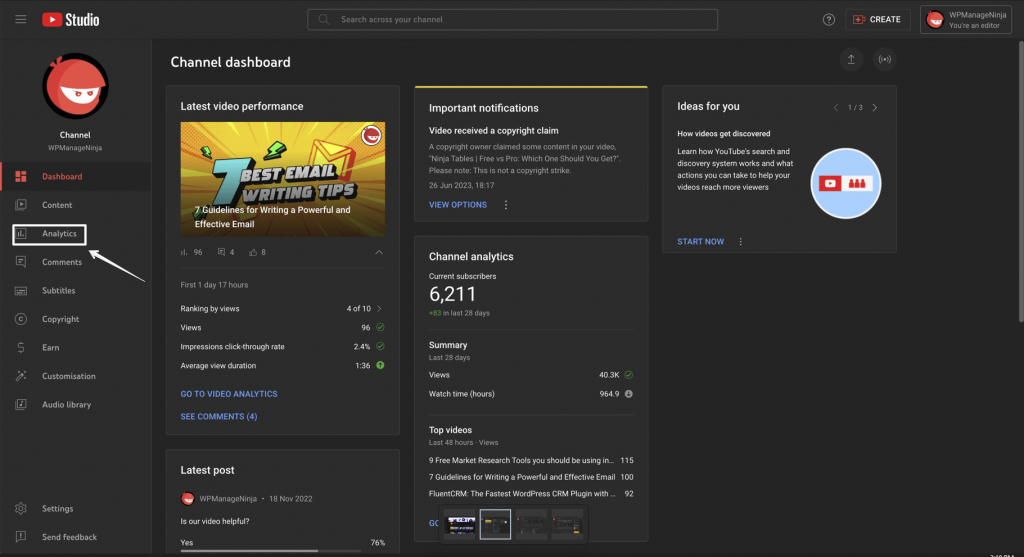 Step-3: There you will see some options in the upper middle section. You have to choose the 'Audience' section.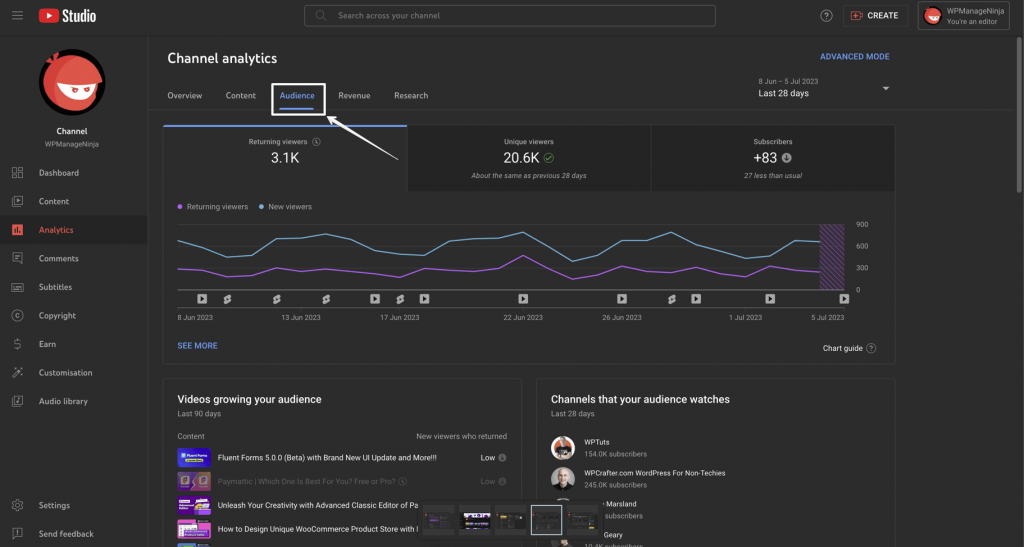 Step-4: You will see some information and a line chart, upon scrolling down you will see a bar chart with different purple shades.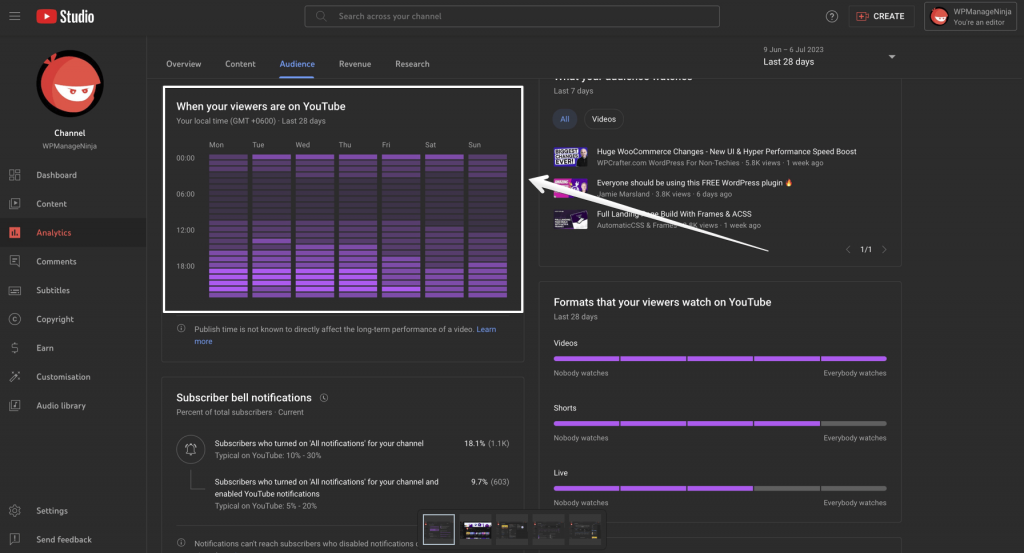 Now this part, you have to focus on the best time to post on YouTube. This graph shows you the data for the last 28 days of audience engagement as per your local time zone!
The brightest bars show you the time of each day when your audiences are mostly present on YouTube. The brighter the bar, the highest the rate, and vice-versa!
Through the chart now you know when your audiences are mostly present. With this information, you should schedule your content, and choose which days of the week you want to post!
And remember, YouTube takes some time to index your content, and your best time to post on YouTube should be 2 or 3 hours before the peak time!
Do's when you can not find the audience engagement bar
Well, there can be situations where you can not find the purple bar chart!
In that case, do not worry! We have alternatives for you! This happens when your channel does not have enough daily flux. It is a common scenario if your channel is new!
Now, you have to go through the above-mentioned steps, and follow "Step 1" and "Step 2"! Then in "Step 3" instead of choosing "Audience", you will choose the "Overview" option!
There you will find the "Realtime" tab on the right side!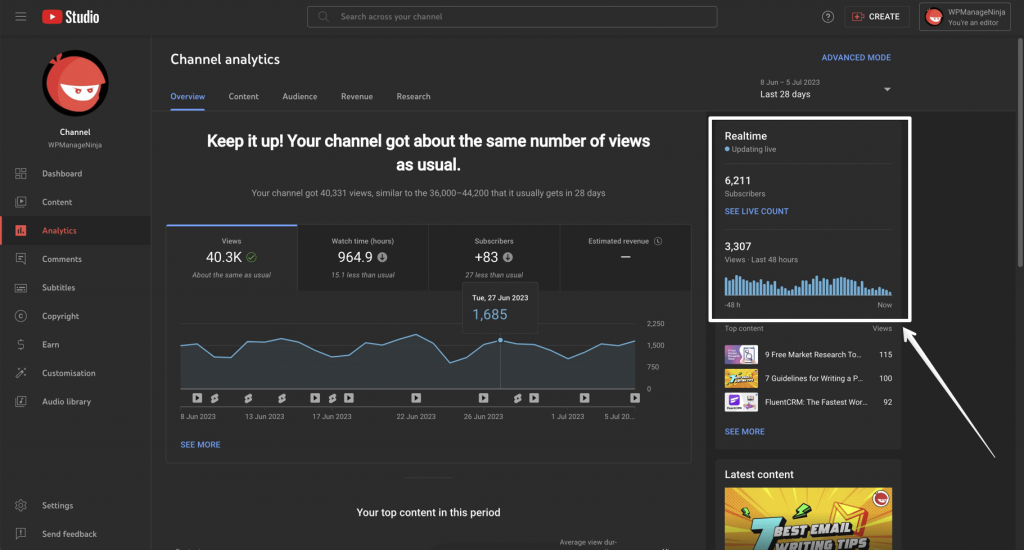 This section shows you the hourly views you have gotten for the last 48 hours! We suggest you keep track of this information manually on a spreadsheet for a month and spot the peak time of every day across the whole week.
Then you will get your peak time, and hopefully, after a month, your channel will get enough daily flux and you can access the purple bar chart!
The best time to post YouTube shorts
YouTube shorts are short-format videos that are quite similar to Instagram Reels and TikTok videos!
With the extreme popularities of reels and TikTok, YouTube did not the like the idea of falling behind! And launched shorts!
Shorts are gaining more and more popularity and higher views than long videos! Now let's talk about the best time to post shorts on YouTube!
YouTube indexes Shorts the same way as other videos. So, videos and Shorts should have a similar best time to upload to YouTube!
But we would like to suggest that you keep an eye on the analytics to see if your shorts have different peak times or not! Better late than sorry!!
How to maintain a content schedule
"Is scheduling my content important?"
Yes, it is way too important. It is not enough to have the right YouTube video ideas, quality content, and the right timing on your hand if you are not consistent.
For any kind of digital marketing or social media marketing, consistency is king! You have to be regular if you want to promote YouTube videos. When you have found the best time to post on YouTube, then the next thing you need to do is schedule!
You can make your schedule manually with a spreadsheet! In one column you can put the title of your video, and in the next two columns, you can put information like the date and time to publish!
And you can do it with your YouTube channel if you feel like it! When you go to the "YouTube Studio" you can drag or upload your content. And thereafter you fill up the information like details, descriptions, and thumbnails, and you can schedule a date!
Choose what suits you better! But always remember, consistency is the key! And can do magic with views!
Bottom line
YouTube marketing is not easy! It is already hard to find the right YouTube video ideas, and you have to put a lot of effort behind each video!
It would be devastating if all your efforts go in vain. But if you have come this far in the article, you should know how to find the best time to post on YouTube!
We believe, if you are careful with your content and timing, you have no reason to fall behind in this cutting-edge battlefield called YouTube! Be consistent and success will find its way to you!
For more updates, you can connect with us through Facebook, Twitter, LinkedIn and YouTube. We are here to help you out.
FAQs
Q1. What is the best day to post on YouTube?
Answer: Well, as you have seen in the above-mentioned data, every day has its own peak time, and you have your own. But in general weekends like Saturday and Sunday is better for higher views!
Q2. Does posting time matter on YouTube?
Answer: Yes, it definitely does! Your content has a higher probability of getting 2-5 times more views if you are careful with timing!
Q3. Can I post on YouTube every day?
Answer: Well, it is your wish! But we recommend not to do so! Be consistent with your weekly schedule and monthly schedule, but let's not do it every day, unless your content demands daily uploads!
Q4. Why is my YouTube channel not growing?
Answer: Well, there can be several reasons. But the most crucial reason might be the quality of your content! We suggest you focus on your content quality and be clear about your niche, SEO, and timing!