5 YouTube Video Ideas No One Told You About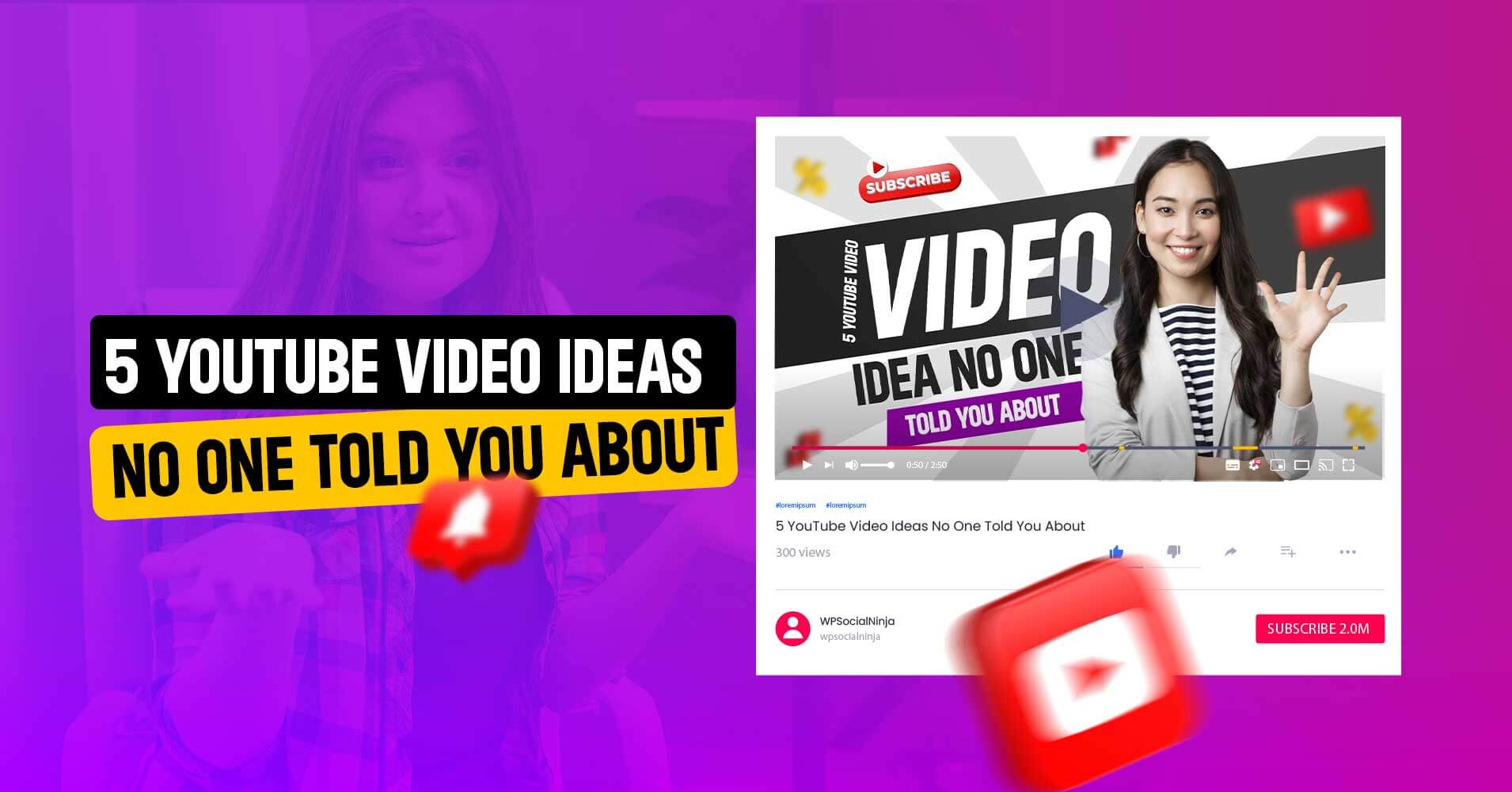 Let's start with a simple question whenever you want to see an interesting clip on any topic, want to watch a music video, or want visual information like "How to…." where do you search?
Yes, knowingly or unknowingly you go to YouTube! And it's not just you! With 2.68 billion monthly active users, YouTube is the 2nd most visited site just after Google and almost 52% of internet users visit Youtube at least once a month! And people watch one billion hours of videos on YouTube every day!
Founded in 2005, YouTube is an unrivaled video-sharing platform and hence caught the attention of marketers around the globe ever since!
An average of 720,000 hours of video content are being uploaded on YouTube and almost 62% of businesses use their YouTube channel to post their video content!
Now, it is quite difficult to stand out with your content in this rumble jumble! And if you want to promote your business here, you should really be careful of what you upload on your Youtube channel!
Overwhelmed?! Don't be! We are here to help! We have come up with YouTube video ideas for your business.
Stay with us!
Supposed to be on YouTube?
Before you go for YouTube video ideas, ask yourself, "Am I supposed to be here?"
Surprised by the question?! Let me elaborate then!
It is important to understand if your business really needs YouTube marketing or not. Let us tell you in advance that maintaining a YouTube channel requires quite a commitment and dedicated personnel and comes with responsibilities! Plus you have to make some initial investment in gadgets and stuff!
If these work for your business, then it's definitely worth it. If not, all of this will be just a waste of your resource and time. We want you to make the most out of your business!
To be sure if YouTube is right for the digital marketing of your business, find out about these things.
What are your competitors up to: It's okay to have a sneak peek at your rivals! Do a quick search on YouTube to see if your competitors are on YouTube or not. If yes what type of content they are making and how are they doing.
What's on your hand: Creating business content for YouTube requires time and dedication. Now can you afford the time and investment for the whole setup? Go through your business plan and situation whether you can afford both or not.
What do you want: Let us rephrase, what you plan to do with your YouTube channel. Do you want to make recognition for your brand, do you want to impress your potential customer, or do you want to provide after-sales service? Most importantly, what's your plan?
Have you gone through them well? If yes, let's assume you are sure about YouTube promotion. Then let's dive deep.
How to blend in
To get YouTube video ideas that capture the viewers' attention, you have to blend in with this platform. Your YouTube content should resonate well with your audience and focus on your customers and potential customers.
Here are some tips and tricks for your business to blend in and generate YouTube video ideas for your channel.
Search your relevant topic on YouTube and let the autocomplete tell you what people are searching for around your topic. You will get a rough idea of your content.
Check the comment section of your competitors to see how the viewers are responding. Look for their demands and suggestions!
Go for a survey or poll on your other social media platforms about what your followers want to know or learn about their point of interest around your topic.
Join social media groups like Facebook groups where you may find your potential customers.
If you have gone through the above-mentioned points, you have already got an idea of the buyer persona of your potential customers. Now make a list of the topic that satisfy their demand.
Follow those steps and you will get your own idea pipeline.
Ideas for you
By now you should have got rough YouTube video ideas for your channel. To make things easier for you, we have gone through good practice for YouTube business videos.
Your video content should be of use to your audiences, and captivate their interests. How to do that? The secret recipe is to tell a story! We all love to hear stories. Make your content as if you are here to tell some tales!
Remember, you know your business better than anyone and you know better which tales will pick your audience's interest. But we have rounded up some generic video ideas for your channel. Let's check them out!
Tales of your business
When we are on the topic of YouTube video ideas, the first thing to do is to tell about your business. Make videos that bring acknowledgment of your business. We have some ideas for you. Let's see.
Your company
Make video content about your business. The purpose is to show what you do, what your business is, what is your goal and what is your motto.
If your company reaches a goal or touches a milestone, show them, and make videos on them. Let your achievements shout!
But make sure your videos are not "too formal". Make it fun and casual. Use some sound effects.
A short trip
It is quite interesting for viewers to see the workplace of a company. So why not give them one?!
Make short videos of your workplace. Show your viewers where the offices are, and show your tables, machinery, and working tools. Show your company. But don't make it boring. Give your audience a fun trip!
Highlight the backstage
When viewers are used to seeing the "buy from me now.." type of videos, show them why should they buy from you!
Make behind-the-scenes videos of your business, and show them how you operate, and the efforts of you and your team. Trust me, you will gain more trust than a direct sales pitch!
DIY videos
DIY aka "Do It Yourself" videos are on the trend! People like to learn some hacks and try them on their own.
So go with the flow and make some DIY videos related to your product or survive. Say, you sell lamps, that's your business, make a video on how to make a lamp at home! Viewers will love them!
Commercials
And most importantly, make commercials! Either to make brand recognition or customer engagement or attract potential customers, you have to make commercials!
But try not to make "too corporate" commercials! Be creative and humorous with your ad but do not lose focus on the most crucial thing, your promotion.
Show what you have to offer and how your service or product can be of help to them!
Tales of your products
It is important to tell about your product. After all, you want to boost your sale, and that's why you are here. In this section, we have gathered some YouTube video ideas for promoting your product effectively.
Announcement
Whenever you are launching a new product, make sure that you are announcing it out loud! Your announcement video must contain:
Product features
Product details
About predecessors of the product(if any)
Beneficial sides
And make sure, your presentation is not looking like a class lecture!
Demo videos
Showing your product in motion and its key features and the way to use is a great YouTube video idea for your business.
Visuals provide more information. And demo videos of your product will provide more insights about your product. And trust me, this can make great changes to your brand promotion!
Product showcase
Product showcase is different from product demo. It may be confusing, but having a clear distinctive idea will add more value to your YouTube video ideas.
While the product demo shows the way of using the product, the product showcase focuses more on the features. Say, you can make a short animated video on what features your product has to offer!
Product unboxing
Unboxing videos are quite popular and a good YouTube video idea. This type of video allows your audience to know what to expect when they buy from you.
Unboxing videos are like spoilers! Audiences can understand how they might be benefited before getting actual user reviews!
Tales of your people
Business is all about people. People make products and people buy them! What can be better YouTube video ideas than talking about them?! Let's see some ideas.
Team introduction
What's the driving force behind a brand's success? Its people! And they deserve the honor and gratitude.
Introducing your team in videos serves two purposes at a time. You give them respect and audiences can form a stronger bond with your customers.
Thanksgiving
Your business is here because of your customers. They are keeping your business alive. Every time you reach a milestone or achieve something, make sure you are thanking them enough.
Video is a great way to express your gratitude than other means. A sincere video can make your customers feel truly special.
Vlog
A vlog is basically a video version of the blog. Vlogs are quite popular and can be a great YouTube video idea for your channel.
Vlogs do not necessarily need any specific procedures! You can tell about your daily working schedules, operations, and perhaps a regular day at your company! You can highlight teams and your products from time to time in your vlogs! But be casual!
Testimonials
A testimonial video holds huge importance. Testimonials are your customer's story. They are your feedback and your social proof. Testimonials show how your customers are getting benefited from your product or service, and how you have influenced their life. These types of videos improve your acceptance, authenticity, and credibility.
You can easily perform this YouTube video idea. Either you can interview a happy customer, or you can ask him/her to record a video and send it to you.
Tales of special events
Events are meant to be special and you should not leave out events from your YouTube video ideas. We all love to enjoy special events. Events bring people closer and build trust. So we have some ideas for events. Let's check them out!
Giveaway
Competitions and contests can make people more engaged with your channel. These types of events will help you to get fresh content and generate more YouTube video ideas with little effort. And will help you to build stronger bonds with your customers!
And to make things more interesting you can offer a giveaway as a prize. Your audience will love to respond if they get to achieve something in the end.
Festival offers
We hold special places for festivals. Festivals bring friends and families closer, and fresh air into our life. Share your business with your customers and brings extra joy.
You can throw special offers during the festival season and announce them in your video. And you can make videos wishing your team and customers and they will surely love it.
Tales of knowledge
Providing relatable information can be good YouTube video ideas for your channel. You should not be just a businessman but a mentor for your audience. Adding insights into their concerns can be a good idea for your business. We have some ideas. Let's check them out.
Ask me anything(AMA)
AMA or Ask Me Anything videos are pre-recorded video content. If you are looking forward to YouTube video ideas for strengthening your bond with your customer, you can go for AMA videos.
You can ask questions from your audience through a video or post on your other social media platforms. Then collect questions from comment sections and make videos answering them. Show them your sincerity for your customers through the video.
Interview
You can arrange interview sessions from time to time and publish videos on them! Interview sessions are easy to perceive and your audience might be looking forward to them!
You can interview an expert from your field or one of your employees. This type of video will let your audience ask questions directly through comment sections. And you will get to build authority in your field.
How to videos
How-to videos can be engaging YouTube video ideas for your channel. Your audiences are here because they are interested in your field. And you can provide how-to videos on related topics and add value!
Remember you are an expert in your field, and you are not just a seller, you are a mentor for your audiences. You can make videos on step-by-step procedures of what you do, and videos on the common troubles your audiences might face. It's important to let them know that you have solutions for them if they are in trouble!
Myth busting
There will always be rumors flying around, may it be your topic! Some rumors might turn into myths and apparent truth! And busting them would be great YouTube video ideas!
You can search for popular myths and bust them with proper references. And people love myth-busting more than myths! Additionally, you can establish yourself as an expert in your field through this type of video content.
Pro tips
Your YouTube contents are your social proof. Visuals provide clearer and more detailed information than other formats. YouTube channel is the documentation of authenticity and credibility.
If you have a business website, it's highly recommended that you show your YouTube content on your web pages. If you have a WordPress website, you can embed your YouTube content on your site. But if you want to customize your YouTube feed, you need a plugin. We like to introduce you to WP Social Ninja, an all-in-one social media plugin.
You can create stylish templates, display them on your web pages and customize the templates to your liking. Moreover, you can show feeds from other social media platforms, present your reviews, and ratings, and add chat widgets with WP Social Ninja.
Don't keep your YouTube video ideas to your channel only! Show them on your website, build your authority, and trust.
End note
YouTube is more than a social media platform, it's a trusted source of knowledge and entertainment. It's not easy to get noticed in the endless stream. But at the same time, it is the gateway to reach out to a wider audience!
Our YouTube video ideas are to help you out with your channel. But remember you are the one who knows what are doing better than anyone. Try to present your hard work in an interesting way!
Sources: YouTube, Demand Sage, Obelo.
You may find these articles helpful: