12 Easy Hacks to Increase Engagement on Twitter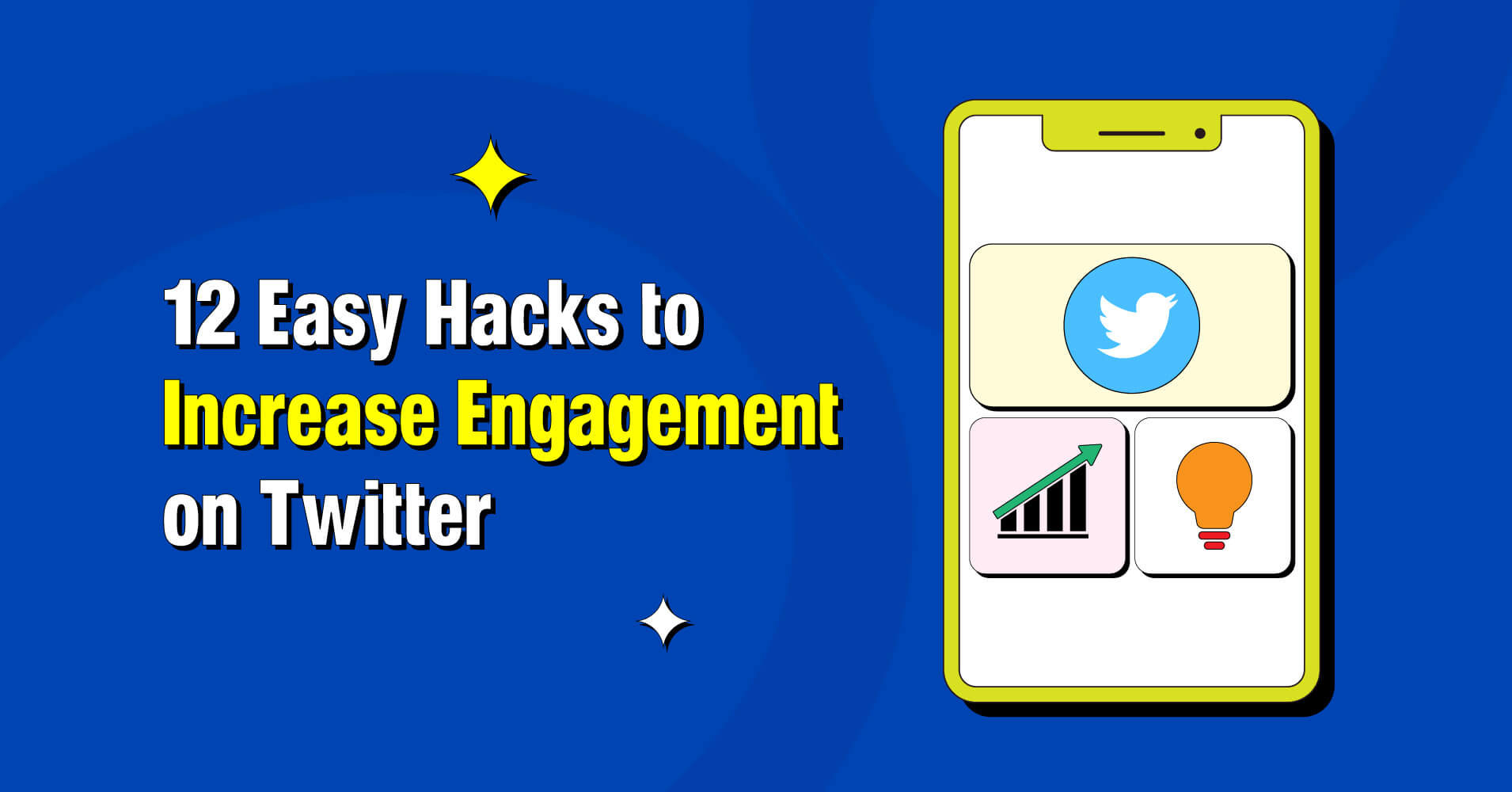 Are your Tweets falling on deaf ears? Do you feel like your Twitter engagement is stuck in a never-ending slump? Well, fret no more! In the vast realm of social media, where attention spans are shorter than ever, finding clever ways to stand out from the crowd is crucial.
Twitter has made strides. You can now impress your followers with animated GIFs, threads that read like short books, and live dialogues on Twitter. Higher engagement on Twitter can also play an essential role in your Twitter marketing strategy. This article will give you ideas about this topic that you might never explore before.
What is engagement on Twitter?
When Twitter users interact with your content, it is called "engagement." The following are some examples of such engagement on Twitter:
Liking anything on Twitter by clicking the heart button
Retweeting your tweets
Inserting a quote from your tweet into a reply
Responding to the mentions by retweeting
Following a link you posted in a tweet
Greater engagement on Twitter can create a stronger audience base for the business. It only makes sense to take full advantage of Twitter's lead generation capabilities.
The mechanism of Twitter engagement rate
A tweet's "engagement rate" is the average number of likes, retweets, and replies it obtains over a given period. A great Twitter engagement rate indicates the reach of a larger audience. Both marketers and influencers can use this figure to gauge the efficacy of a tweet to determine the effectiveness of tweets and particular topics before deciding whether or not to work together.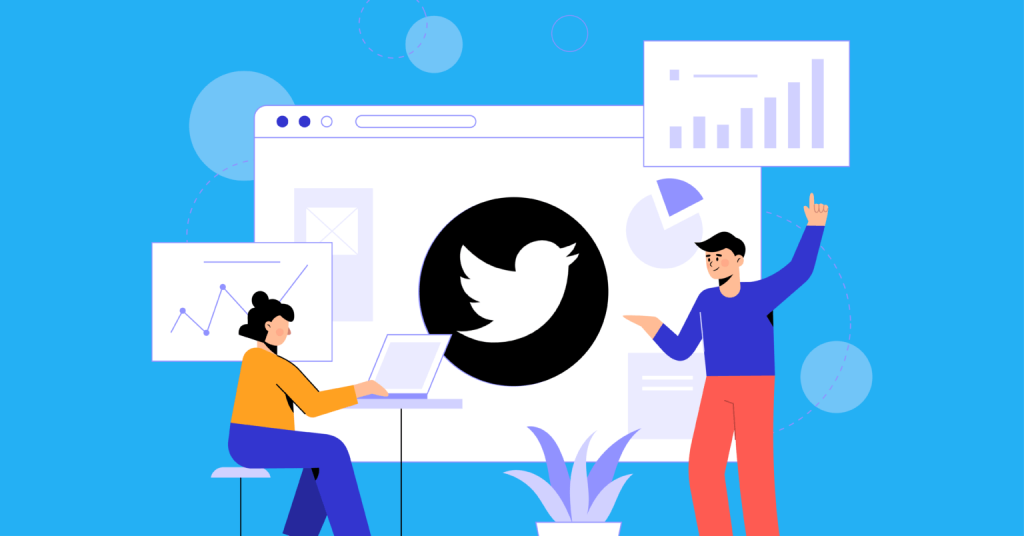 Your brand's or profile's potential reach and the number of people commenting, liking, and connecting with your material may be gauged by looking at your Twitter engagement rate along with other social media platforms. Even if you have many followers, it won't matter if they don't engage with your posts. It measures your Twitter strategy's success in drawing attention, making connections, and growing a dedicated fan base.
If you want to have a solid online presence, encourage brand loyalty, and get the most out of your Twitter presence, you need to keep an eye on your Twitter engagement rate and work to increase it. You can learn a lot about the success of your tweets by looking at the number of shares, comments, likes, and retweets they receive.
You can see if your tweets are resonating with your intended audience or not. The more people that interact with your tweets, the more attention your profile will get.
Twitter engagement calculator
Twitter engagement calculator is an excellent tool for tracking the performance of your Twitter profile. You can find out how actively you're being engaged by checking out Twitter's stats. To access your analytics, simply click your profile, select more from the drop-down menu that appears, and then click Analytics.
To see your tweet activity and engagement rate, simply select tweets from the main menu. Impression count, which measures how often users saw your tweet, is also factored into your total interactions and engagement.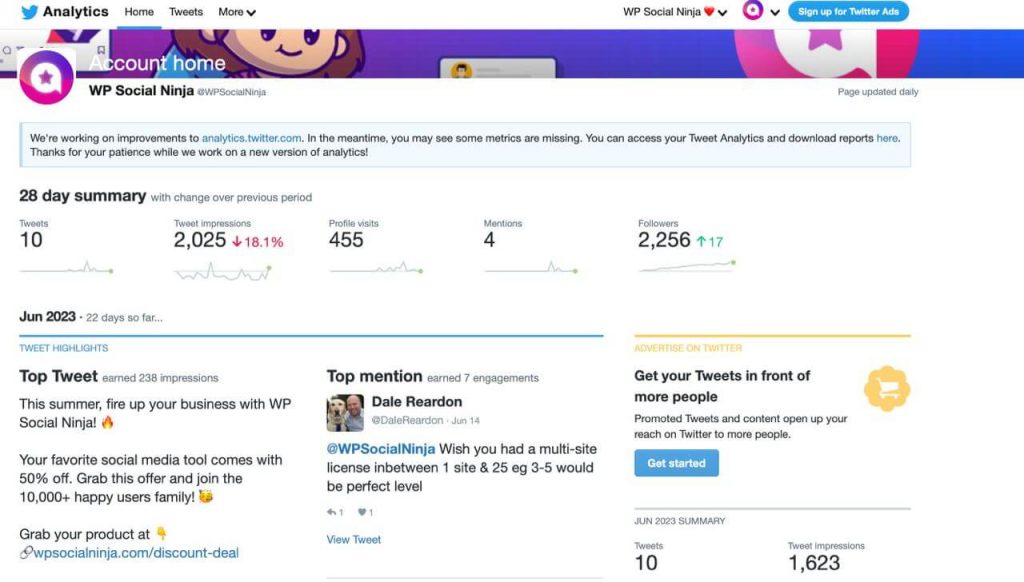 Twitter engagement rate can also be calculated manually. The formula is as follows:
Twitter Engagement Rate = 100 x (Number of Interactions / Number of Impressions)
Your Twitter engagement rate can be determined by tallying up the number of impressions your tweet received in addition to the number of engagements (likes, retweets, replies, and clicks) it received.
To get the percentage, take the final number of engagements and divide it by the final number of impressions, then multiply that number by 100.
If your tweet garnered 2500 interactions and 30,000 impressions, for instance, the equation might look like this:
(2500 / 30,000) x 100 = 8.33% Twitter engagement rate
This means that 8.33% of the individuals who viewed your tweet took some sort of action in response to it.
Remember that the Twitter engagement rate may be determined for particular tweets and a complete account over a given time frame. You may learn a lot about the success of your Twitter strategy and how you can improve engagement by utilizing the Twitter engagement calculator.
How to increase engagement on Twitter
Here are some tried-and-true methods for increasing your engagement on Twitter and making your voice heard online. These guidelines can help you ignite your social media success. It can develop real connections with your followers.
1. Tweet timing
If you want to increase your Twitter followers and have more interaction, you need to tweet during the most beneficial times. You can use the Twitter engagement calculator for this. Keep an eye on your Twitter analytics to learn when your audience is most engaged.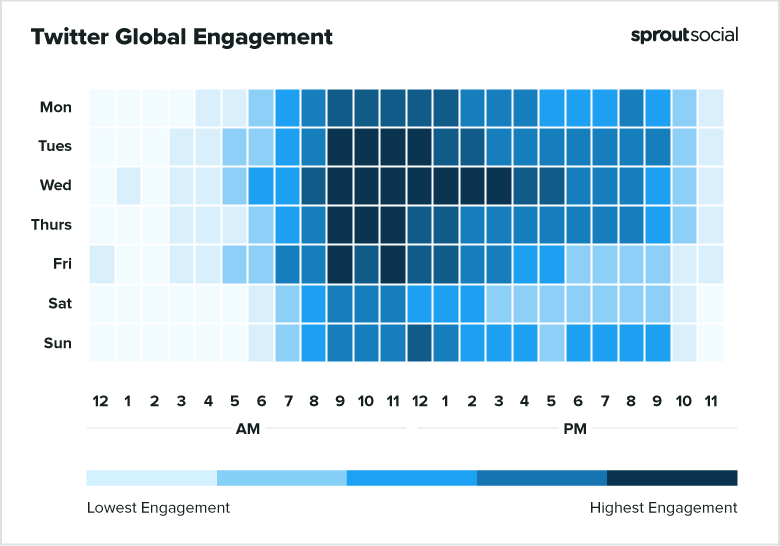 Sprout Social has generated an overall assumption about the effective hours based on users' activities. Knowing your audience inside and out will help you immensely to increase your engagement on Twitter. The golden pot of post-time knowledge is one of them.
2. Trendy topics
If you want more people to interact with your posts, you should tweet about current events and offer interactive tweets. These days, people are always looking for solid facts to talk about. It's easier and faster to notice.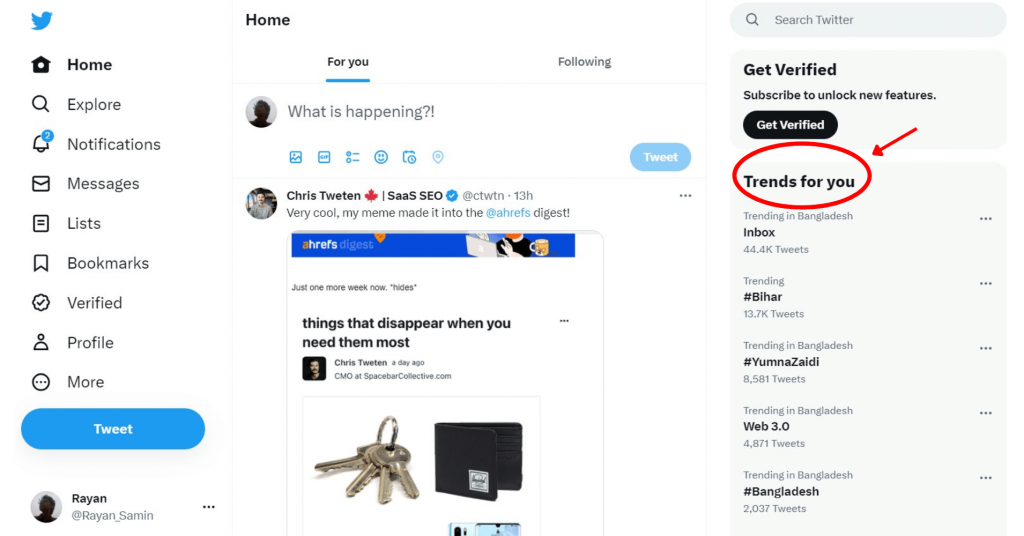 Even Twitter offers you suitable trends and hashtags for you that can enhance your reach. You can find it on the homepage of your profile. You must utilize the trends to make your posts and engage more audiences.
People are more likely to participate in discussions on issues they are interested in rather than unrelated subjects. You should pay greater attention to what's currently popular. Put pen to paper and tweet about it right this second.
3. Follower analysis
Using the Twitter engagement calculator, you can make your posts far more interesting and helpful to readers. Impression, reach, and engagement rate are just a few metrics you should monitor first.
Use information captured from the Twitter engagement calculator to figure to determine what posts your readers enjoy the most. Learn when and how often your posts get the most attention. Track your Twitter audience and its makeup using the platform's analytics tools.
Make changes to your content strategy in light of these findings so that you can consistently provide high-quality material at optimal intervals. Increased post interaction and a strong Twitter presence can result from a consistent evaluation of analytics data.
4. Be relevant
Relevance is key to increasing Twitter post interaction. The first step is to learn about your audience's wants, needs, and challenges. Make sure your writing specifically addresses such issues.
Keep up with your field's most recent events, discussions, and debates to guarantee that your content is always relevant. You can join the discussions such as the Twitter analytics guide for marketers happening around the hashtags.
5. Post value generating contents
Successful engagement on Twitter is dependent on value-generating content. To keep your readers engaged, you need to provide them with something of value. Communicate relevant industry updates, hints, and advice to your audience.
Give your audience something they won't find anywhere else by sharing exclusive content, insights, or access to your brand. If you constantly provide useful information in your tweets, people will come to rely on you as a resource and follow you for more.
6. Tweets with visuals
Tweets with images get more clicks and replies than those without. Images, videos, and GIFs increase engagement and interest in your material. Add appropriate and high-quality images to your presentation.
What else do you need when you get such encouragement? Feedback from one of our happy customers. We hope you're loving WP Social Ninja too!#HappyFriday pic.twitter.com/gq9EuSqpE7

— WP Social Ninja (@WPSocialNinja) March 17, 2023
The most well-liked options include infographics, charts, and memes. Make sure that your images are mobile-friendly. Tweets with accompanying images are more likely to be read, shared, and commented on, leading to a greater overall level of engagement.
7. Follow, reply, and retweet
To increase post engagement on Twitter, prioritize the "Follow, Reply, and Retweet" strategy. Actively follow accounts relevant to your industry or interests. Participate in interesting discussions by providing thoughtful responses to tweets. Show your gratitude and add value for your followers by retweeting useful information from other users.
Create a network of dedicated users by connecting with them on a personal level. Keep in mind that the more active you are on Twitter, the more likely it is that people will interact with your posts.
8. Promotional offers and reviews
Using special deals and reviews can greatly increase the number of people who interact with your tweets. Share special discounts, deals that are only available for a short time, or games to get people to sign up. Encourage customers to write reviews and comments that show how well your brand has worked for them. Followers will be more likely to interact with your posts if they feel like they need to act quickly or will get something out of it.
This summer, fire up your business with WP Social Ninja! 🔥

Your favorite social media tool comes with 50% off. Grab this offer and join the 10,000+ happy users family! 🥳

Grab your product at 👇
🔗https://t.co/k2JbMvRSmc#Deals #WordPress pic.twitter.com/BovZChKpbL

— WP Social Ninja (@WPSocialNinja) June 1, 2023
By pointing out the value and good comments from customers, you'll get people's attention, start conversations, and eventually get more people to follow you on Twitter.
9. Twitter hashtag
Using hashtags to categorize keywords can motivate more people to interact with your tweets. Find and use popular, content-related hashtags in your social media posts. This increases your exposure and makes it easier for others to find your content. Make customized hashtags to promote user-generated content and engagement.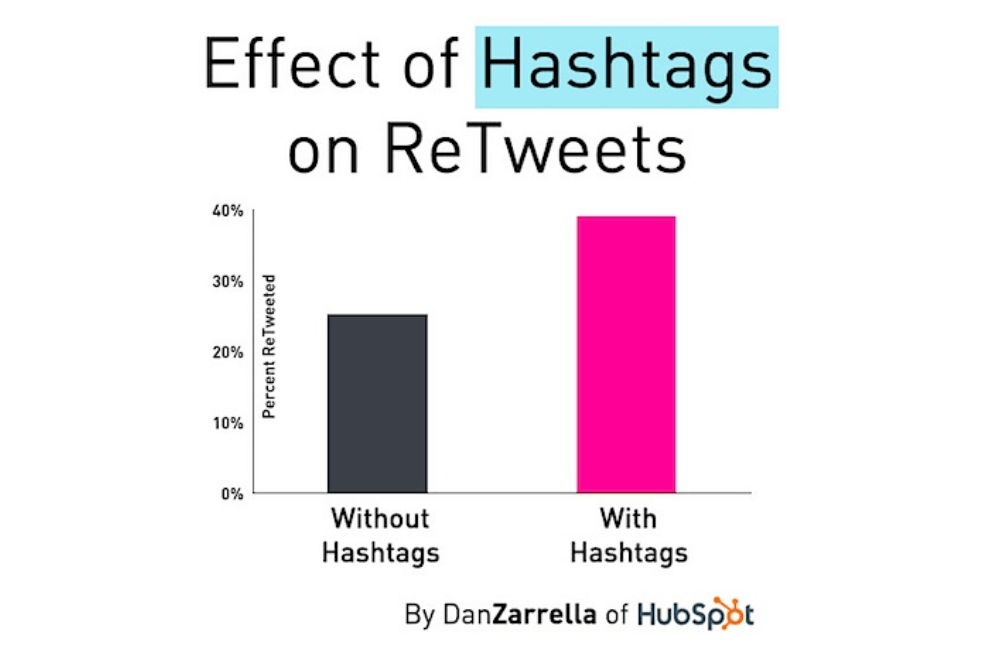 Take part in hashtag discussions, respond to trending tweets, and join applicable chats to expand your network. Increase your reach, get new followers, and spark more conversations on Twitter by making smart use of hashtags.
10. Conversational tweets
Increase engagement on Twitter by focusing on making the posts conversational. Create tweets that readers will want to respond to, comment on, or debate. React quickly to feedback and carry on fruitful exchanges with other users.
Double the fun, double the excitement! 🎉 Thanks to Dual Audio, partying with your bestie will never be a problem! What will you and your bestie be grooving to on the #GalaxyBuds2Pro? Let us know in the comments 👇 #WorldMusicDay #Music pic.twitter.com/FuB9HzzvgP

— Samsung Mobile (@SamsungMobile) June 21, 2023
Inspire them to talk about it and invite their friends to join in. Building relationships and a devoted Twitter following comes from encouraging conversation and spreading a sense of attachment among your followers.
11. Linking for engagement on Twitter
Including relevant links in your tweets is an effective strategy for attracting more attention to your Twitter posts and enhancing engagement on Twitter. Share news on other helpful material that complements your work. Use catchy headlines or graphical assets to get people to click through. You can even mention the linking brand's Twitter handle for extra engagement.
Requesting feedback or comments on the linked item might encourage retweets or comments. It's possible that linking your tweets will significantly enhance engagement and establish you as a reputable resource in your industry.
12. Twitter Ads
Increasing the number of people who interact with your tweets may be as simple as using Twitter Ads. Promote your content and reach your desired audience by utilizing specific ad campaigns. Create engaging language and use interesting images in your advertisement.
Promoted Tweets, trends, and moments are just a few of the ad forms you may use. You should follow a complete guide for Twitter ads to observe all the insights. Keep an eye on how well your advertisements are doing, and tweak them until they're generating the desired response.
Pro hacks-Embed Twitter feed on your website
Embedding Twitter feeds on your site is one of the most helpful ways to enhance engagement. You can display your Twitter feed on your website and expect that audience will be interested to visit your Twitter profile after seeing your interesting Tweets.
Embedding Twitter feed on your website might sound a bit complicated but you can use a very simple tool here. WP Social Ninja can do this for you within a few moments.
WP Social Ninja is the best and most affordable social media plugin not only to embed Twitter feeds on your website but also to embed the feeds like Facebook, Instagram, and YouTube. Configuring Twitter for your website can be very simple with WP Social Ninja. Don't miss this shortcut for driving audiences to your profile and increasing engagement on Twitter.
Interconnect with other social media handles of your business
Mention your business's other social media accounts in your Twitter posts to get more people to interact with them. At the same time, you can promote your Tweets on other social platforms, such as Instagram, Facebook, and LinkedIn. Offering exclusive content or giveaways on your profile can make your fans interact.
You must have a platform where your audience can find all your social media handles and see glance at those at once. It should be the website of your business. WP Social Ninja can also help with this.
Your landing page should connect all your social media handles and drive audiences to each of the profiles. Your life will be easier with WP Social Ninja in this too.
Ensure the presence of a Twitter chat widget on your website
Adding a Twitter chat widget on your site can increase the interaction with your Tweets. Add a chat feature to your website and enable your website's audiences to chat with your Twitter profile. This will make them interested in your Twitter profile and eventually increase the impression of it. The most convenient way to add a chat widget and increase engagement on Twitter is by using the WP Social Ninja chat widget feature.
This encourages site users to participate in ongoing discussions and engage with your posts in a personal way. Integrating Twitter chat widgets into your site gives your visitors extra ways to interact with you and helps to build a feeling of community.
The bottom line
To wrap it up, increasing engagement on Twitter calls for a mixture of careful planning, interesting content, and regular interaction. You can skyrocket your Twitter profile with those tactics. Remember to always provide useful and relevant information, use images that stand out, and talk to your audience.
Take the use of hashtags, team up with influential people, and host fun contests and giveaways. You may maximize your involvement by refining your time, using Twitter polls, and monitoring your analytics.
So, use these suggestions as an inspiration for social media success, tweaking them to fit your own brand and audience. Take advantage of Twitter and make your voice known in the dynamic world of social media.
If you find this article interesting and looking for more useful content you can join us on Facebook, Twitter, Community, LinkedIn, and YouTube.
Some useful recommendations only for you-