WhatsApp Marketing Tool to Build Your Brand (2023)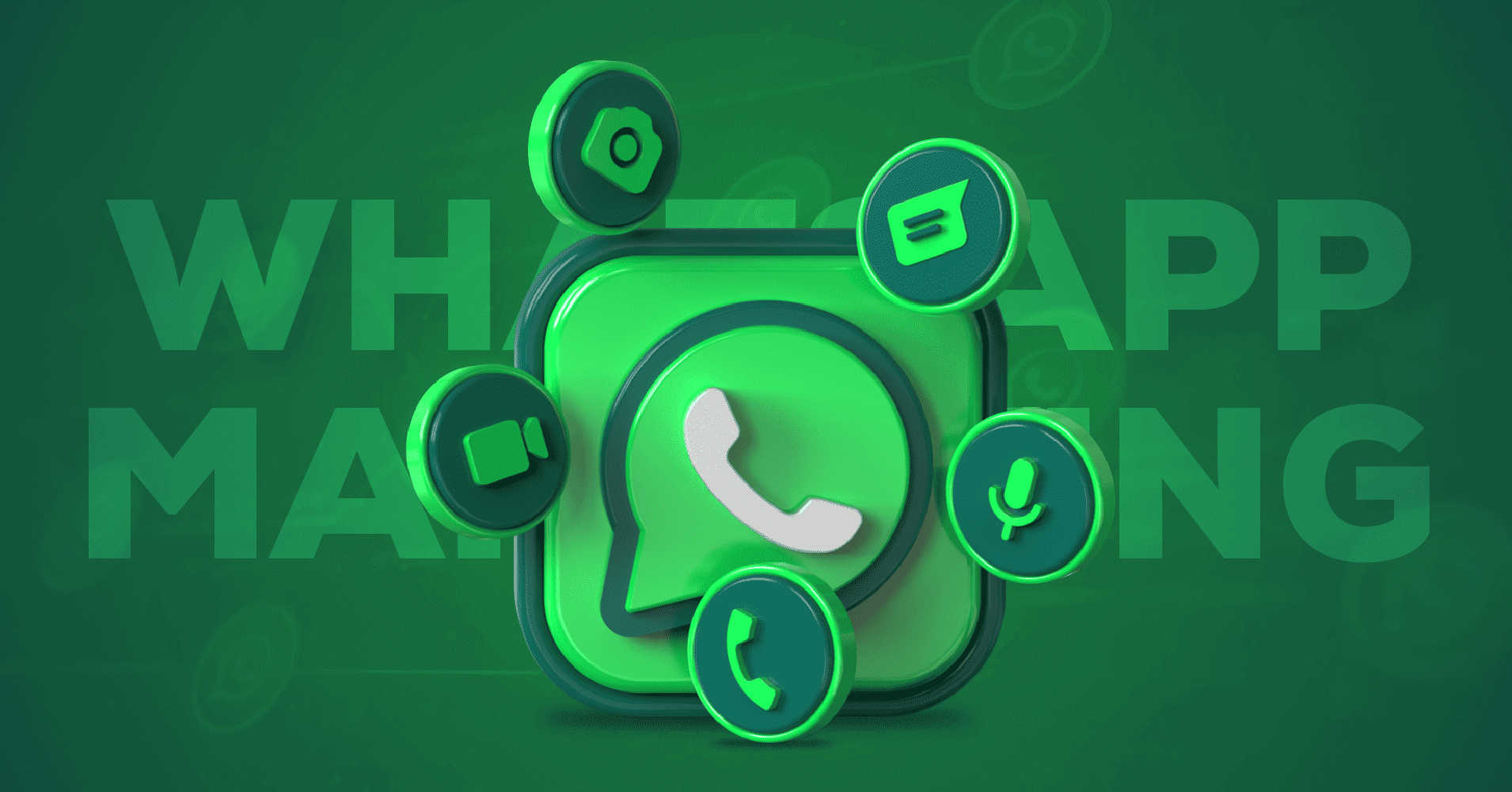 Among all your marketing strategies, have you added one of the most used social media platforms, which has more than 2 million users worldwide?
If you are wondering we're talking about WhatsApp, then you're right! The use of social media in business has always been a top-notch demand for marketers. If you're unaware of using the WhatsApp marketing strategy to build your brand, this is the time.
Around the world, this messaging program is used by both people and businesses. Brands use it for marketing their products, communicating with customers, and notifying them of special offers, events, and other information.
Well, that's about WhatsApp, but how will you be able to integrate a WhatsApp marketing tool into your business? This is what this blog is about.
So, continue reading to learn details;
What is WhatsApp marketing?
"WhatsApp Marketing" is used when business activities are done over WhatsApp. Both WhatsApp Business & Business API or if it is WhatsApp social chat for business, you use to manage conversations with your audience.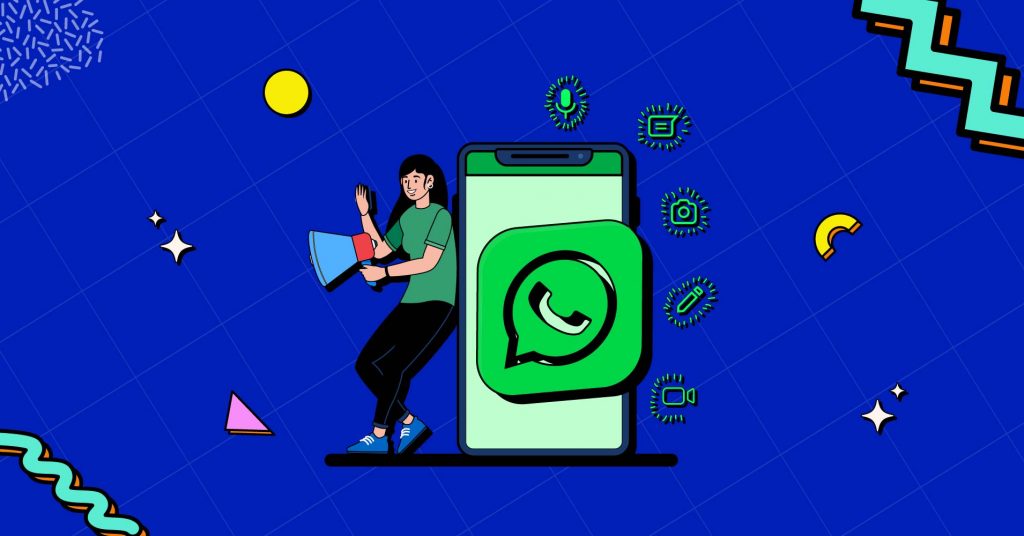 Technically, when you use WhatsApp to market your business, you are likely to reach a larger community that allows you to stand up to your brand. As a result, when you use this app to market/promote your items and reply to client inquiries, it becomes the most personalized form of communication and shopping experience possible.
You'll need the help of an official WhatsApp marketing tool like WP Social Ninja to get started with WhatsApp Marketing.
Why use the WhatsApp marketing tool?
If you want to promote your brand, then the WhatsApp marketing tool is the most intelligent approach.
Without a doubt, this marketing strategy has a very high success rate. And many businesses are seeing better results from their WhatsApp marketing strategies.
This scenario is based on monthly active users of social chat users from January 2022. And you can see the ratio of WhatsApp use. So, this is why you can say it's important to have a WhatsApp marketing tool in your business.
Let's dive deeper;
Benefits of WhatsApp marketing tool in business
WhatsApp marketing tool can play an excellent role in improving your brand. So far, whatever you learned about this, there are still some other reasons to use WhatsApp marketing services in your marketing strategy.
To learn more about this marketing channel, read on.
Relationship with customers
More than 55% of users of messaging apps believe they are more connected to a brand. Companies save money by keeping such a relationship since client retention is 5-25 times lower than purchasing.
You might send personalized welcome messages, birthday wishes, special offers, etc. This method keeps clients loyal to a business.
Increases sales
WhatsApp marketing functions like a sales wand. The simple process of adding a WhatsApp phone number to your website might result in a 27 percent boost in revenue.
Contacting a company solely through a messaging app tends to develop trust in potential customers. At least 66 percent are more passionate about messengers in order to buy from a company.
Design your communication
WhatsApp messages have exceptional open rates when compared to other media. If you provide something irrelevant or poorly crafted content, your marketing on this channel will be doomed to fail.
And at the same time, you can greatly make your WhatsApp marketing to enhance your brand and establish meaningful, long-term customer relationships. To get better results and control all of your customers' channels, go along with a WhatsApp marketing tool.
7 Best WhatsApp marketing tools for WordPress website (2023)
As you have known the importance of having a WhatsApp marketing tool, you must know which Marketing tool and its use case would be best for your business use. To make it easy for you, we have listed some popular and useful Whatsapp marketing tools here.
Welcome to WhatsApp tools! Let's have a glance at the software for marketing in 2023;
1. WP Social Ninja
If you ask the best WhatsApp marketing tool for giving proper support to your customer, WP Social Ninja offers with a number of features that will serve you in multipurpose that any one expect from a social media plugin.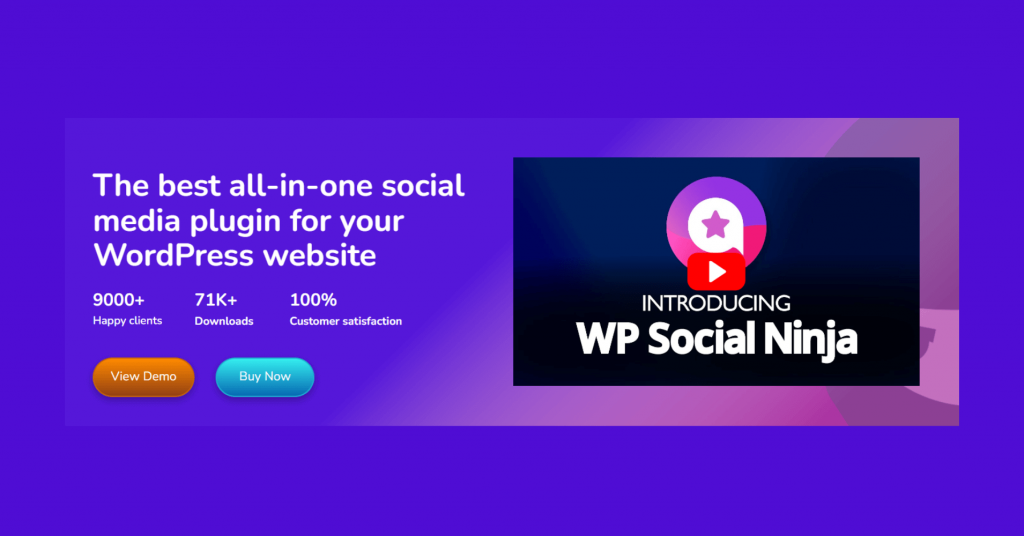 WP Social Ninja is an all-in-one social media solution that will help you in display your social media feeds like Facebook feed, Facebook event, album feed and social reviews you get from your customers.
Also, when you're selling your product online, this plugin comes with an Instagram shop feed which lets you sell your products/services right from your website. Again whatever you demand to beautify and ease shopping for your customer you'll have Notification Pop-up, and customer support that is associated with more than 15+ chat widgets.
Key features of WP Social Ninja:
Social feeds
Social reviews
Social chat
Notification Pop-up
Real-time synchronization
In-depth style editor
Auto-manual syncing
Testimonial
Export/import reviews
Translation options
Pricing: Starting at $79/year for single license.
2. WAAM-it
One of the popular and good performing WhatsApp marketing tool is WAAM-it. This tool is totally web-based and compatible with all supported language.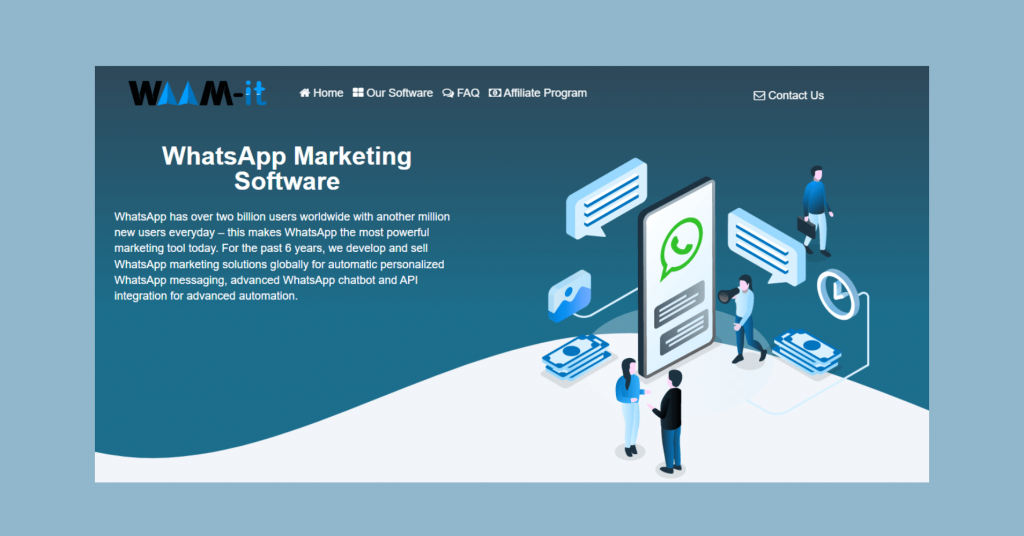 Features of WAAM-it WhatsApp marketing tool:
It enables users to send messages with chatbots.
Provides customized conversation
Offers upto 3000 messages
Bulk invitations for meetings, events, etc.
Has analytic and insights dashboard
Pricing: Unlimited WhatsApp text messages at $547 for a lifetime.
3. Twilio
Twilio is a good platform for making marketing communication better. It's well-known as a good communication tool that offers APIs for WhatsApp messaging, SMS, voice call, and email.
If you're a tech-savvy person and want a sophisticated communication platform as a WhatsApp marketing tool, you can choose this tool.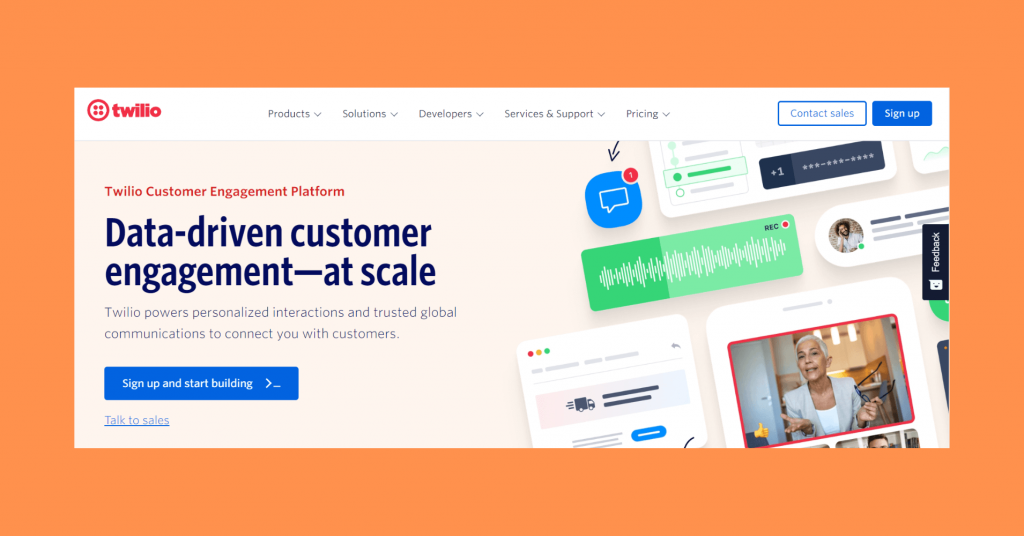 Features of Twilio Marketing software:
Works as a WhatsApp bulk sender
Access controls/permissions
Allows to get big data analytics
Performs as a call center management
Application development
Pricing: Costs $0.01 per message.
4. WebEngage
A tool that works as both a Marketing tool and a data platform. Businesses that are it-based and want to make user engagement simpler, WebEngage is a good option.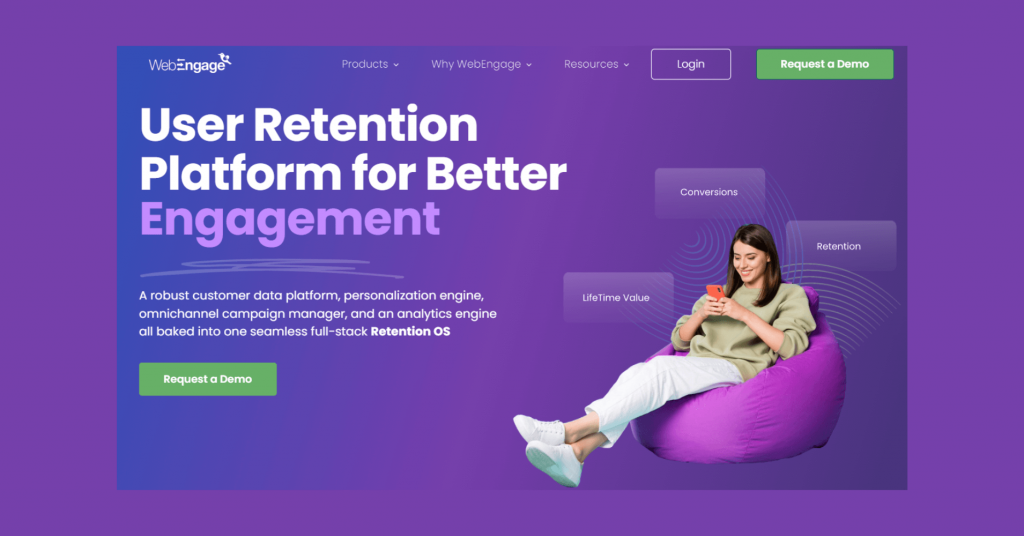 Features WebEngage WhatsApp marketing tool:
Displays dynamic templating
Campaign management and segmentation
Allows to track conversation to measure improvements
Works as an abandoned cart saver
Have cap notification frequency
Pricing: $199 per month.
5. Viking
One of the free bulk WhatsApp software and applications, free Whatsapp Tools like Viking enables businesses to transfer large numbers of documents in formats like .docx, .xls, and .png.
Additionally, the bulk WhatsApp software helps with the distribution of promotional messages on WhatsApp and enables businesses to build client databases to expand their marketing sector.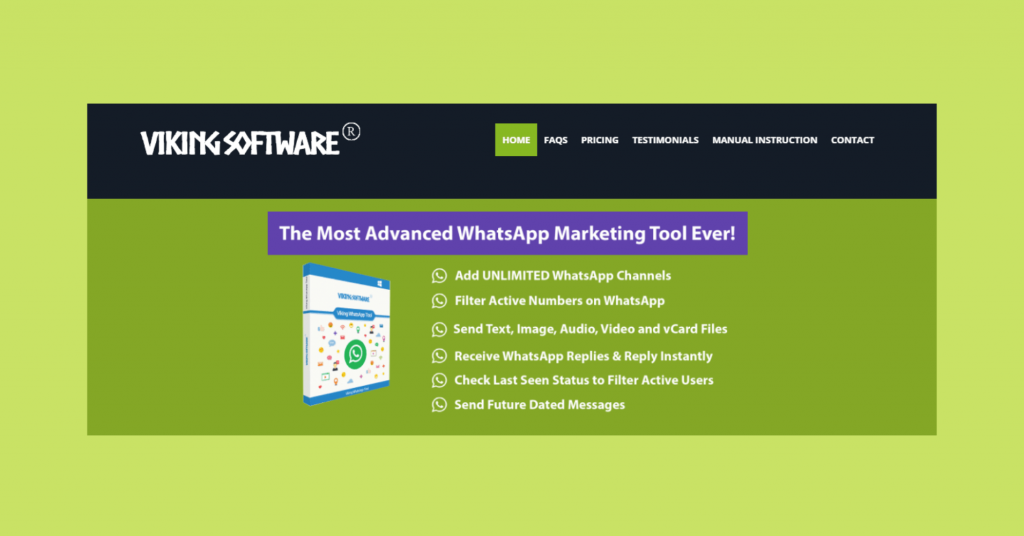 Features of Viking WhatsApp tool:
Provides personalized inbox
a new tool for determining problems
Logging supervisory command
Logging of broadcast messages.
Tape handling.
Pricing: $135 per year.
6. Whatso
The top Whatsapp marketing tools include Whatso. With this, you may also easily send messages to specific clients using the new Anti-Blocking technology.
This tool's features are logically created to boost user engagement and accelerate sales, making it perfect for small and mid-sized businesses.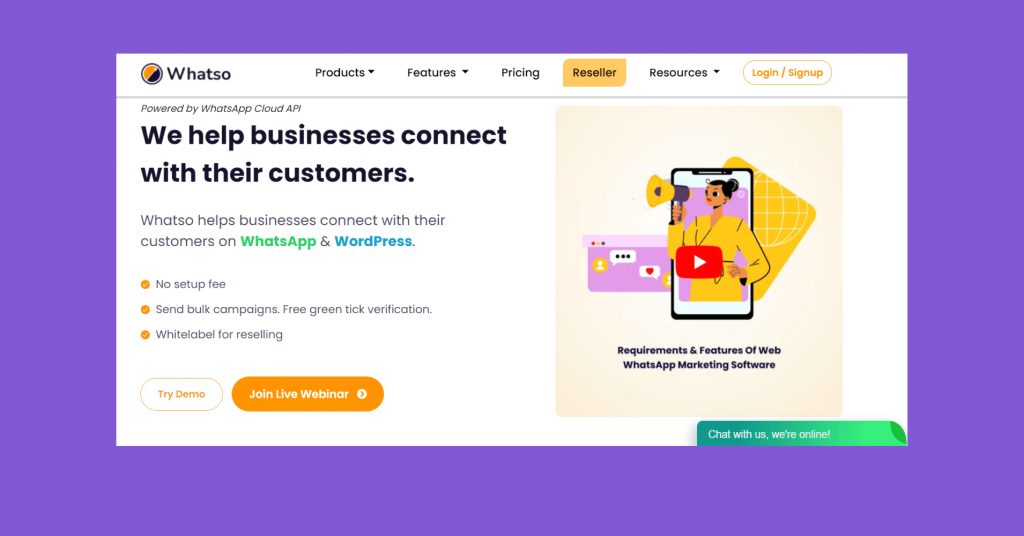 Features of Whatso:
Send updates, offers, and announcements to many clients at once.
Create messages with greetings and client names on them.
Sort the contacts for more targeted marketing.
Send vCard files, pictures, videos, and audios in text messages.
Simply copy and paste to quickly import contacts from CSV or TXT files or other sources.
Pricing: Starting at $29/year and $69 for lifetime.
7. WappBlaster
Next you have WappBlaster, which enables you to send an unlimited number of bulk messages to your present and future customers. This tool's straightforward design offers a number of capabilities for efficient marketing.
Presenting your ideas to prospective and devoted clients with WappBlaster is simple because text messages have no character limit.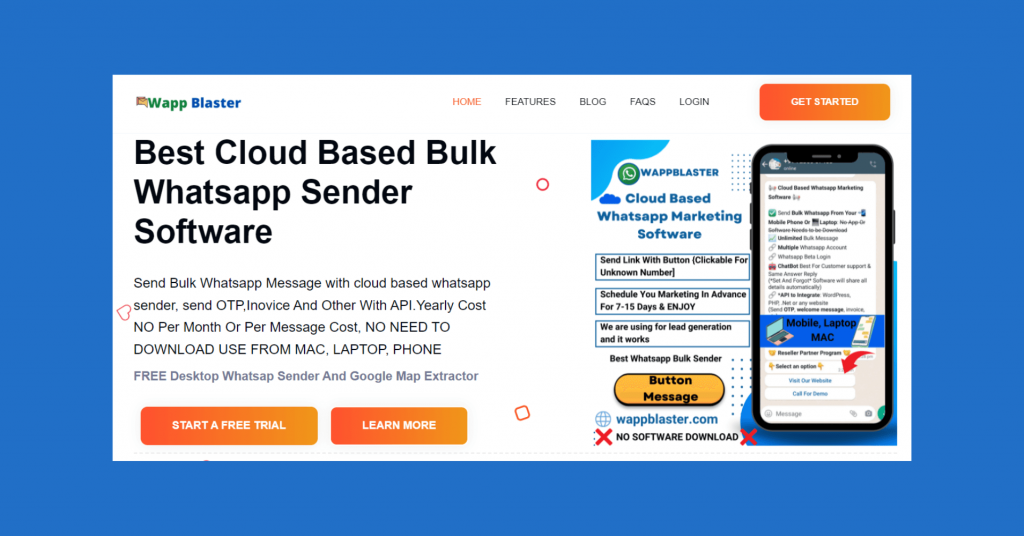 Features of WappBlaster WhatsApp marketing tool:
Bulk texting without difficulty using an anti-blocking algorithm
allows for many accounts, and when conducting campaigns, you can swap between them all.
Create and upload a customer database right immediately.
Send captioned text, pictures, and videos.
You may quickly create reports of the messages you've sent.
Pricing: Free for first key per day, $10 for second key per year.
How to use WhatsApp marketing tool: WP Social Ninja
With numerous WP Social Ninja plugin features, you will get an amazing WhatsApp social chat feature that you can implement on your website. To make your marketing strategy useful and have better experience, let's see move into the process;
Configuration
On your WordPress website, install and activate WP Social Ninja. If you have any problems installing the plugin, please go to our documentation.
So, to add WhatsApp, first go to the WP Social Ninja dashboard. Select Chat Widgets.
The button will send you to the chat widget editor's panel page when you click it. Click Add channel to link your WhatsApp account, and then select the WhatsApp icon to set up WhatsApp.
Now, add your valid phone number with your country code, and click on the Save button.
After adding your WhatsApp number, you're successfully connected.
You can see the success message popup and the WhatsApp chat icon on the screen.
That's it for WhatsApp conversation chat! To use this marketing tool, we'll also go through the Template Layouts & Settings section.
Template Layout
In the Template area of your WhatsApp account after you've configured it, you'll see a variety of Template Layout designs.
Let's look at how you may use your WhatsApp account to customize your WhatsApp Template design.
Layout type
With the Layout Type option, you can pick whether your WhatsApp chat option is shown as an icon or a chat box. As you can see, the button displays two choices.
This is how it will appear if you choose the Only Icons option.
Template type
On the other hand, selecting Chat Box will allow you to select the Template from different types.
You may pick any template from General, Support, Feedback, or Sale that best matches your web page using these four layout categories.
Chat Header
The Chat Header option allows you to customize how the WhatsApp symbol appears. Create a profile with a name, a short description, and a profile photo.
Welcome Message
Now that you've selected a layout style and a beautiful chat header, use the Welcome Message option to create a welcome message.
Chat Bubble Button
When you click on Chat Bubble Button, a drop-down will come up; You can pick any from here.
Add any text to the Bubble Text box; for example, "Do You Need Any Help?"
After you've entered your Bubble text, you'll have the option of customizing the Bubble Icon's appearance. You may see the available Bubble Icons by clicking on the arrow icon.
Now, choose the Bubble Icon and click on the Save Template button.
Settings
WP Social Ninja gives you a lot of flexibility when it comes to positioning and adjusting your chat box.
When you select Settings, a list of options appears on the screen.
Have a look at the details;
Chat Bubble Position
You can set your chat button anywhere with these four positions- From Bottom Left to Bottom Right or Top Left to Top Right.
Include Pages to Display Chat
Using this option, you may select which page you want your WhatsApp Chat option to appear on. You may pick one page, as many as you wish, or all of them.
Exclude Pages to Hide Chat
Similarly, you may decide to hide your social media chat button from specific sites. Simply choose the sites you want to hide from Exclude Pages to Hide Chat, and you're done!
Display by Post Types
You can also choose where you want the WhatsApp social media tool to appear on your postings. Select the posts from the Display by Post Types drop-down menu.
Hide Chat on Desktop/Mobile
If you want to hide the chat on any device, desktop or mobile, just enable the Hide Chat on Desktop or Hide Chat on Mobile button.
Show Chat Popup
A chat window and a Chat Bubble Button are included in your WhatsApp chat widget. It's up to you whether you want to show or hide the chat box. If you wish to see the popup, just enable the Show Chat Popup option.
Similarly, disable it when you want.
Chat Popup Delay
If you want your chat box to appear after the current time has passed, set the delay time from Chat Popup Delay.
Once the present time is over, the chat box will appear.
Chat Open in Popup Window
You may not require it, but if you consider the need to open chat in a new window, you may do the same.
Just enable the Chat Open in Popup Window.
Show Online/Offline
This option facilitates you with the chance to set days when you'll be available. If you're available 24/7, then tick on the Check All option.
If you want to choose a single day, tick on that particular day.
Set the Time Schedule
By activating the Set the Time Schedule option once more, you may set a precise time. Set the time, then write a brief caption about anything you wish they should know before you're accessible.
And that's all about the setting section. But, you still have more options in the Style section.
Style
This section will have more options to style your chat header title, channel icon, caption, and button color.
For example, if you want to change your header background color,
Similarly, you can change the Title, Caption, and Close Button Color.
Priority
Lastly, you have Priority option. On your website, you can have a few different chat widgets. You may set the priority for the WhatsApp Chat widget using this option, and it will display on the screen according to the priority number.
And that's all about what you can do with setting up your WhatsApp on your website.
Last words
So, setting up a WhatsApp marketing tool is easy; To build your brand, this marketing plan is a must-keep. Don't forget the necessity and the benefits of utilizing this social media on your website if you're concerned about building your brand and getting a successful outcome from your business.
Moreover, if you intend to try out WhatsApp, try WP Social Ninja, the all-in-one social media plugin. You'll surely get a better experience when you try out its other social media features for your WordPress website.
WP Social Ninja
Try WP Social Ninja today and see for yourself!
Also, if you want to understand more about social media for use as marketing tools, check out our other articles too. Take a look:
Follow us on Twiiter, Facebook and YouTube to stay tuned with us. You can join our Facebook Community too.