Remove Facebook Reviews (Bonus: Solution for Business Website)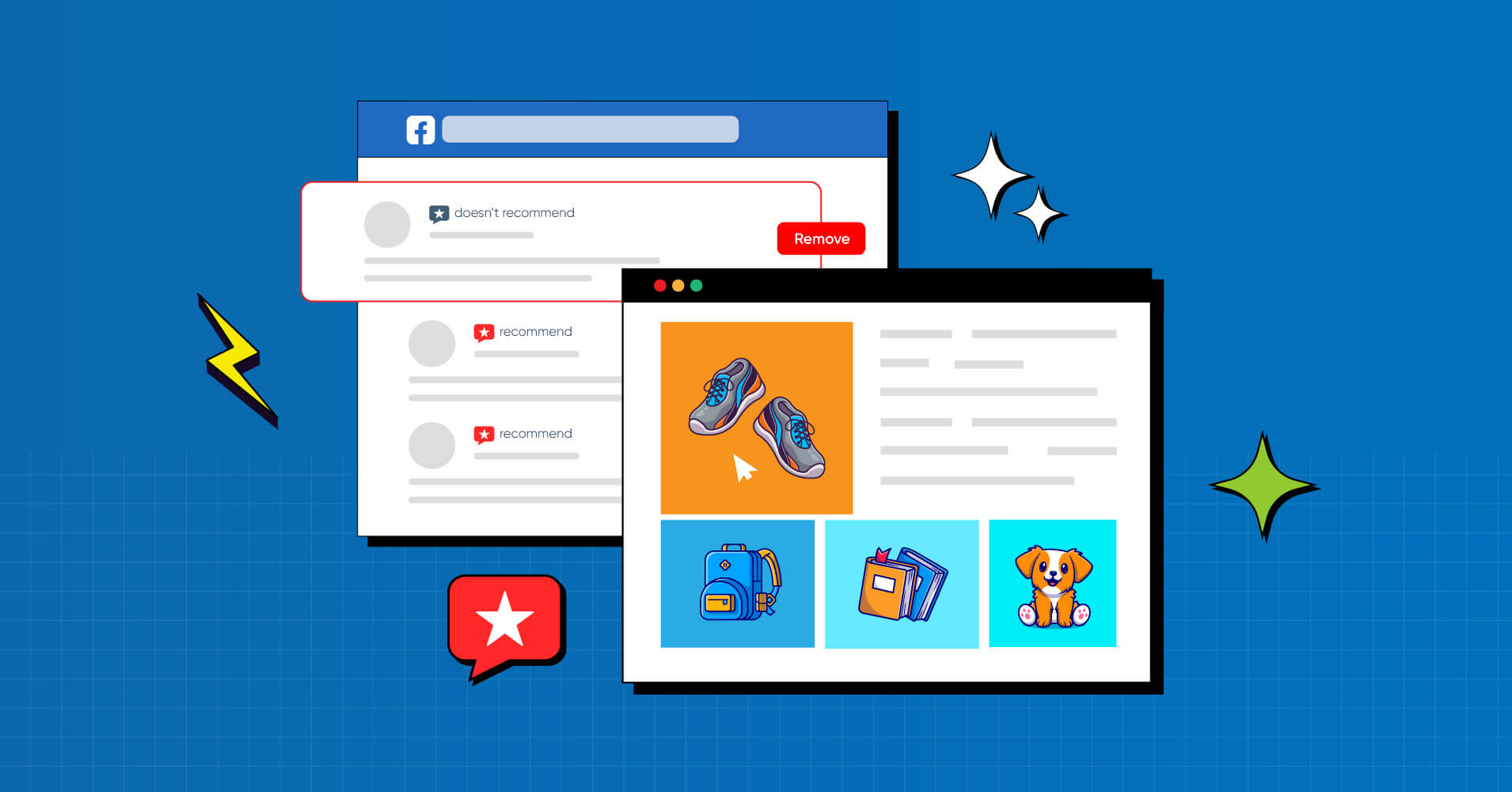 Your Facebook reviews and all online reviews are like a mirror of your online reputation. So when it comes to removing Facebook reviews here's what you need to know to keep up your impression on your social media presence.
What's the point of having so many Facebook reviews of your customers if few of them are inappropriate or contain something that demotivates others?
Nobody wants to face such experiences, and neither do you!
However, the Facebook policy, in this case, has some strict for both parties – the Facebook reviewer and the Facebook business page owner too. So, if you're planning to hide or remove Facebook reviews from your business page, this article is for you.
Keep reading and discover how to deal with it;
Why Facebook reviews matter?
If you're running a business and have a Facebook social media handle, you're not alone. 90 million people worldwide are in this community of Facebook to present and promote their businesses efficiently and effectively.
Furthermore, 90% of people research Facebook reviews before they buy anything from a Facebook page. So, it's pretty obvious to take care of your Facebook reviews besides promoting your products.
Because, just the way you're compelling your customers to buy your products with your positive reviews, same they get distracted too when they see any negative reviews or any bad recommendations on your page.
So your Facebook reviews matter. Even if you have so a good reputation offline, it does!
How to remove Facebook reviews
Well, when you find something misleading in your reviews store, it must not be pleasant to you. We get that. Plus, customer reviews can be fake or unfair too.
But how to delete reviews on Facebook and what would be the best possible way to do that? Have you ever done that or have plans for the future?
But before moving forward to the next steps on how to remove reviews from Facebook, it might need you to care about a few things. Surely that would help you in saving both time and effort in finding solutions for getting out of this situation.
Let's check then;
Is it possible to remove Facebook reviews?
So, can you delete Facebook reviews? Though you have full control of your Facebook business page, the bad news is, you cannot actually delete some individual reviews at any time. The Facebook protocols might seem quite unfair to you.
But, whether it's good or bad feedback or even malicious it cannot be removed due to the legitimacy policy of Facebook. The whole fact is based on how a customer believes in the reliability of your business. Businesses are expected to deal with both the fame and negativity they got from their customers.
However, you can solve this issue another way if you wish to remove reviews from Facebook. Here are the alternatives you can choose.
Report review
What should you do when you find a review contains some slander words or negative/harmful content? Forget about the further damage, you will get disturbed first when you see such reviews.
On the other hand, you cannot even permanently remove them by hitting on a delete option. So what's next?
For this, you have to go against the Facebook Community Standards. So here's how you can report a Facebook review:
Select the review you want to report.
Find the three dots from top-right hand corner. A drop down or pop-up will appear; choose the "Report".
You'll get multiple options, choose the right or relevant one that goes with your complaint and click on "Send".
And that's all to your reporting the review. Now it's time to wait patiently for a while. If the report makes Facebook finds it against the Community Standards, it will remove the review and will be no more visible in your page.
In the meantime, we'd encourage you to read the blog mentioned below on how to get more review on your Facebook page in the best way possible; so that you don't need to worry about deal with your negative reviews in future.
Clever Ways to Ask for Reviews: This Is What Professionals Do
Disable Facebook review
Well, this one is quite strict. If you're too distracted or getting reviews that is clearly disrespecting or threatening to your business reputation, you might decide to close the options for the reviewers to write on your page.
Alert: Disabling Facebook reviews will remove others reviews too that you received from your customers previously.
In this way, you can entirely disable the options for Facebook recommendations and reviews. Though you need to go this extreme to remove Facebook reviews, still it better if you get several fake reviews frequently; but you'll get to show the past positive reviews once you decide to turn on the reviews option.
First, open your Facebook business page as the page admin.
Go to the "Settings" from the "Settings & Privacy" option.
Select "Privacy" from the left side of your page.
Find the "Page and tagging" option. Disable the button of "Allow others to view and leave reviews on your page".
How to remove Facebook reviews from a business website
So far you have known about how to remove reviews from a Facebook business page. But if you're running a business website that job will be easier for you to showcase the Facebook reviews anyhow you want.
WP Social Ninja, one of the best Facebook review plugins will help you to do that without removing or hiding any reviews from your Facebook page. Once your Facebook account is integrated with this social media plugin, you can start decorating your reviews template.
Let's see a demo!
To start with, you can configure your account setup from the WP Social Ninja dashboard. You can choose either OAuth 2.0 or Manually Connect a Page to connect your page.
For the details note on the full configuration process, read the documentation for both OAuth 2.0 and Manual process.
Click on "Create a Template" to create a new page for your website. This will take you to the settings panel.
Now, if you want to show reviews without texts. You can simply do that by ticking the Hide Reviews Without Text box under the Filter option. For hiding specific word, suppose you want to hide Facebook reviews that contain the word "universe"; put that in the Hide reviews containing these words box.
And that's not all. You can also filter your reviews by ratings, business/product, or by business category.
Wasn't that easy? Just integrate your Facebook reviews widget with WP Social Ninja and then set up and style your template just the way you find it suitable for your brand and website.
So, if you're planning to remove Facebook reviews to maintain your online reputation, then having an all-in-one plugin like WP Social Ninja on your website is a must. The plugin comes in both free and pro version.
The good news is you don't need to even worry about the cost of the premium functionalities; you will get unlimited features at the best price compared to any other WordPress review plugin!
To set up your Facebook reviews widget with WP Social Ninja, you will find details in this blog:
Pro tip: Embrace the negative reviews
Apparently, there'll be some reviews on your page that you'd like to have removed, but the truth is that even negative comments can have a significant positive effect on your business.
Your bad reviews besides all positive feedback will put a positive impact on your future customers if you are keeping both types of reviews on your page and show how sincere you are with them. Responding to those negative feedback will also demonstrate to them that you are proactive and responsive on social media.
So what do you do? The answer is straightforward: Deal with it!
Make your unhappy reviewer so happy that they want to change their review. It's simpler than it sounds because most customers prefer quality goods, first-rate customer service, and positive experiences rather than negative reviews. They wish to provide good comments! Therefore, if they don't, you probably made a mistake.
Even if you disagree with their comment, it's critical to professionally and sympathetically reply to both positive and negative evaluations in order to make things right. You can also read:
Why Negative Reviews Are Good for Your Business?
Closing note
In the end, whatever you do for saving your online reputation, nothing will work proactively unless you go after only "how to remove Facebook reviews" rather than resolving the issue.
So listen to your customers, provide a more positive customer experience, and handle their issues like they never wish to leave any bad reviews. And still, if you face a problem that goes out of control take the steps mentioned above and manage your reviews with WP Social Ninja.
If you've found this article helpful, you might find our other articles interesting and helpful too. Here are some related topics: