5+ Twitter Feed Examples You Must Want to Display on Your Website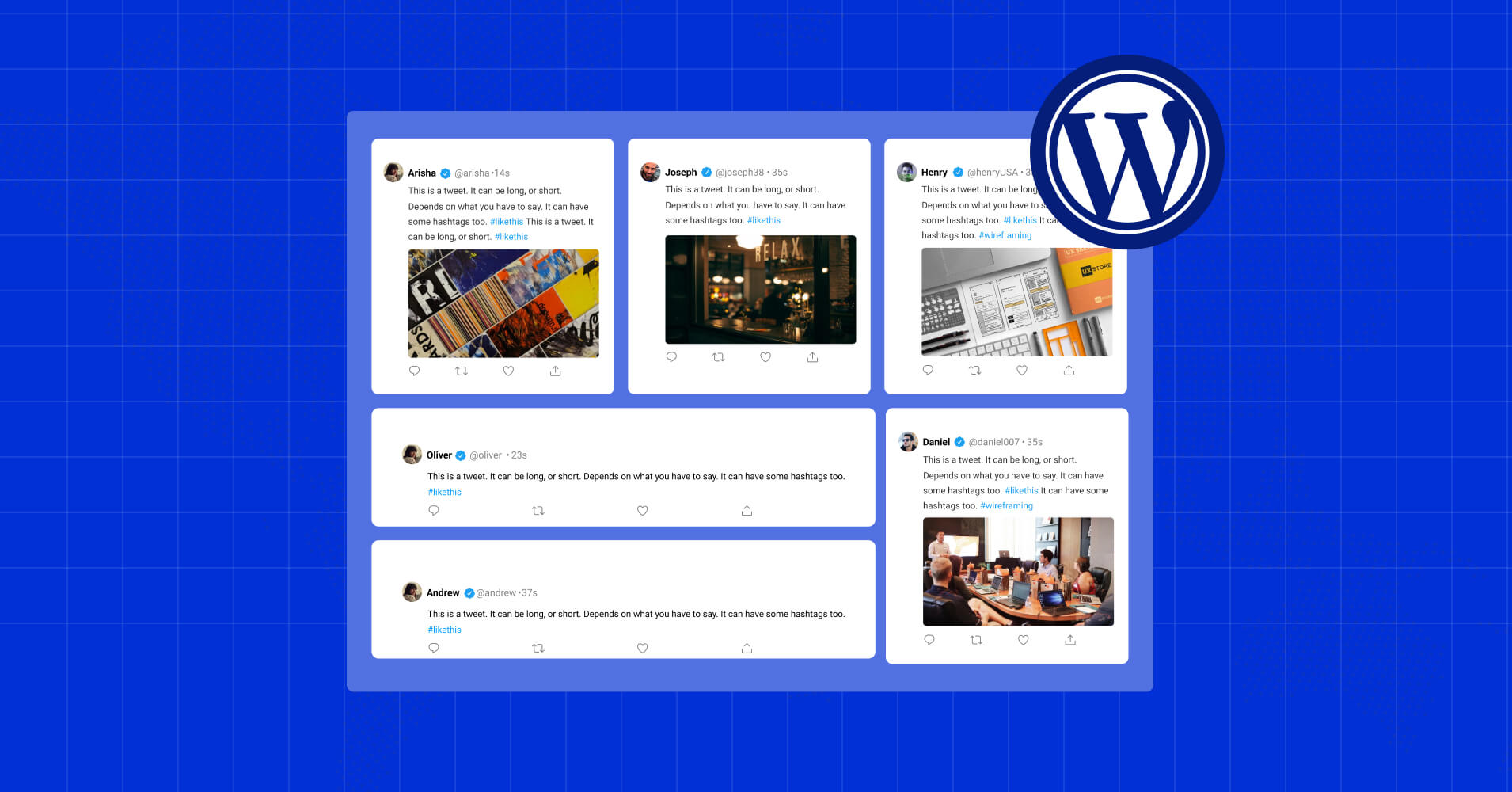 Are you one of those business owners or marketers who are continuously keeping up their updates on Twitter? If so, placing your Twitter content on the website would be the next thing if you haven't already.
Sharing tweets is fun, whether posting a meme or promoting a product. But how about taking it to a larger audience with your website and boosting the marketing strategy?
And things aren't that complicated if you find the right ladder at the right time to reach your goal. So, as we are talking about Twitter feed embed, we will be showing you how easy it is to embed Twitter feed on website differently and exactly the way you want with WP Social Ninja.
Find out the Twitter feed examples that will enhance your brand exposure in a better way. Continue reading!
Top Twitter feed on website example
On Twitter, you have different kinds of feeds, such as your own timeline feed and Twitter default news feed that varies from person to person. You also may use hashtags, and friends/customers may mention you in their tweets.
In this article, we'll cover all of them that you can utilize in your marketing plan. Let's see what variations you can utilize depending on your feeds and trending topics!
User timeline
WP Social Ninja has a User timeline, which you can choose from the Source option. With this feature, you can display your or any user's Twitter timeline on your site, enhancing user engagement and providing visitors with real-time updates.
It offers a customizable and responsible design to present your timeline, ensuring that your Twitter feed widget looks great on any device. You can choose the number of tweets to display, filter content by hashtags or keywords, and even set up a cache system for faster loading times. WP Social Ninja also allows you to control the appearance of your Twitter feed with the custom style option, matching it to your website's aesthetics effortlessly.
Whether you want to keep your audience informed about your latest tweets or showcase user-generated content, WP Social Ninja's user Timeline for Twitter feed makes it easy, elevating your website's interactivity and boosting your social media presence.
Home timeline
Next, you have Home timeline; this is exactly the feed you see on your Twitter newsfeed. You can also display it on your website.
Your home feed will differ from others and may include valuable information that others may find interesting. So, besides showing your own timeline, you are also able to showcase your home timeline and boost the customer engagement rate.
Moreover, you have control over the design and functionality of your Twitter feed. Your every feed is going to fit on any device and give a smooth experience to the users.
Whether you want to share your own Twitter updates or curate content from specific users, WP Social Ninja's Home Timeline for Twitter feed widget empowers you to enhance your website's interactivity and keep your audience up-to-date with the latest tweets from your chosen Twitter source.
Hashtag feed
Hashtags, we all are very familiar with this term while posting something on Twitter. Especially for you if you are a business owner/marketer, who use it mostly to stay always on the trend and make your tweets get found easily on users' search.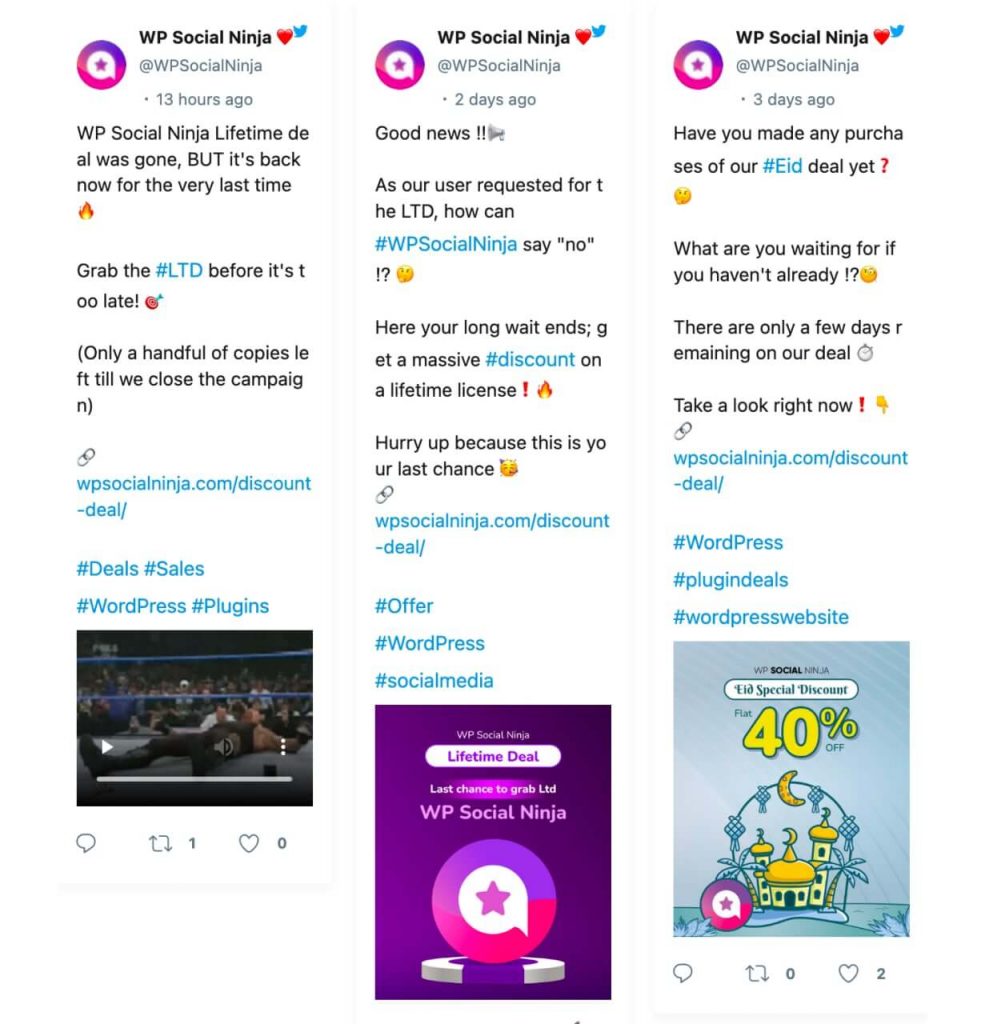 WP Social Ninja will let you use those hashtags to make your website upgrade with the power of Twitter's trending topics. With this feature, you can effortlessly display tweets related to specific hashtags, enriching your website's content with real-time, user-generated content.
This plugin offers a seamless integration, enabling you to curate and display Twitter content related to your chosen hashtags. You have the flexibility to customize the design and layout to match your site's style and theme. Furthermore, WP Social Ninja provides options to filter content and organize posts that contain hashtags.
Mentions
Among all popular Twitter feed examples, another one is the Mention feed. You may have so many customers active on Twitter who mention you in their posts, saying how good your products/are services.
The mention feed is here to use those mentions as your testimonial. And you don't want to ignore them, do you?
So, improve your online presence and let others know people are talking about you. WP Social Ninja's Mentions Feed for Twitter empowers your website to tap into the social buzz, enhancing user engagement and fostering meaningful connections with your audience. It's an invaluable addition for websites looking to stay connected in the Twitterverse.
Twitter's masonry layout
For a better Twitter feed presentation, you will find masonry layout as one of the best Twitter feed examples. This feature of WP Social Ninja offers a dynamic and visually appealing way to display tweets on your site, creating a stunning masonry grid layout.
Even in this layout, you can organize your Twitter content in a responsive grid format that automatically adjusts to fit various screen sizes and orientations. This masonry layout option brings a modern and stylish touch to your Twitter feed widget, capturing your audience's attention and enhancing user engagement.
WP Social Ninja's Twitter Masonry Layout is highly customizable, allowing you to personalize the grid's appearance to match your website's aesthetics seamlessly. It offers the flexibility to display multiple tweets simultaneously, providing visitors with a dynamic and interactive experience.
Whether you want to showcase your own tweets, user-generated content, or trending Twitter topics, WP Social Ninja's Twitter Masonry Layout is a visually stunning choice that ensures your Twitter feed stands out and keeps your audience engaged with captivating content.
Twitter slideshow
Lastly, you have a Twitter Slideshow layout to present your Twitter feed dynamically and visually captivatingly on your WordPress website. This tool allows you to transform your Twitter feed into an engaging slideshow presentation, ensuring your audience is captivated by the real-time updates.
With this layout, you can create stunning slideshows that automatically cycle through tweets, making your website more interactive and engaging. Don't worry; this slideshow is also fully responsive and customizable.
WP Social Ninja's Twitter Slideshow offers extensive customization options, allowing you to control the slideshow's appearance, transition effects, and slide duration to match your site's aesthetics and style. Whether you want to feature your own tweets or curate content related to specific hashtags or users, this feature captures your audience's attention and keeps them engaged.
Bottom line
That's all about the best Twitter feed examples showing you creating visually stunning Twitter Feeds for your website. With WP Social Ninja, you can seamlessly integrate these impressive feeds into your site.
Nevertheless, we trust that this blog will help you think again about your Twitter marketing strategy and boost it.
Still, if you find any queries, let us know. Our Facebook community is ready to hear from you, and the comment section you will find below. Follow our social channels for more updates (Twitter, Facebook, Instagram, LinkedIn, YouTube).
Related articles: