Taggbox Alternative: Top Feature Comparison with WP Social Ninja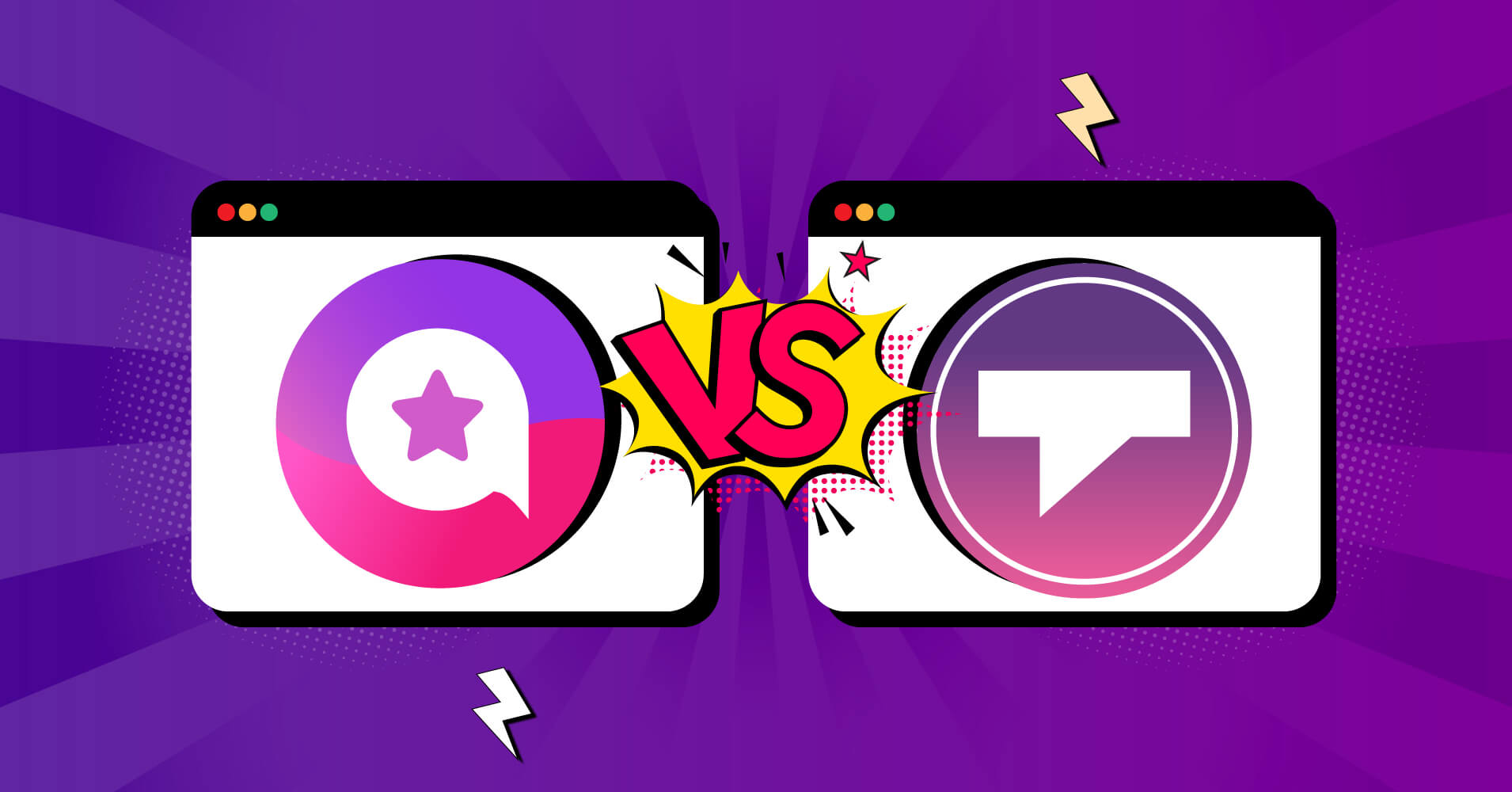 Many WordPress users still consider Taggbox to integrate social media content into their websites. Despite its advantages, using Taggbox does have certain disadvantages. This also reminds the user to look for a Taggbox alternative.
Taggbox's major drawback is its price, which is beyond the range for many individuals and small businesses. Slow loading times and a lack of review platforms are also concerns. Many other users need help with plugin installation and settings.
These drawbacks have influenced many users to look for alternatives to Taggbox. In this case, WP Social Ninja would be an excellent choice for those looking for the Taggbox alternative. WP Social Ninja has 29+ social platforms and other interactive features like Testimonials and Notification popup features, all at a reasonable price.
That's why the users find the plugin that best fits their needs and preferences by trying different ones. Let's find out other key features and make a solid comparison to change your mind about the Taggbox alternative.
Basic comparison: Taggbox vs. WP Social Ninja
Taggbox and WP Social Ninja are WordPress plugins that fetch and display social media content on your website. These plugins provide standard features like social feeds, reviews, and shoppable Instagram feeds.
Despite these options, WP Social Ninja includes other value-added features like Social Chat Widgets, Notification Popups, Testimonials, and other additional integration features.
Even though they both assist with documentation and customer support, still, WP Social Ninja provides live chat support, which is helpful for customers who require immediate help.
While Taggbox offers social media aggregator tool, WP Social Ninja provides more features and a broader range of customizable options. Here is the comparison table to determine why WP Social Ninja is the best Taggbox alternative for your small business.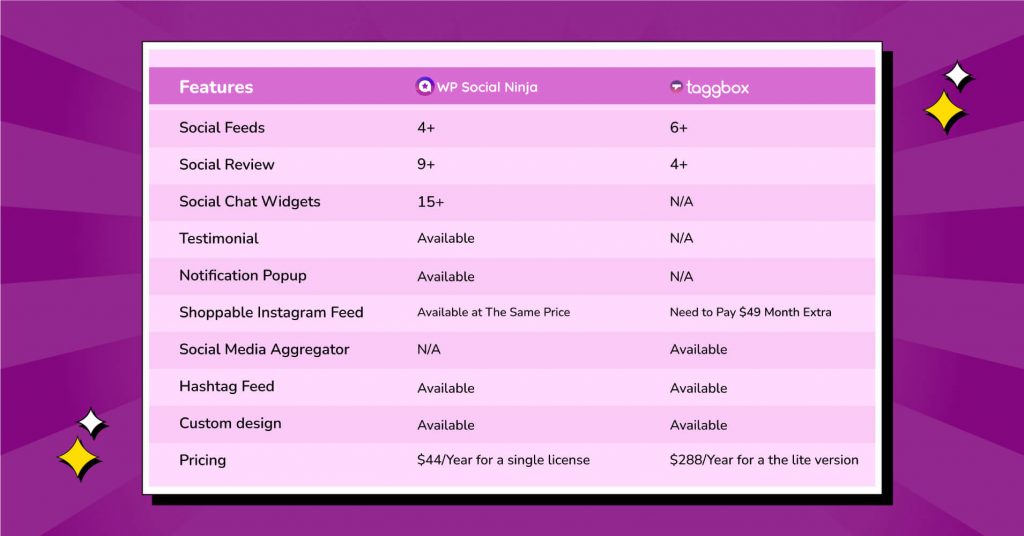 Depending on your specific needs, both plugins can be suitable options. Still, considering features, customer reviews, price, and experiences in the market, WP Social Ninja would be the best choice for your marketing efforts.
WP Social Ninja: Taggbox alternative
WP Social Ninja is an all-in-one social media plugin for WordPress websites. It allows users to embed social media feeds, reviews, and chat widgets. Along with other prominent features, the plugin offers 29+ platforms. It integrates with Google Business Profile, Facebook, Instagram, Yelp, YouTube, and others.
WP Social Ninja also allows users to customize their social media content for each platform. Users can boost engagement by adding hashtag feeds and styles to each section. It also will enable customers to focus on making high-quality content and keeping their social media presence up-to-date.
Key features of WP Social Ninja
The WP Social Ninja has many features that can help boost your marketing efforts. In this part, we will look at the primary components of WP Social Ninja. And how they can benefit you in promoting your marketing strategy.
Overall, WP Social Ninja has everything you need to take your social network presence to the next level, from social feeds to chat widgets. Let's know all the key features of WP Social Ninja and spread positive words with others.
Social Feeds
WP Social Ninja's Social Feeds section is an excellent choice if your marketing efforts concentrate mainly on major social media platforms. Currently, it provides 4+ effective and engaging feed platforms, including Facebook, Instagram, Twitter, and YouTube. Social media feeds are the fastest-growing section of WP Social Ninja. Moreover, the plugin gives you additional choices for presenting your social feed to the broader community.
With this plugin, you can display many business accounts in seconds. Even so, it offers several layout options that allow you to present your content in various ways to attract customers more effectively.
In addition, under the social feed section, you will have access to different pre-built templates, allowing you to adjust the layout of your social feed easily. The ability to filter content based on keywords in the form of a hashtag feed is another standout feature. That is a feature that all users will find quite incredible. This plugin is also more helpful because it lets you hide/show specific posts and videos.
Social Reviews
The Social Reviews feature of WP Social Ninja is a game changer for small businesses that wish to highlight customer reviews. This powerful feature includes 9+ social review widgets, including Google My Business, Yelp, Airbnb, AliExpress, and Facebook reviews.
The ability of WP Social Ninja's social review section to embed social reviews from many platforms into a single page is its most robust feature. It saves the time and effort of manually collecting and posting honest feedback.
The review section provides various customization options to personalize the display to their individual needs. It includes modifying the review section's color, font size, and layout. This level of personalization guarantees that the review part blends with the website's existing design and branding.
Another notable aspect of the social review section is its review filtering options. It allows filtering reviews based on star ratings and others.
Social Chat Widgets
The WP Social Ninja's Social Chat widgets section has access to over 15+ social chat widgets. It has got you shielded from Facebook Messenger, WhatsApp, and Telegram to Viber.
The chat widgets section keeps a record of all the chats that take place between your business and customers.
The process allows you to go back and review previous conversations, making it easier to provide personalized customer support. The feature is also mobile responsive, indicating they will work seamlessly on mobile devices.
Testimonials
WP Social Ninja offers a fully-functional testimonial tool to create testimonials manually. The plugin includes several pre-built widget layouts from which you can select the best one for your brand. WP Social Ninja's editor panel gives you an extensive range of features, including the ability to create and modify testimonials. Read our blog post on testimonials vs. reviews to learn more.
You can create stunning testimonials from your customers' feedback and modify the text format and styles of your testimonials. You can also add pictures and other relevant details like the business logo, name, etc.
Notification Popups
WP Social Ninja has another great feature, and it's Notification Popup. It has various design options, such as different colors, fonts, and animations. You can create a popup that stands out and grabs attention using any of them.
The Notification Popup section can display in various ways, such as a page or a popup. Businesses can also choose when and where the popup appears. The Notification Popup section can be an effective way to increase conversion rates.
Shoppable Instagram Feed
The Shoppable Instagram Feed is another dynamic feature of WP Social Ninja. This plugin can link your Instagram business account so visitors can see what you're selling.
You will also find advanced options to show your products based on specific criteria. You can display specific Instagram posts using hashtags to promote your brand or product.
A shoppable Instagram feed has the option to tag your products. You can tag your items with URLs in your Instagram posts so your web visitors can click on the tags and go straight to your product pages.
Pricing
WP Social Ninja offers flexible pricing plans for its customers. The tool has several pricing tiers, including Single License, Agency License, and Unlimited License. The Basic plan suits individuals and small businesses, while the Agency and Unlimited plans are ideal for larger organizations.
Overall, WP Social Ninja's pricing is competitive and affordable. Its pricing plans start from as low as $44/year (after discount). The affordability of the pricing plans makes it a popular choice for businesses and individuals who want to accelerate their social media marketing without spoiling the bank.
Taggbox
Taggbox is a social media aggregator tool that enables you to aggregate and display data from numerous social platforms. Taggbox allows you to display a social media wall, feed, or gallery. It can display business accounts and user-generated content.
Taggbox is functional with multiple platforms, such as Facebook and LinkedIn. It also offers customization choices, allowing you to construct your social media wall according to your business.
Key features of Taggbox
Taggbox is another social media plugin that helps businesses and brands to manage their social media accounts and streams in one place. In this segment, we will discuss some of the key features of Taggbox. Let's determine the considerable part and decide whether you should consider the Taggbox alternative plugin.
Taggbox reviews platforms
Taggbox's review platforms integrate with four platforms. You can combine reviews or user-generated content (UGC) from several networks, such as YouTube, Instagram, and Airbnb, into a single feed. This saves companies time by preventing the need to embed content manually.
Reviews widgets allow businesses to configure settings based on hashtags and user accounts. Taggbox's review platforms offer businesses detailed analytics or insights into the success of their UGC efforts.
Taggbox social feed widgets
Taggbox widget also offers social media feed widgets that collect and show content from six different platforms. It will display your content as a single feed or as a form of user-generated content.
You can easily integrate Taggbox social feeds into your website using HTML or WordPress plugins.
Taggbox social wall
Taggbox's social wall plugin can display a few designated digital platforms on a single page. One of the most significant advantages of Taggbox's social wall is its easy integration with multiple social media platforms. That means you can easily aggregate and display social media content on a single wall.
Moreover, it has easy integration, customization, moderation features, and analytics, making it an ideal tool as a wall plugin. With Taggbox social wall, you can easily create a visually appealing wall that showcases your social media presence and engages your audience.
Pricing
Several potential Taggbox widget customers are concerned about the platform's pricing structure. Taggbox has four pricing levels: Lite, Basic, Pro, and Enterprise. The following is an overview of what every plan includes:
Taggbox provides a variety of price plans to meet the demands of various customers, ranging from Startup to Enterprise. The monthly price plans are just too expensive and should be more flexible.
The price range is excessive in some circumstances; even if you want to use features like a shoppable Instagram feed, you must pay an extra $49/Month. But there is nothing like that in WP Social Ninja's pricing plan.
Why should you consider WP Social Ninja as a Taggbox alternative?
WP Social Ninja is a social media marketing plugin for WordPress that can help you simplify your marketing efforts. Here are some powerful grounds why you should consider WP Social Ninja:
Effortless integration with all platforms
Multiple templates and layouts
Template editor settings panel
In-depth template style
In-depth filter options
Export/Import custom reviews
Responsive checker option
Translation option
Supports all page builders
Facebook Event/Album feed
Export/Import custom reviews
Shortcode supported
Real-time syncing
Manual syncing
Schema snippet
100% SEO friendly for all devices
24/7 customer support
Overall, WP Social Ninja is an influential social media marketing tool that can help you increase your reach and grow your online presence.
Final Words
The choice between WP Social Ninja and Taggbox will count on the specific needs and preferences of the user. Both tools are great options for displaying social media content on your website or showing your social wall.
Suppose you're looking for a tool integrating 29+ social media platforms with real-time updates and in-depth customization. In that case, WP Social Ninja will be a better choice. WP Social Ninja would be great if you have a WordPress website and want a one-time yearly payment option.
On the other hand, Taggbox is another versatile option with some limited but key features. They offer a dynamic social media aggregator tool for your business. If you need a social media wall plugin option, you can consider the Taggbox widget, but if you need a complete social media solution for your marketing, the most choice is WP Social Ninja. Now, It's time to choose which one you want to use to establish your social media presence and generate sales.