WP Social Ninja vs. Tagembed: Social Media Plugin Comparison (2023)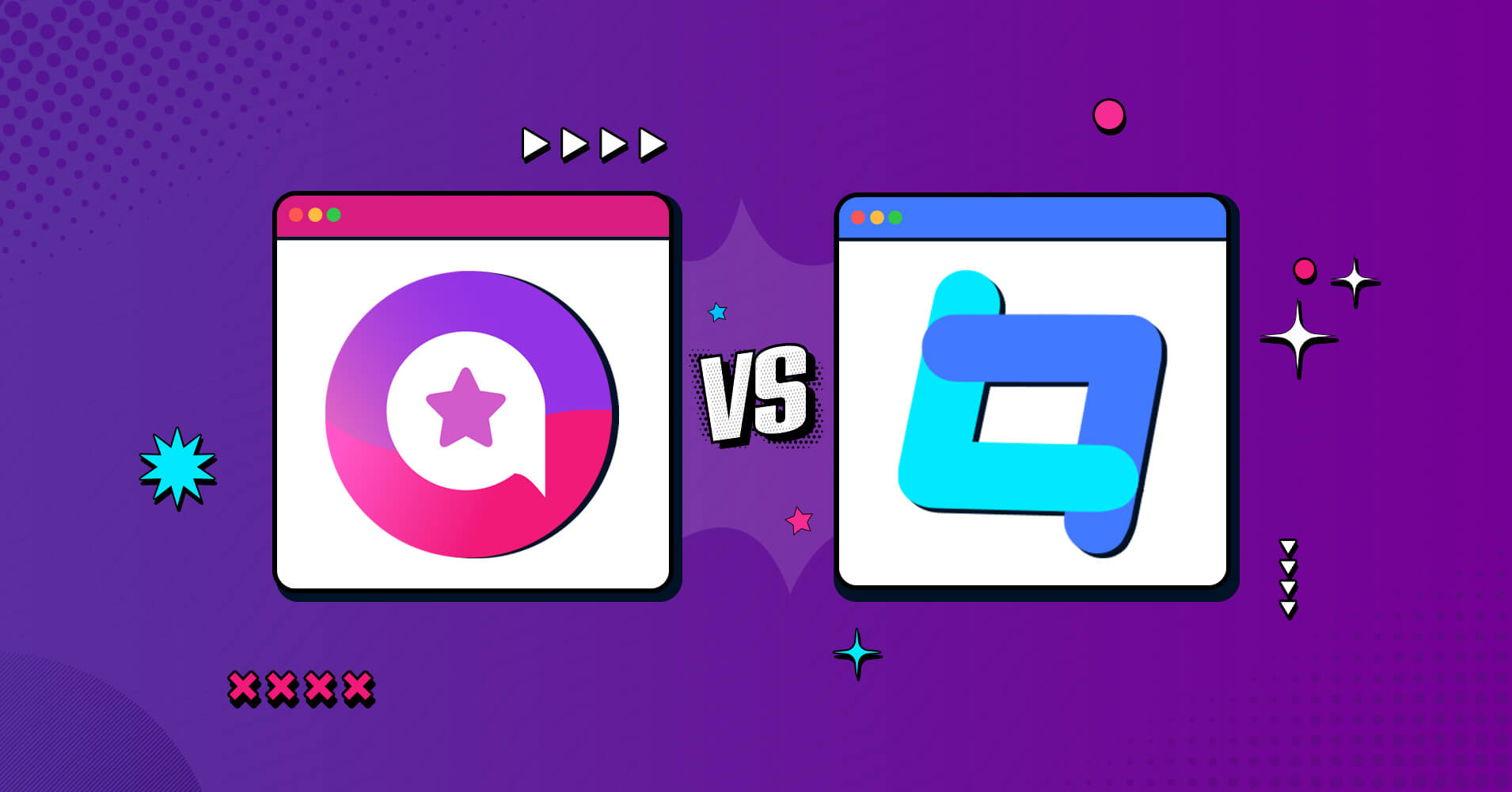 Do you need a Tagembed alternative that will allow you to display your social media content on WordPress websites in a far more effective way possible?
If you're looking for the top Tagembed alternative you must find a such tool that can compete with this social media aggregator tool. While it's true that there are numerous social media plugins competing for users' attention, getting one could seem a little challenging.
When deciding to switch to a better choice, you should consider a variety of factors, including usability, helpful social media channels, usefulness, and features that meet your budget and business needs.
But we got you.
Let us introduce you to the best Tagembed alternative, WP Social Ninja. Learn more about it in this article and find out why it's the ideal choice.
What to look for in a Tagembed alternative
When looking for an alternative to Tagembed, there are several key factors to consider.
First and foremost, it's important to ensure that the alternative platform offers similar or better features compared to Tagembed.
This could include customizable display options, real-time content moderation, and the ability to aggregate content from multiple social media channels. Also the important part, you need to find out one that is comparatively less expensive than Tagembed but has more supported social platforms, where you don't need to pay extra for getting more functionalities.
Just like you, many other businesses face the same deciding the Tagembed alternative. So, before you choose WP Social Ninja over Tagembed, here are the things you should consider:
Compatibility with social media platforms
Tagembed supports a wide range of social media channels, so it's important to ensure that the alternative supports the platforms you need. Look for a tool that can aggregate content from popular platforms like Facebook, Twitter, Instagram, YouTube, and LinkedIn.
Customization options
Tagembed allows you to customize the look and make your social media widget to match your brand. Look for an alternative that offers similar customization options, such as the ability to change colors, fonts, and layouts.
​​Moderation features
It's important to have control over the content that appears in your social media feed. Look for a tool that offers moderation features, such as the ability to filter out certain keywords or phrases, or manually approve or reject posts.
Customer support
It's important to have access to support when you need it. Look for an alternative that offers comprehensive customer support, including email, chat, and phone support.
Pricing
Finally, consider the pricing of the alternative tool. Look for a tool that offers a fair and transparent pricing structure, with no hidden fees or extra costs. Consider your budget and ensure that the tool offers good value for money.
Overview: WP Social Ninja vs. Tagembed
So, to get the best Tagembed alternative, you'll find nothing else better than WP Social Ninja. Just to make that sure, let's check how it beats Tagembed.
WP Social Ninja
WP Social Ninja offers numerous features for promoting businesses and brands. When you have it on your website, it's unnecessary to use any additional social media plugin.
The plugin supports over 30+ social media platforms and enables you to embed social feeds on your website and customize templates to fit your brand or business service without any coding knowledge.
In addition to social feeds, you can also embed social media reviews on your website to attract visitors and convert them into potential customers. Plus, to make your customer service fruitful, the plugin includes social chat widget, such as Notification popups and manual testimonial features.
And not only that, when others have to pay extra and even may require to work on coding or stylesheets; WP Social Ninja provides features like shoppable feed, in-depth template styling options, export-import custom options, Facebook album feed, event feed and more!
Tagembed
This social media plugin is known as one of the best social media aggregators. It will allow you to embed various social media feeds on your website. This plugin provides customization options for your template settings including a variety of features, filtering, and real-time updates.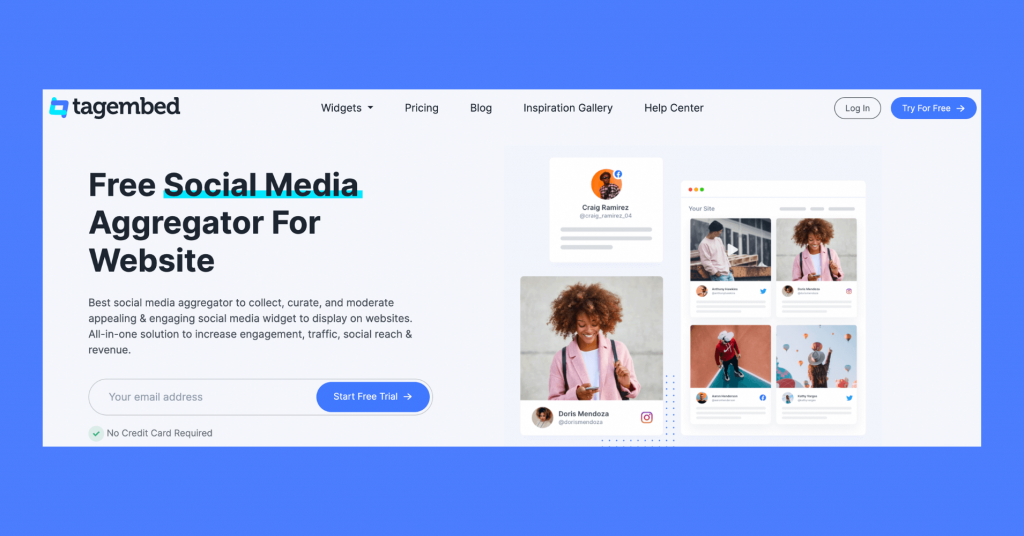 About the user experience, its easy to use, and doesn't require its users to have technical knowledge. To embed social feeds easily, it offers drag and drop interface.
In summary, Tagembed is one of the handy and powerful social media tools that help businesses and individuals to boost their online presence and increase engagement with their website visitors.
If you want to have a social media aggregator tool for your website to display social media content efficiently, Tagembed would be a good choice for you.
Features: WP Social Ninja vs. Tagembed
Tagembed is definitely a wise option when it comes to choosing the best social media plugin to present your social media content. But if you're looking for the best Tagembed alternative, no other social media plugin will take first place than WP Social Ninja.
Let's have a look at the features that beats Tagembed!
Social feeds
A wide range of people use social media, and the majority of them plan to believe the online source more than anything else. So, it is obvious that even if a person discovers you on Google and has never heard of you on social media, you are introducing them to your extensive social media presence.
This has a significant effect on your business; in addition to raising your Google ranking, it also boosts user interaction and keeps your clients informed of your ongoing social media activity. The best Tagembed alternative has the best solution for doing this job nicely to embed social media widgets on website.
Facebook, Instagram, YouTube, and Twitter are the most popular associated social media networks. By using WP Social Ninja, you can share the content you post on those various platforms.
Tagembed, which has multiple associated social media platforms for bringing them all in one place on your website as an aggregator tool. Hence, the plugin Tagembed and the Tagembed alternative, WP Social Media, are both preferable for this feature.
Social reviews
You will receive the most incredible tool on the market if you inquire about what WP Social Ninja gives in this section as a Tagembed alternative. You can fetch all reviews from these 10+ social media platforms and embed them on your website, like Google reviews, Yelp reviews, Tripadvisor reviews, Airbnb reviews, or Facebook reviews, and more.
Furthermore, WP Social Ninja offers a ton of customization possibilities, enabling you to make the social reviews widget fit your business profile. You can create a whole template using just one tool and add it anywhere on your website.
To create your template interface, you only need to select your platform and configure it using the simple instructions you'll find on the dashboard. Also, you may choose which reviews appear on the website and how they should be displayed.
About Tagembed, collecting and displaying reviews from all of your internet platforms is one of their key features. It features review widgets that you can design and tweak to fit your website.
Both Tagembed and WP Social Ninja are regarded as some of the greatest other social media tools for use online as social review widgets. Here, nearly all required social media networks are covered, and their system has all the tools necessary to put up a reviews widget.
Social chat
WP Social Ninja outperforms Tagembed in several important ways, including social chat. This function is at the top of the list of essential social media features.
When you've added a social chat widget on your website, it shows that you provide excellent customer service. It demonstrates how committed you are to listening to and acting upon consumer feedback.
Anyone, whether a one-time visitor or a frequent customer, may have questions about your product or may need your assistance before using your service. To demonstrate your availability and commitment to your customers, display a contact widget on your website.
15+ different chat widget platforms are available from WP Social Ninja for your website. You have the power to tailor your website's appearance in addition to connecting your social media contacts, as well as customize your online chat style.
Complete Custom Style Editor for Your Website (No CSS or Theme Builders)
WP Social Ninja is obviously the better Tagembed alternative because Tagembed doesn't offer a social chat feature.
Testimonials
Testimonials are equally crucial to have on your website as social media reviews are to build trust and credibility.
WP Social Ninja leaves no stone unturned when it comes to enhancing your online business on social media and other channels. Also, it provides the option for testimonials to be added to your website that you want from a testimonial plugin.
Without adding a second plugin, you can construct and personalize your social media evidence using the positive client testimonials you receive, just like you can with other features of showcasing social feeds and social reviews.
WP Social Ninja wins here because Tagembed does not have that specific feature of adding testimonials on a website.
Notification Popup
If you believe that to be the end of the features, WP Social Ninja has more to offer.
Here you go with Notification popups. Although this feature may go by a different name for other plugins, it works to grab website visitors' attention by displaying the greatest ratings and not even directing them to another page.
You must use an additional WordPress plugin if you wish to include such a function as Notification popup on your website. Nevertheless, you don't have to do that if you have WP Social Ninja.
This feature will let you personalize the best reviews or recommendations while also having complete control over all of its settings.
Tagembed does not offer this feature; whereas it is one of the key features of WP Social Ninja. So, definitely, this would be the best Tagembed alternative.
Shoppable feed
Shopping on the website is another demanding function that can surpass Tagembed. Such functionality is available in WP Social Ninja, allowing users to make purchases directly from the website.
In other words, this capability is a plus if you want to redirect website visitors from the shop pages, posts on any business website, or your social network posts where you're selling your products.
You can collect new leads and give your business a boost using WP Social Ninja's Instagram shoppable feed. If you want to power up your e-commerce website, this feature is for you.
Tagembed, on the other hand, is not offering this feature. Of course, the Tagembed alternative WP Social Ninja wins here.
Other features of Tagembed alternative
The Tagembed alternative has more functionalities when it comes to beating Tagembed or any other powerful social media tools you want to have for your WordPress website.
Apart from the above-mentioned features, let's have a look at what else WP Social Ninja has to offer:
In-depth template style
Facebook album feed
Facebook event feed
All-inclusive custom options
Responsive query
Personalized chatbox
Advanced filter settings
Real-time syncing
Manual syncing
Export/import reviews
Translation options
Pricing: WP Social Ninja vs. Tagembed
"The cost" comes next on the list of major factors.
It's difficult to choose a social media plugin for a long-term business handle. To make it easier, while comparing all the features and functionalities, you must select the option that best fits your budget.
Why choose less-than-ideal social media plugins if you're ready to spend money? Let's check the pricing contrast between WP Social Ninja and Tagembed, then;
Tagembed
The pricing plan above is for Tagembed. They have divided the prices into groups according to their features, limiting them differently in different packages.
For instance, pay separately for single/double feeds, if you wish to have a social media widgets feature. Same goes for the reviews widget and others feature as well. You can select any of them based on your plan and the packages that are available.
The situation is different for WP Social Ninja, though.
WP Social Ninja
You will not be charged an individual price for the super-powerful tool. Instead, it will make sure that it is the all-in-one social media plugin even when it comes to cost.
WP Social Ninja is available in both a free and a paid version. If you don't have a plan for any investment now, you can access the social media feeds feature in its free version. You won't get all the premium functionalities, but you will gain some essential functionality. If you want everything, purchase the pro version.
Read the blog to decide between the pro and free versions:
Takeaway: It's clear that Tagembed made it simpler for customers who wish to pay for a certain product for a short period of time with less features. But, when one purchases WP Social Ninja, they are able to access all of the premium and unlimited capabilities on all packages.
As an example, Tagembed's basic version costs $11 and only includes 2 social feeds per month. You will need to pay extra for the additional functionality or install more add-ons if you want additional functionalities on your website.
WP Social Ninja, on the other hand, offers all features on all products for a single license for just $44 annually. You can therefore clearly observe the difference!
Decide wisely on the best Tagembed alternative in this context.
Our verdict: WP Social Ninja vs. Tagembed
It doesn't seem tough to choose the ideal social media plugin from WP Social Ninja or Tagembed based on the comparisons we've disclosed, does it?
Both plugins are doing their intended functions brilliantly. But when it comes to deciding the best social media plugin, remember the user-friendliness and the pricing too.
Tagembed is a good option if you're seeking a social media aggregator that will serve only one purpose for your website and you're willing to pay for advanced functionalities in future.
And there isn't a better choice than WP Social Ninja if you're looking for the most affordable, lightweight, and all-in-one social media solution at the same time in one plugin!
Wrapping up
We hope that choosing the greatest Tagembed substitute isn't confusing you right now. But if you are, you must give WP Social Ninja a try!
It can be difficult to select the best plugin for managing the social media channels for your WordPress website, where there already are numerous products available to make you more confused.
The best social media plugin, however, has just been introduced to you if you're still reading this. All the features you could possibly want in a WordPress plugin are included in one package!
Leave us a comment with your opinion on this, and follow WP Social Ninja on Facebook, Twitter, and YouTube and LinkedIn to stay up to date.